Isvarapura, or Banteay Srei as it is known today, is an ancient Khmer temple located about 25 km north of Angkor Wat. Its "out of the way" location and insignificant size make Banteay Srei seemingly unimportant, however through inclusion in most tour packages, it sees a fair amount of visitors. Frequently referred to as "Citadel of the Women", allegedly because it was the women who decorated it, its name kept popping up in most conversations I had with locals before and during my trips to Angkor. If the temple was completely off my radar before, soon after I started touring the temples of Angkor, the impression that Banteay Srei was a "must not miss" became apparent. From students whom I taught English at the Preah Prom Rath Pagoda, through my coconut friends at Angkor Wat all the way to the villagers from Sras Srang with whom I ended up spending most of my time in Cambodia, everybody kept asking me if I already paid Banteay Srei a visit. When I told them that I'd never even heard of that temple, everybody gasped for the air and insisted that I definitely include it in my plan. I had so much of the "citadel of the women" name enter my ears, I was afraid to look at the toilet paper after I wiped my butt off for fear that I'd see the name of the temple etched on it.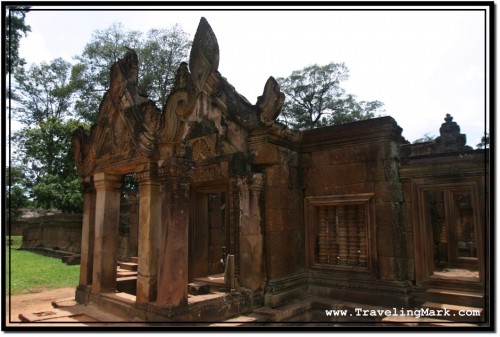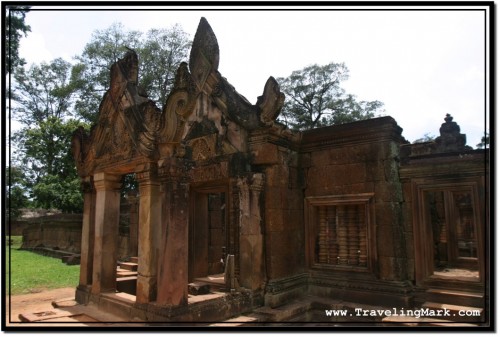 Road Trip to Banteay Srei
While all of the temples you would have heard of and wanted to visit prior to coming to Cambodia are located reasonably close to one another and can be visited in one go, a visit to Banteay Srei requires a detour that'll eat a good chunk of the day on its own. Since everybody kept shoving that Banteay Srei hype down my throat, I decided to dedicate whole day to it and combine it with a road trip present for Ha and her daughter. I picked up Ha from the Temple Club after returning from a nighttime stay at Angkor Wat, made sure she gets good sleep and takes shower in warm water before leaving my air conditioned room the following day to see her daughter. As part of my surprise package, I started the day by giving Ha's daughter a present, took a bunch of picture of the four year old girl wearing her new top and as soon as we were done, a we heard a tuk tuk pull over just outside of the room where Ha and her daughter lived. It was my student from the English class with whom I made prior arrangements.
I knew Ha didn't have anything to do during the day, because she couldn't score a job in Cambodia so there was zero risk of either her or her daughter being unable to go. So when the tuk tuk showed up and everybody kept wondering why it would come to that remote part of Siem Reap where no foreigners ever go, I simply told them to get dressed, because we're taking a road trip to Banteay Srei. I had to explain to Ha that I didn't know whether they'd be able to go inside the temple as all non Cambodians need an expensive entrance ticket, however should we fail sneaking them in as Cambodians, I'd just leave them in a nearby restaurant for a meal while I take off on my own to take a few pictures of the temple. The excitement was instantaneous. We picked up a few sandwiches from a store next to their hut and set off for an hour long ride to Banteay Srei on a tuk tuk.
It was a very, very hot day so a ride in a tuk tuk felt very refreshing. The movement of air kept washing sweat off our faces as we rode through Angkor and on to Banteay Srei. The excitement in voice and actions of Ha's little girl was extraordinary. This was the first time in over a week that she got a chance to do something other than staying inside the shed her mother rented from her Cambodian uncle. It felt like family going on a family trip.
Banteay Srei Temple
In spite of its popularity, Banteay Srei is not as overrun with touts as temples in the main Angkor area. While area around Banteay Srei is as flat as elsewhere in central Cambodia, the immediate surroundings of the temple were rich in plant life growing out of well kept pools of water. Small exhibition hall with brief introduction on the temple can be found on the way to Banteay Srei from the parking lot.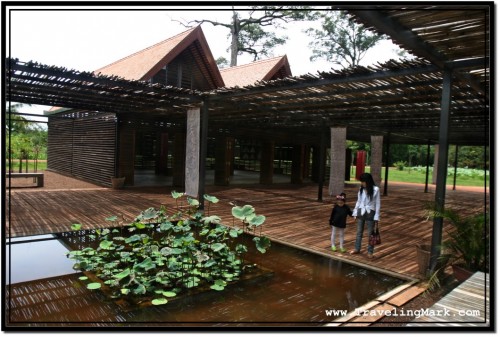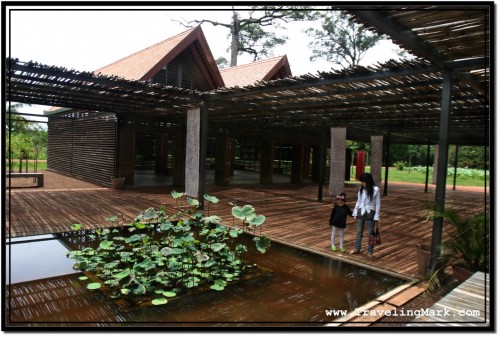 Banteay Srei is the only main temple of Angkor that was not founded by a king. Its founder – Yajnavaraha – the grandson of king Harshavarman served as an ayurvedic medic and a priest during the reign of kings Rajendravarman and Jayavarman V. According to the stele inscription, Yajnavaraha had the temple completed by 967 AD and dedicated it to the Hindu god Tribhuvanamaheshvara (Shiva). The dedication to Shivanism is evident through intricate carvings covering the walls of the temple. Carvings in red sandstone are well preserved and seemingly the temple's strongest tourist attractant. Many speculate that the fine art that these carvings represent could only be done by the hands of women, hence the temple's title of the "Citadel of the Women". Others however maintain that the name relates to the many reliefs of Apsaras (female dancers) found throughout the temple.
Banteay Srei Carvings
The most famous carvings on the walls and lintels of Banteay Srei portray the scenes from the life of Shiva, though parts of the temple were clearly also dedicated to Vishnu. In one of the triangular pediments above doorways, the demon Ravana is seen shaking Mount Kailasa above which Shiva is enthroned. In the same scene, Kama is seen arriving to disturb Shiva's meditation. Other carvings portray "The Rain of Indra" or "The Killing of Kamsa" both of which are important stories from Indian mythology. Some of the carvings were moved to the Khmer museum in Phnom Penh and some are in Paris, France after being recovered from the hands of collectors who bought them from Cambodian looters. Apsaras stolen by French adventurer/thief André Malraux were also recovered and contributed to the popularity of the temple worldwide.
Thanks to vast funding from the Swiss government, Banteay Srei went through extensive restoration works so temple appears well preserved and carvings are in good shape. The Swiss government also financed the installation of a drainage system around the temple which prevented further damage to the structure by water. Despite vast investments from the Swiss, nothing could prevent the destruction of Banteay Srei by the locals who looted and vandalized the living bejeezus out of it. After the original statues were replaced with replicas, the locals vandalized the replicas. But their greed didn't stop there. A typical Cambodian mindframe dictates that "if I can't have it, at least I'll destroy it"! As a result, after the statues of Vishnu and Uma were removed from Banteay Srei, they were assaulted by vandals while placed at the National Museum in Phnom Penh for safekeeping.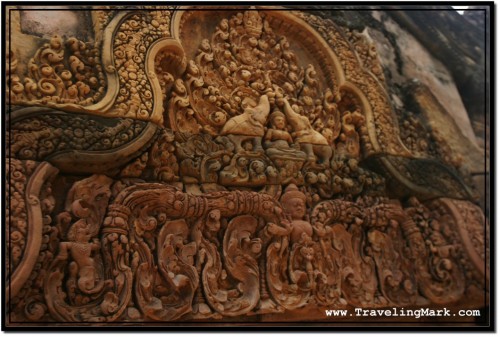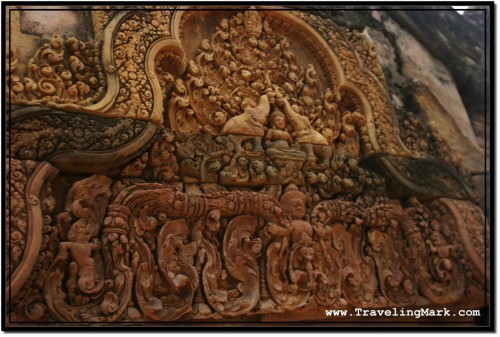 Banteay Srei – Conclusion
Banteai Srei is about an hour drive from Siem Reap town. It's distance from Angkor proper (where most temples are located) makes a visit to Banteay Srei slightly inconvenient. It's also a small sized temple so one would think that an extra long trip for this little would make no sense. Yet Banteay Srei receives more visitors than many larger temples on the Petit Circuit, including Banteay Kdei where my villager friends operate as touts. What makes Banteay Srei this popular are intricate carvings covering nearly every square inch of the temple. If elaborate, fine carvings are your thing, then made sure you don't give Banteay Srei a miss.
The temple is also surrounded by nice water gardens which make the access to it more picturesque. I don't know what they look like in dry season, but rainy season keeps them lush and rich, which offers great opportunities for photography. I am personally glad I went to visit Banteay Srei, but that was because I had 7 days to explore Angkor. If I only had a daily pass, I'd probably give this temple a pass. I'd likely pass on it with a 3 day pass also. However since vast majority of foreigners who visit Angkor do so on a single day pass and buy a tour package from their hotel, they do get to see Banteay Srei because tour companies have this temple included (and temples like Banteay Kdei excluded) in their packages. This is likely part of their marketing strategy. Through its red sandstone walls covered with exquisite carvings, a trip to Banteay Srei offers the visitors something different from majority of temples at Angkor proper. If I had wealthy clients, I'd take them to Banteay Srei too. Taking them to temples like Banteay Kdei, which are in more state of ruin and nigh identical to many other temples would be like showing them the same thing they had already seen.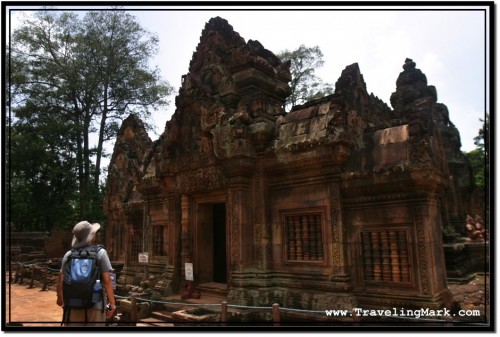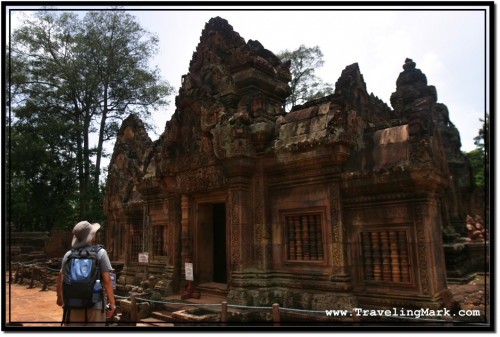 BTW – both Ha and her daughter did get inside Banteay Srei even though only I had the pass. Being Vietnamese, Ha looks just as any Cambodian girl would and since she could speak a bit of Cambodian, we were able to fool the guard. It's not like they would gain anything if they kicked them out and barred from from entering…
More photos of Banteay Srei can be found in the Banteay Srei Photo Gallery