After Two Dragons, Prohm Roth Guesthouse was the second guesthouse I have stayed in during my long term stay in Siem Reap, Cambodia. I have chosen Prohm Roth Guesthouse due to its absolutely phenomenal location within Siem Reap town, closeness to Preah Prom Rath Temple, great prices and friendly, responsive nature of Meang who takes care of email enquiries. Unlike Two Dragons, Prohm Roth Guesthouse is Khmer owned and run, meaning that by staying there I would be directly supporting local people. This comes with its own advantages and disadvantages, however there is no other guesthouse in Siem Reap where I would have stayed more times than in Prohm Roth. Let me go through what I liked and disliked about Prohm Roth Guesthouse in more detail. This is my personal review of this accommodation option in the most touristy town of Cambodia.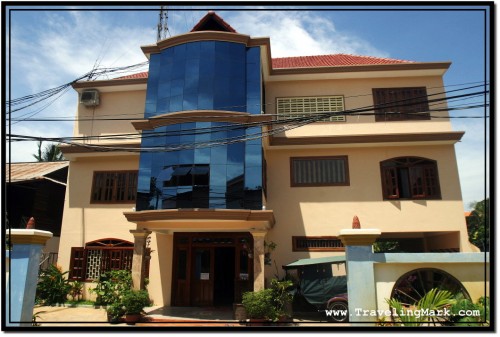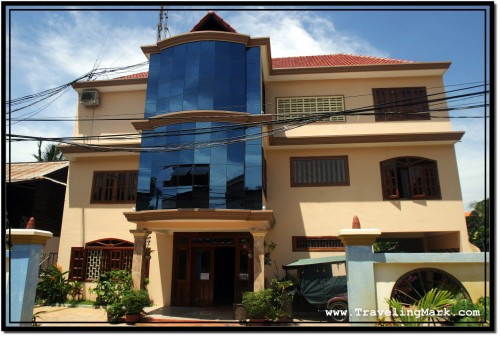 Prohm Roth Guesthouse Review – First Impressions
Prohm Roth Guesthouse is a nice looking and newly built building that stands out like a sore thumb among the slums of surrounding huts. The main advantage of this is the fact that nothing obstructs the windows of rooms that are rented out so your room will be bright and happy, unlike it was at Two Dragons where rooms are dark and gloomy because within a meter of each window there is another building that obstructs all natural light from entering the room. Being a new building, interior is very cozy and nicely decorated which again was a major step up from cold, unwelcoming insides of Two Dragons.
The main reason why I opted for Two Dragons as my first guesthouse in Siem Reap was amazing responsiveness of Gordon, the owner who's a native speaker of English which made communication smooth and to the point. Meang, one of two owners of Prohm Roth Guesthouse was the second most responsive guesthouse representative and the most responsive out of native Cambodians. Just as was the case with Gordon of Two Dragons, Meang addressed all questions in his responses and never opted for cut and paste replies. Both Gordon of Two Dragons and Meang of Prohm Roth Guesthouse deserve props for amazing pre-sale support and responsiveness. However, coming from the Western world, I must admit that I found responses from Meang really cute. Asian people may sound over the top when trying to earn your business, but take a look at a sample of how I was being addressed in emails sent to me and tell me if that's not the cutest way to try to earn your business:
Dearest Sir Mark,

How are you doing? It's such a great joy to read your message! I pray and hope that you are doing great, so thus your wonderful family!
How could you possibly not want to stay with someone who addresses you like this… Unfortunately, when it comes to most Khmer owned guesthouses in Siem Reap, an option to enquire by email either doesn't exist or responses are way too slow and don't address your questions. This makes such guesthouses unusable by first time visitors to Cambodia who would like to have everything arranged before they leave their home country. Luckily guesthouses such as Two Dragons or Prohm Roth do exist so one can easily make all arrangements from abroad utilizing internet communication tools.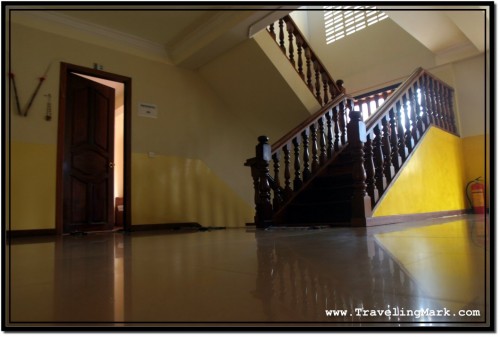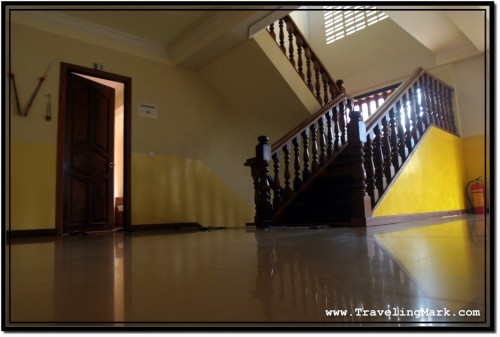 The Room Review
September is the peak of rainy season in Cambodia which means it's not particularly the high season month so room availability is oftentimes unlimited. I had several options varying from room with just a fan, through room with a fan and hot water all the way to the finest room in all of Prohm Roth Guesthouse – the one overlooking the Preah Prom Rath Temple. This was the most expensive room and had both air conditioning and hot water.
I asked about possibility of preferential pricing should I stay at the guesthouse for an extended period of time and was offered reasonable discount with each of the options. Upon my move to Prohm Roth Guesthouse, the best room was taken, but the couple occupying it was leaving the following day. So I've made arrangements that I would stay in another room for the night but once the best room becomes available, I would move there.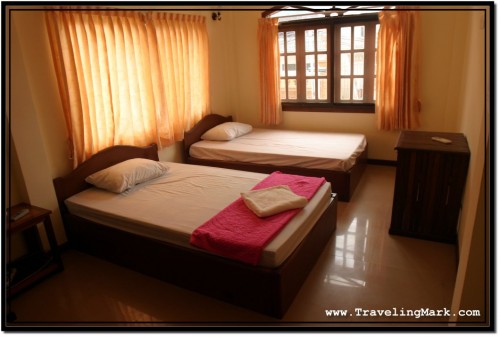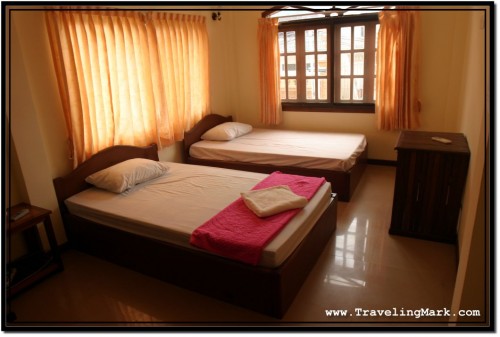 My first room was only equipped with a ceiling fan, but had hot water so it was one of the mid grade ones. Not having air conditioning in this heat was pretty tough. Especially since I've only been in Siem Reap for a week which wasn't long enough to get used to such high temperatures and near 100% humidity (because of all the rain). Luckily, I got moved to the nicely spacious and air conditioning equipped room the following day and totally loved it.
The room had large windows on two walls making for a very bright atmosphere. It was a breath of fresh air after a week in super gloomy room at Two Dragons. It had two beds, some basic furniture, small TV set and a very uncomfortable chair I haven't used at all, but it served well as a hanger for my sweaty t-shirts that got drenched after each visit outdoors.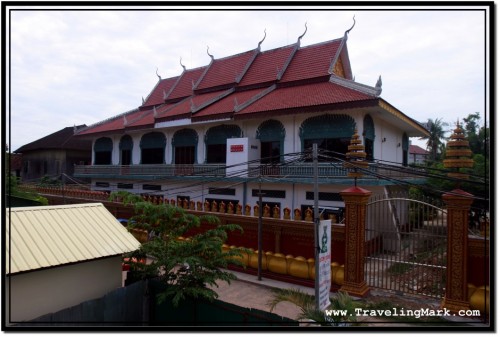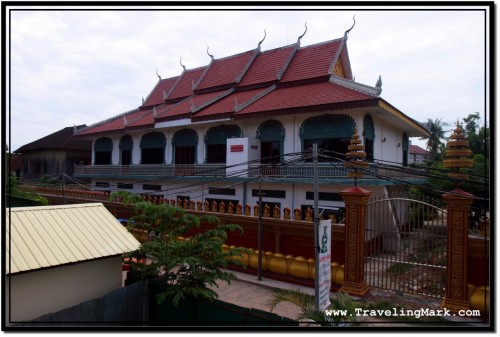 The view from those large windows was the best thing about the room – overlooking the Preah Prom Rath temple gave the room a very high end feel. The only thing I could complain about was slight moldy smell coming from the built in closet (the smaller room I stayed in for one night had the same moldy smell coming from its closet as well) and there was an open hole in the washroom wall which had a fan in it to draw the air from the outside into the washroom which unfortunately was large enough to allow mosquitoes to safely fly into the room even if the fan was turned on. No matter how hard I tried, there were always dozens of blood hungry mosquitoes, the vectors of malaria and dengue fever in the room. The room was otherwise fantastic.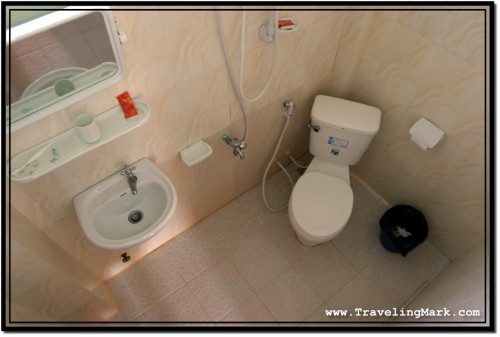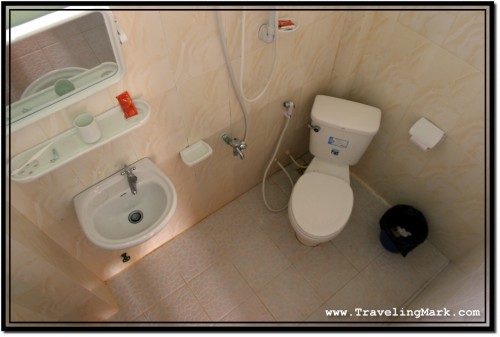 Prohm Roth Guesthouse Prices
Per night rates for twin rooms with just a fan start at $10. Same size twin room but with air conditioning costs $13 per night, whereas large double room with view of the temple costs $18 per night. I have enquired about per week and per month prices and was quoted $40 per week for a twin toom with a fan and $60 per week for a twin room with air con. Monthly quotes were at $170 and $260 respectively. Those quotes did not include the double room with view of the temple, because I was initially only looking for the least expensive accommodation possible. My thinking has changed once I have seen the big room.
I really liked the large room so when I was told it was gonna be available the following day, I have immediately asked to have it reserved for me. I was offered a rate of $75 per week for that room and ended up staying for 2 weeks. I think Meang and his partner were happy after I was leaving because the interest in Prohm Roth Guesthouse kept growing on a daily basis and their finest room was taken at a very attractive (for me, not them) rate.
Agreement was an agreement, though so Meang and his partner honored the quote they have provided me with and I have used Prohm Roth Guesthouse on each of my subsequent returns to Siem Reap. I had very few complaints about this guesthouse but the location as well as everything else I could think of was so great, I was not interested in trying out other guesthouses.
Unfortunately, unlike Two Dragons, it is not possible to pay for your stay at Prohm Roth Guesthouse with a credit card.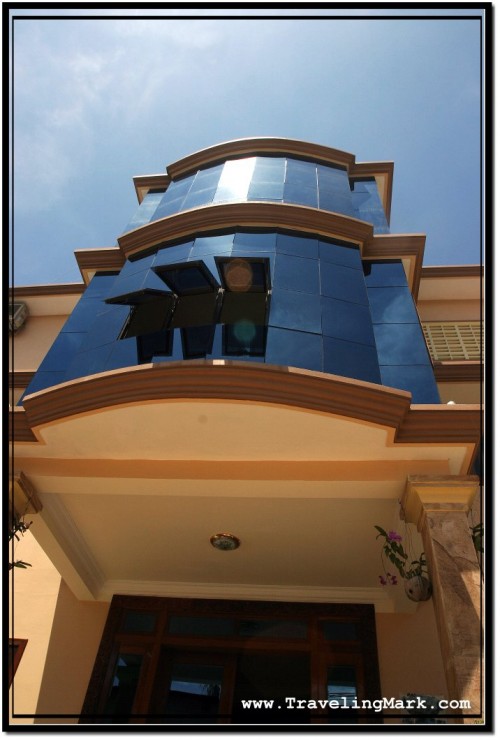 Prohm Roth Guesthouse Location Review
Perhaps the best thing about Prohm Roth Guesthouse was its location. Placed directly on a Pub Street extension, it took less than a minute on foot to get to the heart of all happening in Siem Reap. It was also just across the street from Wat Preah Prom Rath where I was teaching English so it took me less than a minute to get to the classroom making it even more convenient. Angkor Trade Center – one of main shopping malls in Siem Reap was also only minutes away.
Best of all, though – Prohm Roth Guesthouse is only around the corner from Pokambor Avenue, the road which leads all the way to Angkor Archaeological Park which was on my to-do-next list so strategically, this guesthouse is located very well.
Unfortunately, the slums surrounding the guesthouse are not very pretty. Piles of garbage nobody ever cleans make for nasty environment and the fact that the street is not illuminated makes for a bit dodgy walks home. It only takes a minute to get to the guesthouse from Pub Street, however it's a minute through a very dark street inhabited by people living in sketchy looking huts with no electricity. I've never had a problem, but it was still rather scary. If someone was to get mugged in that street, there would be no helping them.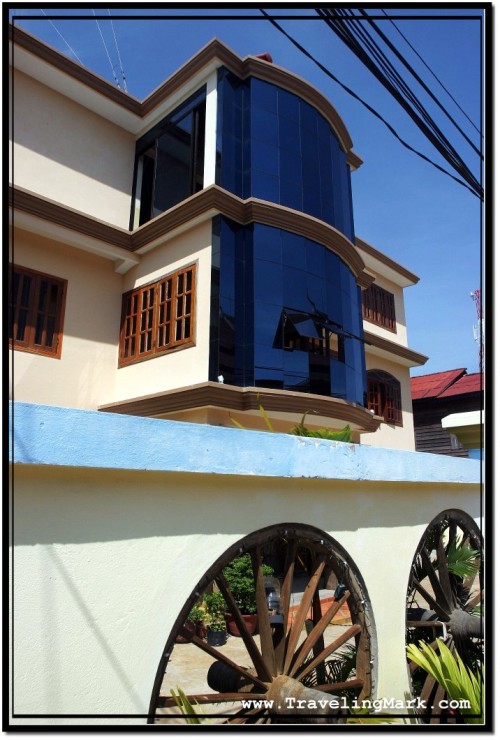 Prohm Roth Guesthouse Staff Review
All of the staff at Prohm Roth Guesthouse are always very positive and very friendly making you feel better about your day no matter how shitty it may have been. They were always smiling and always seemed happy to see everyone. At times it felt a bit uncomfortable because you would expect to see everyone pissed off at least at some point of time, but I grew to really appreciate their smiles and positive attitude.
As it was with Two Dragons, Prohm Roth Guesthouse also promises to deliver a bottle of water to their patrons every day. However, unlike at Two Dragons, their bottle of water was handed to you by someone who would be at the desk when you get back to the guesthouse after a day out in the scorching sun. Unfortunately, more often than not nobody would get a chance to get you one so you end up without a bottle of water you should be getting. At Two dragons, you would find your bottle in your room after your room has been done. It would never be otherwise. Whereas at Prohm Roth Guesthouse it would only depend on who is at the reception desk and whether they are busy at the time.
It was the same with daily room service. Prohm Roth Guesthouse promises to offer daily room service, but room has not been attended to every day, only some days. Again, this would not have happened at Two Dragons. When it comes to daily bottle of water and daily room service, Two Dragons Guesthouse excels and gets 10 out of 10 points. Prohm Roth Guesthouse lacks in this regard quite a bit.
Prohm Roth Guesthouse Free Internet Review
Just as was the case with Two Dragons, Prohm Roth Guesthouse offered free wireless internet to its guests and as was the case with Two Dragons, the owners of Prohm Roth cheaped out on it. It is free and can be used for emergencies, but good luck trying to load a simple website. Dial Up access would fly by the speed of the internet available at Prohm Roth Guesthouse. It is there, but it's literally as though there was none. You can't get anything done when internet is this slow. You will spend hours trying to load up one email message until you can't do it anymore and end up going to the Temple Club or Khmer Family Restaurant the owners of which (same owner for both) didn't cheap out so their free WiFi signal makes your internet fly.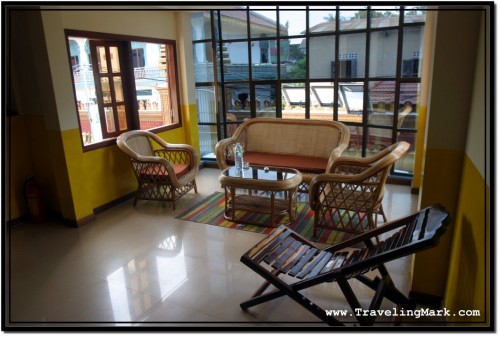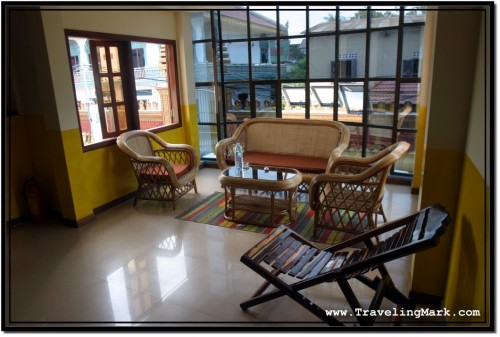 Prohm Roth Guesthouse Website
I don't know who designed their website, but Prohm Roth Guesthouse has hands down the shittiest website on the entire internet. It's atrociously horrible. And if stupid animations, awful mouse pointer and nauseous graphic were not bad enough, once you click through to the main content, music starts playing pretty loud with no option provided to mute it. I can think of nothing they could do to their website to make it any more heinous than it is right now. Take a look for yourself at:
Prohm Roth Review – Conclusion
GOOD:
Attractive Discounts Available for Long Term Stay
Responsive and Courteous with Pre Sale Enquiries
Rooms Are Bright and Spacious
Non Smoking Rooms (smokers can smoke in the hallway sitting area)
Excellent Location Close To Everything That's Important in Siem Reap
Friendly and Welcoming Staff
BAD:
Cash Only for Payments (No Credit Cards)
Daily Water and Daily Room Service Remain a Promise, Not Reality
Shitty Internet
Moldy Smell in Built-In Closets
Although it's certainly not perfect and has its downsides, Prohm Roth remains the best guesthouse I have stayed in in Siem Reap. Each time I left the town and came back, I headed straight for Prohm Roth Guesthouse and never regretted the decision. Reliable, honest and friendly management is one of the finest to deal with and prices are reasonable. It's a great value for money and perhaps the best location in Siem Reap given the price. Unless something unpredictable happens, I will be sending Meang an email to secure myself a room at Prohm Roth Guesthouse each time I'm gonna head back to Siem Reap. Prohm Roth Guesthouse is my guesthouse of choice. Thumbs up!