Every visitor heading to Siem Reap (gateway to the temples of Angkor Wat Archaeological Park) who does a little research on Siem Reap will have heard of Pub Street. Pub Street is the center of tourist life in Siem Reap. It's a small street on which there is one restaurant, bar or club next to another. No excessive research is needed as Pub Street is an important and always mentioned part of Siem Reap so you will have heard from it soon once you start doing your research on the town.
It was no different with me. Knowing I was heading to Siem Reap, I went to read up a bit on it to get a general idea about this town and Pub Street was a reoccurring mention in virtually every report. When I got to Siem Reap, I was aware of Pub Street, I just didn't quite know which one it was. Pub Street is just a nick name given to a street because it houses so many pubs. It's not an actual name given to it by the municipal government.
Perhaps that was the reason why I was unable to find Pub Street on the map of any of free publications available to Siem Reap visitors, including Angkor Siem Reap Visitors Guide and OutAbout Cambodia. But not knowing which one Pub Street has bothered me not. I knew I was gonna stumble across it sooner or later.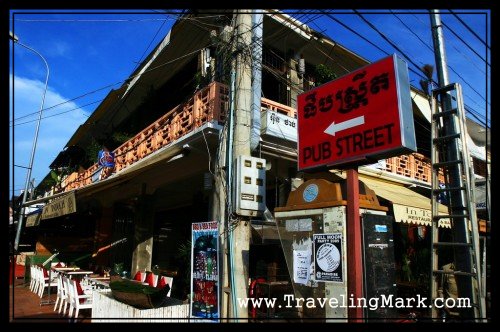 Then when I had my first Cambodian meal at Khmer Family Restaurant during my first wander through Siem Reap on foot, I spotted the sign saying "Pub Street" and containing an arrow. I noticed that sign after I had left the restaurant and wanted to do some more walking around town. The sign suggested that Pub Street was close, little did I know the sign meant that this was the beginning of Pub Street. Without even realizing it, when I took my turn in order to get to a restaurant and have something to eat, I have actually turned to Pub Street and wandered down it. The Khmer Family Restaurant where I had my food was also located on Pub Street, I just wasn't aware of it.
That was my introduction to Pub Street. A few days later I found out the street on which I had my first Cambodian meal – Street number 8 is Pub Street. Why out of all streets crossing Thnou Street down which I was walking I took a turn when I hit Street 8 in order to see if there are any restaurants where I could eat – I do not know. I found Pub Street without looking for it. And since Khmer Family Restaurant offered reasonable priced, good quality food and had fast WiFi internet free for their customers, I was on Pub Street every day of my stay in Siem Reap.