Tired and worn out from exposure to heat I was not used to, I headed back to my room at Two Dragons. It's been a while since I've had my breakfast at Khmer Family Restaurant and my stomach was becoming vocal about getting some more food so I went for walk within the vicinity of Two Dragons guesthouse to see where I could have supper. The Home Cocktail Restaurant is only 1 minute walk from Two Dragons, around the corner, directly on Wat Bo Road.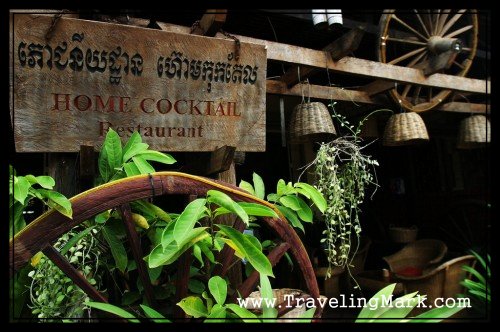 Since my first introduction to Cambodian food I've been using Khmer Family Restaurant as benchmark. While my happy day special which included food and Angkor Beer cost only $3, I decided to give the Home Cocktail Restaurant a try even though their set was listed in the menu at $4. But unlike Khmer Family Restaurant, $4 at Home Cocktail Restaurant also landed me with a starter (2 springrolls with spicy, yet tasty dip) and a desert (fried banana – so yummy).
While dining at Home Cocktail Restaurant I have noticed rather unpleasant way Khmer establishment treat their customers. A person who is serving you will be there, right behind your shoulder at all times. From their standpoint this means that they are always there, ready to serve you. However from your standpoint it looks extremely awful, makes you feel uncomfortable and pressured. This wasn't an incident isolated to Home Cocktail Restaurant, it's all over you place and bit by bit you will be taking it for granted, yet it always makes for a very unpleasant feeling. I will elaborate on this later.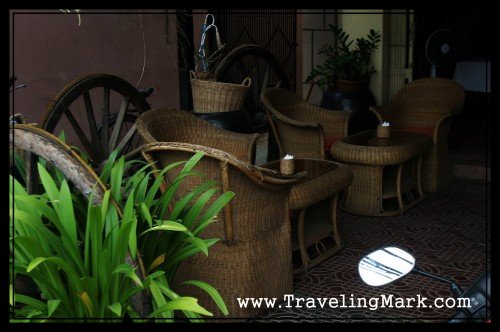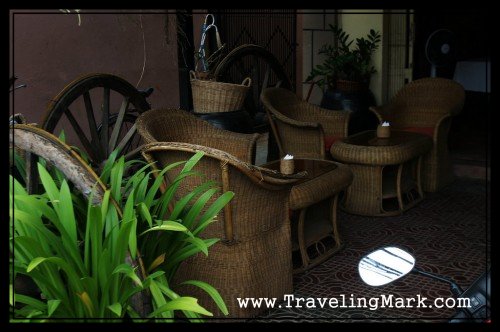 It is necessary to point out that my server at Home Cocktail Restaurant was very courteous and professional at all times. Food was absolutely delicious from first bite at the springroll, through main course all the way to desert. I have subsequently visited Home Cocktail Restaurant several times while I was still housed at Two Dragons. That only lasted for one week so after I have moved out of there, it was also the end of me eating at Home Cocktail Restaurant.
It is an amazing restaurant which I would not hesitate to recommend. The decoration and overall feel of the restaurant is very rustic so aside from eating local food, you will also feel local from the outside. I really liked it there. One day I dined there during heavy rainfall and the only unpleasant thing were mosquitoes. The thatched rooftop covering the patio, bamboo chairs, wooden walls with large cart wheels made for pleasant stay while rain was ravaging just feet away from me. Home Cocktail Restaurant = great dining establishment.