I've been in Cambodia for a week now. I've been pretty familiar with Siem Reap town and the way things go around here. I got myself a mountain bike so I was able to move around at my own leisure, completely independent of annoying Tuk Tuk drivers. I wanted to be ready for my big Cambodian adventure – an exploration of ancient temples of Angkor so I never rushed into it unprepared. But now as I got familiar with Cambodia and had everything necessary to do it my own way, I was ready. The only thing I would still need was good weather.
I got to Cambodia in the middle of the rainy season so it rained a lot, however it wasn't as bad as one would think. Downpours usually occurred at night, or in the afternoon and would typically only last for a few hours. During those few hours, the rain would be coming down like there was no tomorrow, however the sun would come up afterwards and the city would be back to its sunny self. I was in no rush, though. I was determined to patiently wait for the right weather so I get the most out of my trips to the Angkor Area. Afterall, admission fees are pretty steep so you best make sure you are going there on a nice day, not on a rainy one.
I spent my first week living in Two Dragons guesthouse. There were certain things I didn't like about it, so after a week long stay, I was going to make a move. One thing I did like about Two Dragons was responsiveness of the owner to pre sale enquiries. This was the deciding factor which not only tipped the scale in favor of Two Dragons as my first guesthouse but it was also a factor when deciding which guesthouses not to take into account. If it takes you two weeks to respond to a simple email and your response doesn't address any of my questions, you get instantly put on a black list of places where not to stay.
My new guesthouse of choice was called Prom Roth. Meang, the guy who exchanged a few emails with me was the second most responsive guesthouse owner, after Gordon from Two Dragons but there were other advantages to Prom Roth. First and foremost, it was located right next to the Preah Prom Rath Temple where I was teaching English. Secondly, it was right around the corner from Pokambor Avenue, which is the road that leads all the way to Angkor Archaeological Park. Furthermore, Prom Roth Guesthouse was close to everything that's worth while in Siem Reap. Two Dragons was in the middle of nowhere, too far from everything. I was really excited about the move.
Great thing about Two Dragons Guesthouse was the fact that you could pay for your stay and meals with a credit card. Because Prom Roth Guesthouse is Cambodian owned and run, cash is the only payment option. Unfortunately, despite this great positive, leaving Two Dragons did not go without issues. The issues were not directly associated with the guesthouse itself, but people connected to it.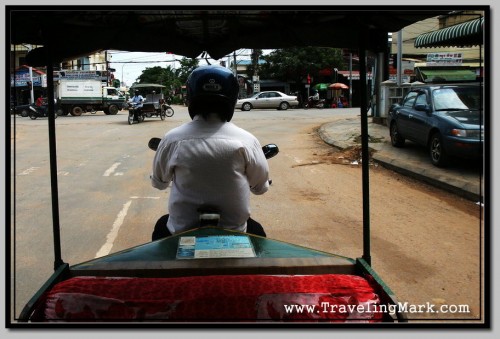 I paid for my dues and went to get a Tuk Tuk to drive me with my bags to the Prom Roth Guesthouse. The Tuk Tuk driver, which was the same guy who tried to rip me off when I was buying the bike insisted that he knew much better a guesthouse and that he's gonna take me there, not where I wanted to go. I was well familiar with the commission scam deeply embedded in the Cambodian culture so I have vehemently refused and insisted that he takes me to Prom Roth or else I'm getting another Tuk Tuk.
I also knew very well that fair price for a Tuk Tuk ride from anywhere within Siem Reap to anywhere within Siem reap was $1. If any Tuk Tuk driver is asking for more, he's trying to rip you off. But having been in Cambodia for a week, I assumed the driver would realize I was aware of this. Yet, he attempted to quote me way more like I'm a newb. I had to put him back in place and again and pointed at dozens of other Tuk Tuk drivers hungry for my dollar so if he was gonna keep trying to overcharge me, all I would need to do was give someone else a wave. Siem Reap is not a big town so a Tuk Tuk ride from Two Dragons to Prom Roth would only take a few minutes.
I loaded my bags on the Tuk Tuk and sat in giving the driver a hint to go, but he asked me about my bike. I said it was OK, I was gonna leave it at Two Dragons, deliver my bags to my new guesthouse and take an easy walk back to get the bike. I had no problem walking, I did it every day prior to buying a bike. But as the Tuk Tuk driver insisted that he can fit the bike in with me and my bags without a problem and started working on it, I didn't object. I have only repeated that I had no issue walking back here so I can get on a bike and ride, but since the bike was already on a Tuk Tuk, I went with it.
We took off with all of my stuff, including my bike on the Tuk Tuk. I really didn't see an issue with walking to get my bike, but I was cool being saved from having to come back. We got to Prom Roth Guesthouse, I have unloaded my bags and the driver asked for $2 from me despite agreeing on $1 before hand. He explained his reasoning by the fact that he also took my bike here so it should be $2, not $1. I guess he didn't get me with the bicycle scam a few days prior, so he was doing what he could to make up for it. I really wasn't in the mood to argue with him and was very happy to have found myself in a new guesthouse that was bright and open, rather than gloomy and dark – which was the case of Two Dragons. I paid for my ride and moved myself in being greeted by ever smiling Meang and his business partner.