After my failed attempt to buy a bicycle with help from a Tuk Tuk driver, I knew I was gonna have to take some risk and rely more upon myself in dealing with shops where English is not spoken. The question of "where to buy a mountain bike in Siem Reap" became more pressing as did the question of how to buy it without excessive overpaying (aka getting ripped off) just because I'm a foreigner in Cambodia. In all this melee, I've managed to get help from people on Couch Surfing.
It became apparent that National Road 6 is the place to go shopping for bicycles. That's exactly the place where I was taken by a Tuk Tuk driver the day prior and had been over quoted. The hints I have received clearly suggested that there are more bicycle selling shops on National Road #6, they are just further down east. And that's where I went.
I strolled down National Road 6 in Siem Reap, passed by the bicycle shop I went to day prior and just a bit further there was another. As it goes with National Road 6 – the shops are primarily geared towards locals so nobody, absolutely nobody speaks English and if a tourist shows up, everyone starts the smell big cash-in as that's what Cambodians see tourists as (walking bag of money, or walking ATM machine if you will).
Realizing my options were limited, I popped in next bicycle shop and started looking at available mountain bikes and attempted to use sign language to ask about price. Everything was far more reasonable that the day prior and even though I knew I was gonna pay way more than a local would for the same piece of bike wreck, I was OK with it as prices quoted seemed to be in a more reasonable level than yesterday.
The bikes were obviously second hand (aka stolen), no names, all made in China. One way or another, I was gonna end up with a piece of junk, but this was Cambodia, I could go with the junkyard items or pay Tuk Tuks to drive me everywhere. The latter didn't seem like a good option so bike it was gonna have to be regardless of how awful a piece of scrap metal I would get.
I tried a couple, each seemed as though it was gonna break apart upon third use but I eventually settled with imitated mountain bike that was probably stolen from a guy in Japan as it had a Japanese name painted on it. It had gears and looked a bit like a mountain bike which was a step up from most other bikes which look like they belonged in the 70's. Pedals seemed to click in an awful way, making unpleasant rattling noise and trembled as used, but it was the best I could get for $38. Yeah, that's what I paid for my primary means of transportation in Cambodia. Mighty $38.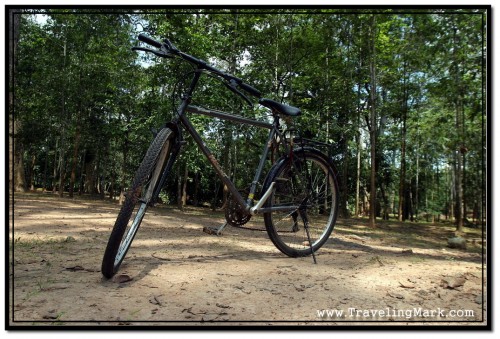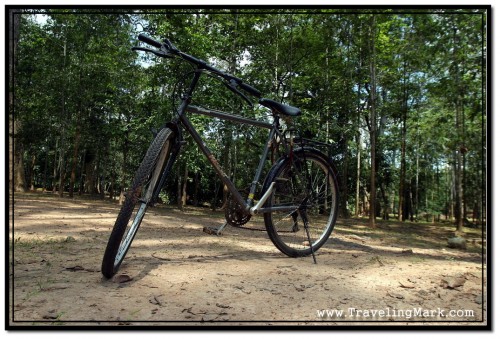 It was all worth it. I noticed the difference right upon my first ride from the bike shop back to the guesthouse. I rode past several Tuk Tuk drivers who all just stared at me. Bike eliminate a lot of annoyance from Tuk Tuk drivers and other touts who are everywhere, never leaving you alone from the day you set foot in Cambodia till the time to leave. It was awesome not being harassed by them just because I was on a bike, the only tricky part was extreme heat which made bike riding a bid challenging, but that (nature) I could deal with. Vastly encouraged, I drove my bike everywhere.