Visiting Angkor Wat was a big item on my Bucket List so I was glad that after more than a week of being in Cambodia but being unable to go see the ancient temples due to daily downpours, the weather improved and I got a stretch of several consecutive days of sunshine. It was getting kind of weird because I continued to teach English at the Preah Prom Rath Temple every day and my students kept asking me the same thing they ask every foreigner (Cambodian way to start a conversation to eventually swerve it into an attempt to make money off you) – "how do you like Angkor Temples?" I could only answer by saying: "I don't know, I haven't been to Angkor yet." And everybody would stare at me with gaping mouth cause it seemed like I've already been there for ages. I assured everyone that it is my foremost interest to do a thorough exploration of the Archeological Park, but I wanted it to be a memorable experience so I patiently waited bad weather out.
Then the day the weather improved I met Ha so on my first hot and sunny day in Cambodia, I just looked around realizing that this was to be my opportunity to see Angkor at last, but instead I'm spending my time with a girl I met in a bar the night before. That didn't bother me one bit, though. Angkor temples have been there for centuries. I knew they wouldn't run away and as I kept getting to know Ha a little better, I was truly glad I got to spend some quality time with her. Then I got to meet her daughter and everything inside of me changed.
I still wanted to pursue my dream of visiting Angkor Wat at the earliest suitable time but above all else, I had to keep my wits with me and never take anything for granted. I mean – there was not a slightest sign of lie in Ha's eyes or voice, but she was still a girl I just met in a bar. I can read people really well, but I never place all my bets on one card. After a nice day spent together with Ha and her daughter, a day I would have made my first day at Angkor had I not met her, I told her that the following day and each day thereafter, if the weather was nice, I would leave early in the morning and head on my bicycle for Angkor. There would be no knowing when I would come back, and I still wanted to continue with my English classes in the evening, but come nightfall, I'd definitely be already kicking around Siem Reap so if she was up for that, we could hang out together then. My thinking was – if we are meant to meet again, we will so there was no reason to put Angkor off any longer.
After my first day at Angkor, I went to check if Ha was at the Temple Club but didn't see her there so I left only to be halted by her friend (aka another prostitute on a lookout for a customer) who noticed me at the very last moment and sent Ha after me. This was the only night after the night I met Ha when she tried her luck as a prostitute in a bar. It didn't work out, nobody picked her up so she went with me and told me that the following day, even if it's nice again and I end up going to Angkor again, she would just come straight to my room to spend the night with me instead of trying for any more customers in a bar.
I was plain and simple the worst type of guy she could have ended up going with on her first night out as a prostitute. She didn't want to sell her body, but needed money for her daughter and this was her only option. The feelings of not really wanting to do that were suppressed by the necessity to provide for her child. But then I came along and not only re-ignited those feelings, I made them so much stronger she could no longer suppress them. This was the end of her "career" as a prostitute. With that however, I unwittingly took upon myself the responsibility to provide for both of them. I was on a budget to begin with, but I could see that every penny spent on food for those two girls was money I could not have spent any better.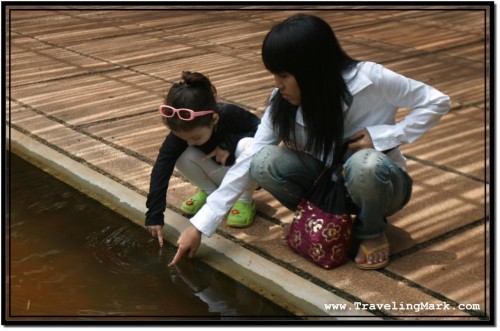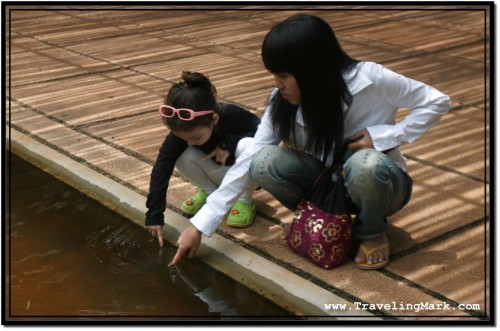 I gave Ha a little bit of money each day so she could buy the most necessary groceries to keep them from starving while I was gone and when I was around and went to visit Ha's daughter, I always bought her some sweets and treats. The joy in that little girl's eyes made the money spent so worth it. But the more time I spent with them, the more I learned about what they have and are going through and it kept bothering me beyond belief. Ha and her daughter were betrayed by the whole world. They could not stay in their homeland of Vietnam because little girl's wealthy father had his men after them and out there in the foreign lands there was just no reasonable way for them to make any money. What chance for a normal life does anybody like them have?