This was it – here I was at the doorstep to Angkor Wat ready to start exploring the temple that's been at the top of my "Must Visit Before I Die" list for ages. The morning was in its early stages yet the sun was already pretty intense. As I took my last turn around the moat that surrounds the temple complex, I noticed a bunch of locals having a big laundry washing day in its waters. None of the hundreds of locals passing by in both directions seemed to pay any attention to it and neither did the policemen that ride their motorcycles throughout Angkor making the laundry washing look like doing it in the moat is a normal, every day thing.
I found it rather weird that you would take all your clothes to the moat where everyone can see you and pour loads of washing powder in it to openly poison the environment – especially when it comes to such significant piece of history as Angkor Wat yet since I was the only one who seemed to have found it awful, I just moved on and continued riding towards the entrance gate which was only a few hundred meters ahead of me. The excitement was unmeasurable at this point. I was only minutes away from entering and exploring Angkor Wat, however before one gets to that point, the dark side of Angkor Wat is revealed to them – extremely aggressive touts, hustlers, peddlers and other con artists.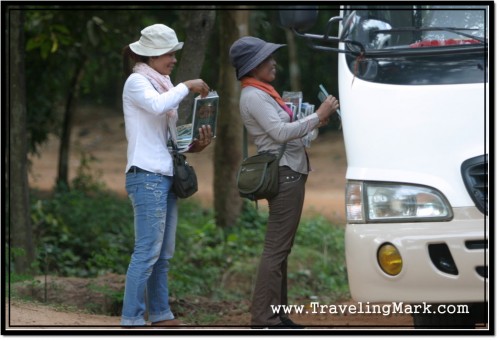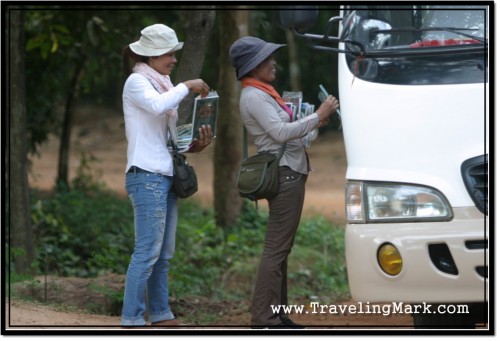 There was a super high density of locals right opposite Angkor Wat's entrance gate that's proceeded by a sandstone causeway over the near 200 meters wide moat. Countless Tuk Tuks and unceasing ruckus left little for guessing. This is Angkor Wat – the most famous and the best preserved temple of the Angkor Archaeological Park which also happens to be the closest temple to Siem Reap from where all organized tours originate so mobile touts concentrated around here in anticipation of fat profits.
As I was riding by I had just about every local screaming at me to make me stop but it wasn't until a woman came running across the street to block me from going any further that I stopped. She came after me with such haste it looked as though it was a matter of life or death. At first glance I thought that maybe I have done something wrong, perhaps by entering a road that's off limit and she ran to stop me so I don't get into any trouble but the real motifs came to light right away. She used the moment of surprise to get my attention so she can make money on me. Now that she had me stopped it was up to her to make the most out of the opportunity. Afterall, there are hundreds of other touts and she was the only one who got me stop and listen to her.
She could see this was my first time here and I didn't know my way around very well so she fooled me into believing that I couldn't go any further. I didn't mind that one bit because I was gonna stop and go to Angkor Wat anyway, but this was yet another lesson that taught me that one should never trust a Cambodian who's on a mission to get your money (are there any who are not?).
The woman said that I could park opposite Angkor Wat for free, but I had to buy cold water from her. She insisted that the temple was big and there was no water to buy inside. As soon as she said that I could park there for free, I knew I was dealing with a simple scam artist who is ready to throw any lie that will work my way just as long as it ends up in her making money off of me. With this being finally clear in my mind, I turned away from the woman and drove through the parking lot, alongside countless Tuk Tuk drivers who saw me riding a bicycle yet kept asking me if I needed a Tuk Tuk ride anyway. I rode until I found a chain fence and locked my bicycle against it.
Within two seconds I had dozens of kids with postcards, bracelets, water, bootleg guide books and other junk surround me and bash at me from every side, unceasingly demanding that I buy something from them. Within additional seconds they were joined by dozens of adults who insisted that I buy a hat from them because it's hot, the sun is scorching and there is no where to buy a hat inside Angkor Wat. Everything that can be sold was offered to me, but I use word "offer" sparingly., Those people were extremely pushy, surrounded me, got in my face and never took "No" for an answer.
It was clear that they are used to harassing tourists and used to being told "No" so they had a response at the ready no matter how I responded to their pressure. I showed them I had water of my own and didn't need any more weight on me. I also showed them I had a hat of my own and was happy with it. I was well equipped for a whole day on a bicycle riding in this extreme heat yet it mattered not to them. They were continuously bashing and bashing at me and pulling more and more of their handy tricks to get me buy something from them.
After I had about five dozen touts on me, they were joined by new way of hustlers – tour guides. To avoid scam, legitimate tour guides must wear pale yellow-ish shirts with a badge on it to identify them as licensed tour guides. Because it is possible to earn $20 or more (in case of non English or French guides) as a tour guide, it is an extremely popular money maker so supply far exceeds demand. As a result, tour guide who got their license and are not booked for the day yet hang around the most popular temples at the right time of the day to try to score a gig right on the spot. Dozens of them got on my bum to get me buy their services, most of them by instantly starting to "guide" me without my permission in anticipation that they will stick with me until I feel obliged to keep and pay them.
I remained adamant that each of them is wasting their time using the most solid reply they have nothing on:
"I'm out of my money. All I have is one dollar and I'm saving that for a bottle of water in the afternoon. You are welcome to guide me for as long as you understand that you are not getting paid for it. And no matter how hard you try to argue me into hiring you, I simply have no money to give you. End of story."
There is no such thing as a "helpful local" in Cambodia. They all make it look like their sole purpose is to help you yet the only people they are looking to help is themselves. A tourist who doesn't realize this sets themselves up for a big surprise. I continued on keeping my pace disregarding all attempts to get money from me so now that they could tell there was no way I was gonna buy anything from them, they used passive aggressive lines to make me feel obliged for the future. They did it by saying something like this:
"OK so then you're gonna buy on your way back, OK? I'll be waiting for you. Don't forget you promised to buy from me!"
It is notably shocking that everything any of these touts lets out of their mouth is a lie. Ancient temples of Angkor are widely regarded among Cambodians as sacred places with powerful deities patrolling them. Angkor Wat where all these touts jumped me is particularly powerful in that regard since it has been a point of pilgrimage ever since it was built, being the only temple in Angkor Archaeological Park that has served that purpose without being fully abandoned.
Everyone in Cambodia will tell you that you should never lie in proximity to Angkor Wat (or any other temple for that matter, but Angkor Wat in particular). If you do so, you are bringing very bad karma upon yourself. However, if you do so knowingly, karma effect gets hundred times more powerful. If these Cambodians are fully aware of the fact that they mustn't lie in presence of a temple, how come they all do it openly and without a wink?
Once you have walked inside Angkor Wat, you cross the passages inside the exterior wall and walk along the sandstone causeway, there will be small libraries on both sides followed by small ponds also on both sides – right before the steps that will lead you to the first level of the central temple. On the left hand side, where the most popular spot to observe sunrise at Angkor Wat is (also the best spot to take pictures of Angkor Wat) hidden from the sun under the line of trees, there is a long line of stalls selling everything you may need.
Each time any of the touts outside of the temple tells you that you must buy water/hat/scarf/food/whatever from them because there is none of it available inside, you will know they are straight up lying. And this starts with kids as young as three years old. These people grow up being professionals liars. After decades of doing nothing but lying each and every day of their lives – what have they grown to be?