Banteay Prei is a small, quiet temple that's in even more ruin than its nearest neighbor – Prasat Prei. Located a couple hundred meters up the dirt road from Prasat Prei, a visit to Banteay Prei is incidental to finding the dirt road which leads to them both. If you do find it, you will be rewarded with relatively quiet spot that will afford you some peace from hellish Angkor touts and a view of the temple that's built with strangely small doors.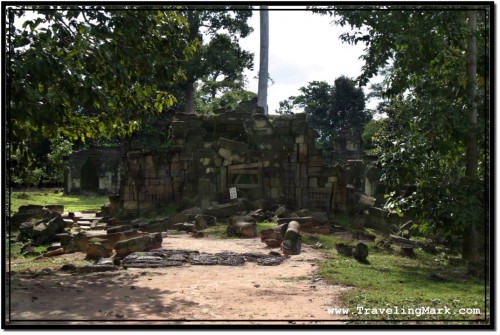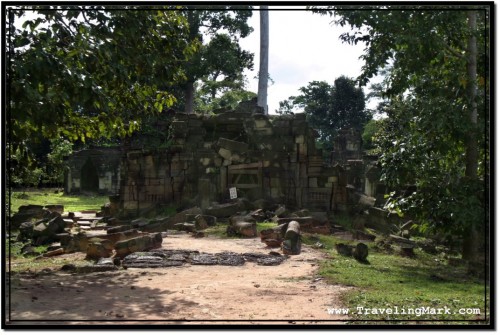 The structure is in a pretty ruinous state with stones collapsing around the doors, but it's easy to make out what size the door once was and after a visit to a few Angkor temples before, its size will leave you puzzled. Like its neighbor, Banteay Prei was also built in the 12th century and also by great builder King Jayavarman VII. It features architectural/artistic style and scale similar to Ta Som. The temple has some Buddhist carvings on the lintels and some Apsaras on the corners but overall it's a small, uncomplicated temple ruin that shouldn't take more than 15 minutes to explore.
To get to Banteay Prei, you just have to try your luck with one of the dirt roads diverting from the Grand Circuit road towards the north. The dirt road is not too far from access road to Preah Khan, only a little bit towards the nearby Neak Pean. Being a Buddhist temple, Banteay Prei was built to face East so if you can visit it before noon, you will have a chance to get nicely illuminated pictures, not crappy once with strong backlight from the sun like I have, cause I got there in the afternoon and the sun was baking.