Here I was at last – facing the entrance gate to Angkor Wat after a brief bike ride around the vast moat that surrounds it. Ready to start exploring the largest religious complex in the world, I noticed that the area around the Angkor temples is densely inhabited by Angkor People – locals living in wooden houses on stilts. Whole Angkor Archaeological Park is full of randomly scattered villages people of which take good advantage of increasing popularity of Angkor and unceasingly follow every tourist until they succeed in talking them into spending some money. Sadly, at present time, exploring Angkor Wat also means being hassled by locals on every step of your way.
I am not entirely sure what Angkor People would do if they didn't live in the neighbourhood of famous ancient temples. Tourists are a source of easy money and Angkor People are well aware of it by taking full advantage of the fact, but what if they weren't that lucky and haven't had their predecessors built these phenomenal complexes that result in millions of dollars in revenue? I can imagine that at some point in the past, they were focused on growing cattle, growing rice and perhaps hand-crafting useful items that could be offered for sale at markets in Siem Reap.
But this is no longer the case. Nowadays the villagers get up early in the morning and station themselves at the gates to the nearest temple or other point of interest that attracts lots of tourists and spend their whole days following each and every one of them around basing their livelihood on their success rate to get as much out of each tourist as possible. Children as young as 3 years old are dispatched by their parents after the tourists because it's easier for them to talk a tourist into buying worthless junk than it is for their parents. Afterall, who could say no to a child that just learned how to speak and is already reciting well tailored sentences in English that are aimed to melt your heart and… most importantly, open your wallet?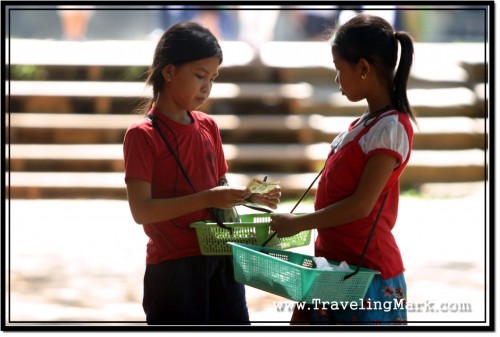 If you end up spending several days exploring the temples of Angkor, you will notice that children who should be at school spend their whole days bothering tourists, vastly undisturbed by the fact that they are not getting any education. The ability to talk as many foreigners as possible into spending the money is all they have going for the future. They can't read or write in their mother's tongue, but they can already speak English and possibly one or more other foreign languages. Infants who are too small to follow tourists around are trained to recognize foreigners and repeatedly scream "Hello" at them. You will get that on every step. Kids under two years old will instantly leap on their feet and start yelling "Hello" and waving at you as soon as they catch a glimpse of you. And this is the way they are brought up – believing that their purpose in life is to get after every foreigner in vicinity and don't stop bothering them until they have lured some money out of them. And if the wallet gets pulled out, then try to get as much as possible – never settle with little amounts.
From the beginning I could not comprehend the fact that when you go to Angkor you see all those kids trying to get money from you when they should be at school, but as I started paying closer attention to the issue, I noticed that parents themselves don't want to send the kids to school because if they spend the best part of the day there, then who's gonna bother tourist for easy money? It's much easier for kids to score dough than it is for adults so why waste kid's time for schools? The older they get, the more difficult it will be for them to talk foreigners out of their money so school gets simply taken off the list of important things for their kids.
But it gets even worse. According to the Corruption Perceptions Index, Cambodia is one of the world's most corrupt countries, second only to the likes of Somalia where there is no government to begin with so it's hard to talk about corruption or well known, long established mothers of all things corrupt – Burma (Myanmar) and Haiti. The government of Cambodia is too corrupt to care about anything other than their own pockets. The fact that their people lack education is of little concern or, more likely, a preferred outcome because obviously uneducated, poor population will continue attracting foreign donations much of which will end up in the pockets of corrupt officials. They need the world to see the poor people with no access to education and health care because that's what drives sympathy and compassion and those are the main driving force behind millions dollars that come to Cambodia from international philanthropists. And once this money is in Cambodia, people in power get to choose what is done with it. Only a small fraction makes it to where it's needed and this is precisely the purpose.
Again, if living conditions for ordinary people improved, donations would shrink or… stop completely. In other words, if they used the money they have to fix their country and improve the economy, then there would be no more need for international organizations to continuously sending more aid. This fact is amplified even more by the fact that Angkor attracts millions of people to Cambodia every year and that generates massive revenue. It starts with a $20 – $25 visa fee, continues with a pile of expenses to cover for everyone's stay and gets highlighted with Angkor Entrance Fee which ranges from $20 to $60 per person.
Here's the catch – Apsara Authority, Cambodian organization responsible for protection, conservation and research at Angkor World Heritage Site sees mere 10% of all the funds accumulated by charging entrance fees to Angkor Archaeological Park. This is yet another scam played up by corrupt Cambodian government (along with the scam by Sokha Hotels chain, the Sokimex gasoline conglomerate division with close ties to CPP – Cambodia's leading People's Party which runs ticket concessions and gets to keep 17% of revenue generated by Angkor temples).
If majority of the monies Angkor generates was used to preserve and protect it, then foreign organizations that currently sponsor preservation, restoration and protection efforts at Angkor would no longer be necessary. Whereas right now, because Cambodian body responsible for preservation and protection of Angkor (Apsara Authority) doesn't have enough money, they heavily rely on help from the abroad. But let's ask again – why does Apsara Authority not have enough money in the first place? How is it possible that they can't make ends meet if Angkor generates millions upon millions of dollars in direct foreign revenue (plus indirect revenue from Tuk Tuk fees, tour operation fees, sales of keepsakes, etc.)?
Just as foreign donations to Cambodia disappear in the black hole of the corrupt Cambodian system, so do the money generated by Angkor temples. For as long as majority of Cambodian people remain poor, uneducated and health care deprived, the donations will not stop coming. And for as long as Apsara Authority continues not getting enough money to look after the works needed to preserve Angkor themselves, foreign sponsors will continue investing their money to Angkor to ensure this magnificent site doesn't fall into ruin.