As I was exploring Angkor Wat, I exited through the eastern gate where there is hardly any traffic because this is the rear end of the temple complex and contains nothing but an entrance that was used by the servants of the king. I went there because I mistakenly went to Angkor Wat in the morning so the face of the temple was shaded and not very photogenic. Rear end, even though it's the backside, looks just like the front but because nobody ever goes there, I had no people getting in the view so I could take pictures freely. And since the sun was illuminating this side of the structure, the pictures looked nice. Little did I know at the time that I was about to discover a well hidden Angkor Wat Secret Spot.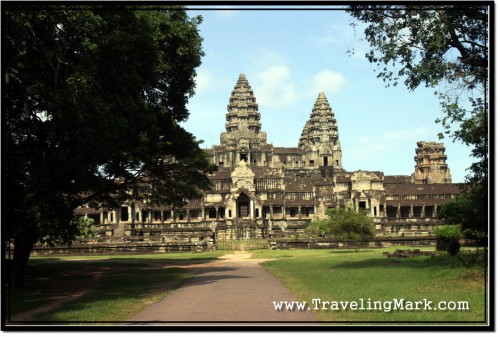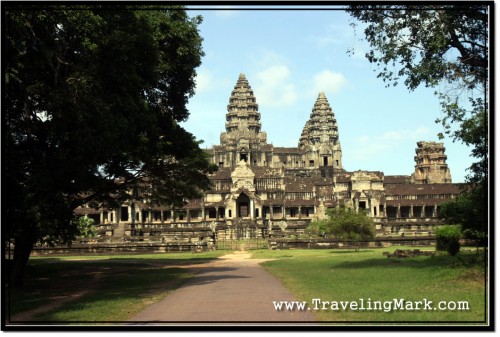 I was really hot so I walked down the dirt road still used by the locals to deliver supplies to the shops selling junk at Angkor Wat and as I got a bit further from the central temple I stumbled across a stand alone library that no guide book ever mentions. Angkor Wat is really busy in the morning hours because that's where most organized tours start from so in my attempt to run away from excessive human traffic and heat, I found a secret spot that no foreigners get to see. I walked inside the library to enjoy the shelter from the sun and even though it was extremely hot in there, nobody was around so I could just walk it off with nobody minding my business.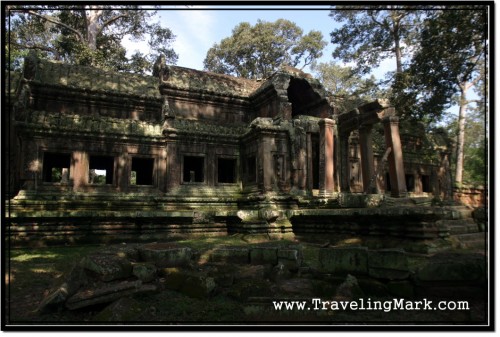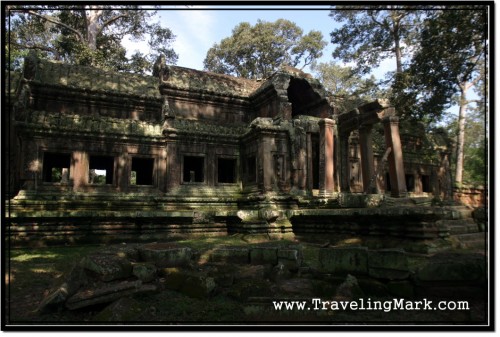 Unfortunately, I know very little about this library. I have found no mention of it in any of the guide books I checked out, it is not shown on any floor plan or map of Angkor Wat, it is not mentioned in any on line guides – it is as if it didn't exist yet it's there and it's larger than any of four libraries within the main complex of Angkor Wat. Make no mistake, though. This is not some other temple. This library is within the walls of Angkor Wat. It is part of Angkor Wat as encircled by the moat but it's at the east end of the complex and hardly any tourists get that far when exploring Angkor Wat.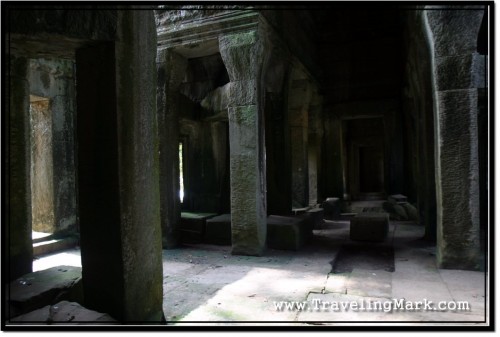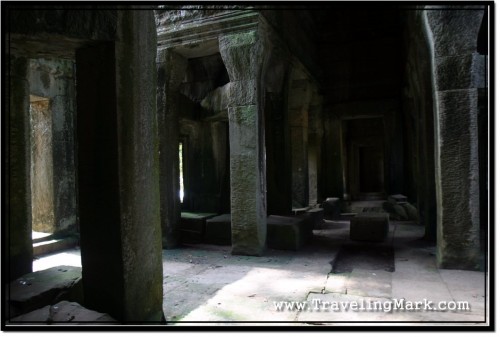 I asked my Cambodian friends about it yet most had no idea what I was talking about. The few who did, had no idea what exactly it was and why it was there. Since most stand alone structures have their own names, I thought there would be one for this library but none of the Cambodians I spoke with knew it. What a mysterious pile of rocks, this library!