I left Angkor Wat temple recharged and ready to continue exploring the temples on the small circuit. Getting back to my bicycle was quite an ordeal as dozens of money hungry touts got in my face determined to go through fire and flames just to get me to buy something from them. Using all sorts of well tested lines, they tried their darnest to make me pull the wallet out and shell out a few dollar bills but I just kept steady pace and headed straight for the bike so I can ride off. Next on my list and next in line before the southern gate to Angkor Thom was a small pyramid temple called Baksei Chamkrong.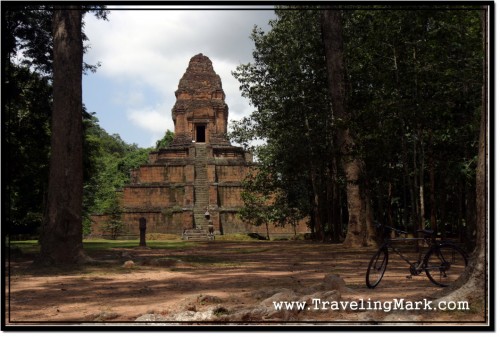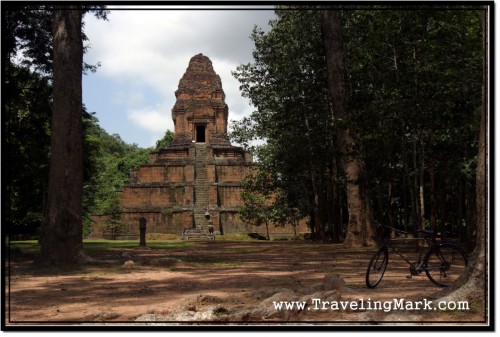 Baksei Chamkrong is the only pyramid temple at Angkor Archaeological Park that was not a state temple. It was built in the first decade of the 10th century by King Harshavarman I but was later rebuilt and re-dedicated (in 948) by King Rajendravarman. Baksei Chamkrong, which means "The Bird with Sheltering Wings" stands at the foot of Phnom Bakheng which is a hill popular with tourists during sunset hours (Phnom means hill or mountain in Khmer, the meaning of Phnom Bakheng is Central Mountain). It was originally built to house the golden statue of Buddhist god Shiva and his spouse Devi. King Harshavarman I had the temple built in the memory of his parents.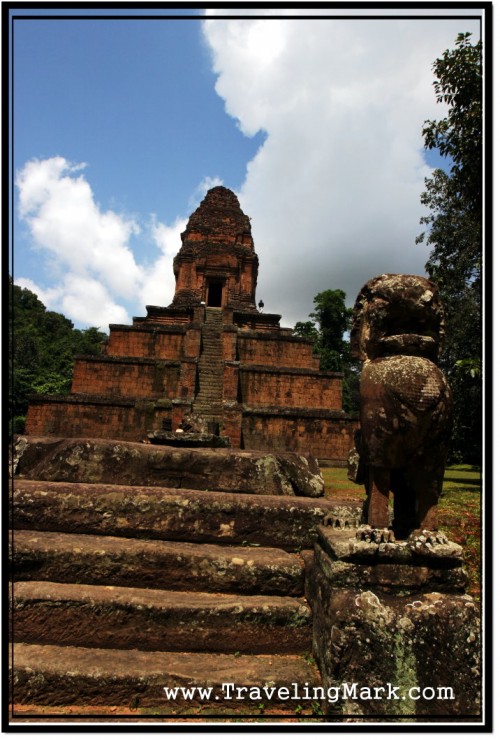 Baksei Chamkrong was originally enclosed within a brick wall but nowadays there are only small fragments of it left. The pyramid temple faces east and has stairs at each cardinal point. Just as it is with Bakan sanctuary of Angkor Wat, stairs leading up to the summit of Baksei Chamkrong are extremely steep and challenging to climb. One has to be very careful and physically fit to get on top. Also, as it is with all temples of Angkor, these structures were not built as dwellings for people, only gods lived in houses of stone. People, including kings lived in wooden houses which are long gone.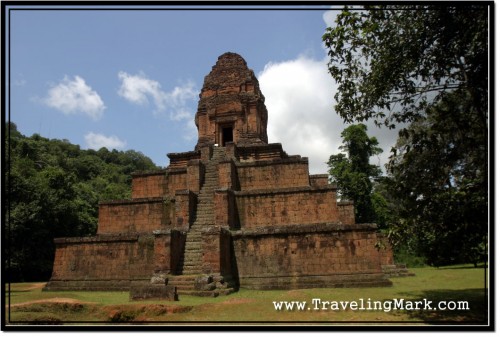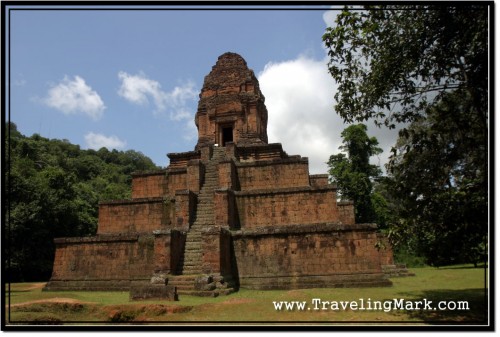 There is an inscription on the eastern door frame which from what I understand talks about important kings of pre-Angkorian era, including hermit Kambu who is believed to have been "born from himself" and is considered to be the very ancestor of Khmer people. The succession of old Khmer kings starting with Jayavarman II is also praised in the inscription as is the most beautiful nymph Mera. The Sanskrit text was engraved on the door jamb by king Rajendravarman.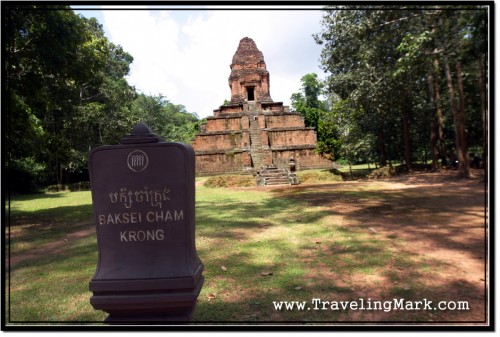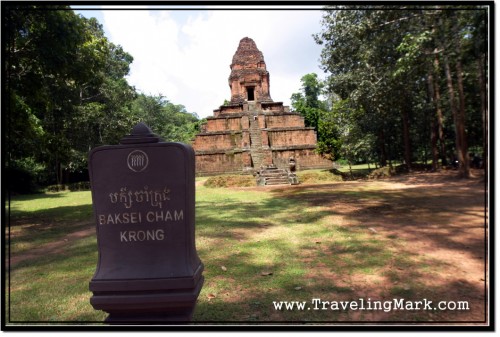 Because Baksei Chamkrong is a small structure it is left out of the itineraries followed by large organized tours but many individual travellers miss it too (or don't bother to visit). Even though there was much ruckus and traffic down the nearby road, I had the entire Baksei Chamkrong for myself. It was a positive change from overcrowded Angkor Wat yet it's a jewel I would definitely advice everyone not to miss. While exploring Angkor Wat requires at least two hours, you can have Baksei Chamkrong covered in some 15 minutes. Keep in mind that Baksei Chamkrong precedes Angkor Wat by more than 400 years.