The area of the Angkor Thom Royal Palace used to house the royal palace built by Suryavarman I in the 11th century. It was remodelled several times, most notably by king Jayavarman VII, builder of the entire Angkor Thom compound. It is believed that the royal palace area was in use as the royal palace area all the way until the end of the 16th century.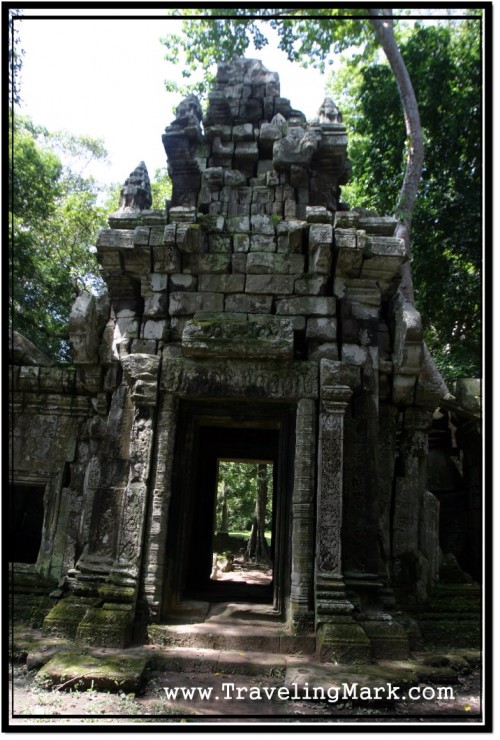 The area of the Angkor Thom Royal Palace was once surrounded by a 5 meters high wall. Only a few fragments of the wall remain today. Five gopuras (entrance gates) allowed for access to the royal palace. Main one was on the east, connected to the Terrace of the Elephants, while north and south wall had two gopuras each. After exploring the royal palace area, I exited through the gate on the northern wall, just west of Sras Srei pool.
After exiting the area I was first exposed to the sight I was looking forward to the most – ancient stone and jungle becoming one to a point that one could not be without another. This was the first thing I learned about Angkor Archaeological Park when I initially found out about it many years ago – ancient temples were abandoned, jungle grew over and across creating some of the most mind-boggling spectacles I have ever seen. I really couldn't wait to explore Ta Prohm temple which has the most of these giant silk trees growing on top of ancient stones, but Angkor Thom Royal Palace area already contained the same, only on a much smaller scale.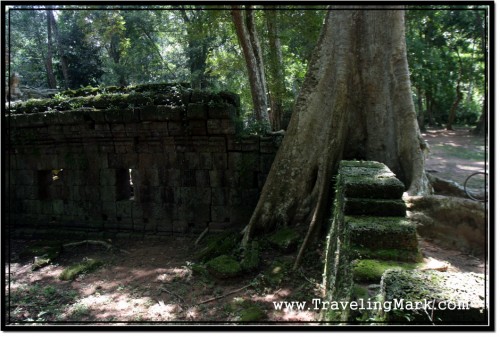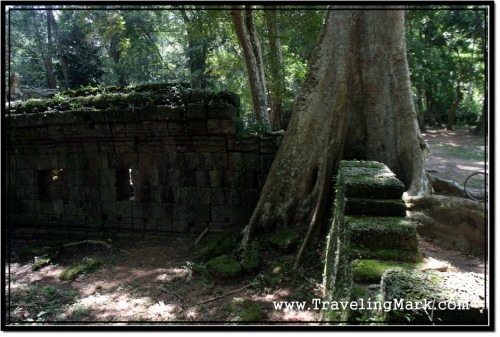 Unfortunately, this was a rather remote spot which required getting off the well paved trail so when I exited through the gopura, I found myself in an area full of locals who looked pretty excited to see a foreigner there. I'm an explorer so my wandering feet took me to a place where no tourists ever go, but it came at a price. Cambodians enjoyed making remarks about me clearly realizing I couldn't understand and had a good laugh at it. This was not an isolated incident though, as every foreigner visiting Cambodia gets that on virtually every step. Large groups of locals doing what they are the best at – nothing, spend their entire days sitting around, killing time by entertaining themselves by making remarks about every foreigner that comes into view. They don't try to hide the fact that they are talking about you and the more uncomfortable they make you feel, the more entertained they get.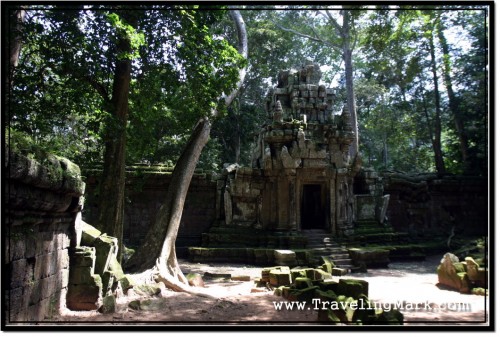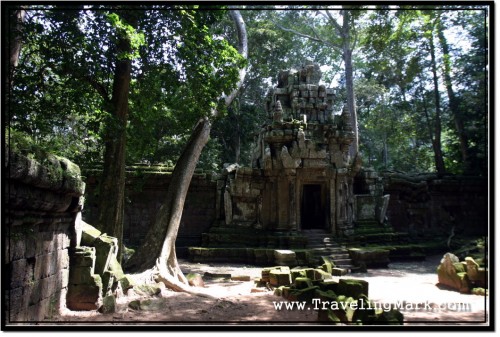 By venturing off the beaten track, I turned myself into a lamb that ran straight into wolves' den. Seeing gnarly locals a large group of which I walked up to regrouping and pointing fingers at me while clearly talking about me and planning something out reminded me of the fact that Cambodia is one of the world's most violent countries with remote areas of Angkor counting as particularly popular spots for violent crimes including armed robberies and rape, I quickly realized I needed to get out of there as soon as possible. I can't even fathom what would have happened if I were a female foreigner, but I clearly understood how terrifying it must have been for scores of girls who got raped at Angkor. And while rapes at Angkor (and everywhere else in Cambodia, but particularly at Angkor because that's where the most foreign girls venture on their own not expecting a violent crime) continue to occur with alarming frequency, violent crimes committed on foreigners at Angkor are not limited to sexual abuse of the girls.
I was able to assess the situation quickly and acted accordingly to maximize my chances of getting out of there unharmed. It was a very close call, but I believe my larger than average size as well as my acting as though I had something large behind my belt allowed me to have the potential attackers rethink their strategy which gave me enough time to get back to an area with many foreigners around.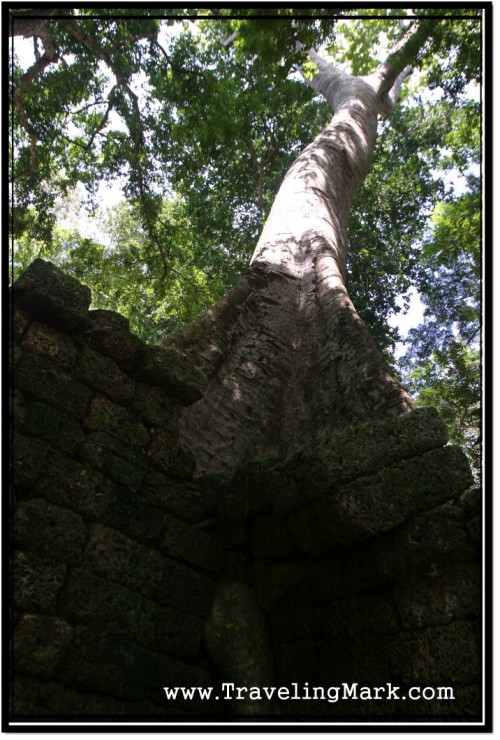 Getting off the beaten track in Cambodia is a risky business. Locals take great joy at making foreigners feel uncomfortable with remarks clearly directed at them. This happens everywhere, including public areas where they are unable to take further actions. But once a foreigner finds themselves far enough from any safe heaven, verbal remarks start turning into attempts to take action. Value of human life is about $50 in Cambodia. The police force is a joke and if someone gets murdered, their corpse will rot somewhere in the jungle until the wildlife has carried all of the remains away. With millions of the military grade weapons from the Khmer Rouge regime floating around uncontrolled and unregulated, and with Khmer Rouge killing recruits currently in their 40's and 50's, there are more than enough reasons for one to be extremely careful wherever they go. True Cambodian crime statistics are purposefully skewed by the government known for being the most corrupt government in the world so don't ever rely on that. There is a very good reason as to why Cambodia is considered one of the most violent and most dangerous countries in the world. Don't believe anyone who tells you that they've been here for a long time and have had no problem, because restricting where they go and staying locked up most of the day to stay safe is not the lifestyle I would enjoy.