My day exploring the Angkor temples on the Grand Circuit was long and tiring, but very eventful and overall satisfying. I was done with every temple I wanted to visit and still had my bike with me, despite an attempt to steal it. It only further affirmed the notion I gained after my first day at Angkor – Cambodians are not nice people and one needs to always watch out while in the country. Nevertheless, I survived another day and since the sun was getting low, it was time to start making my way to Angkor Wat for one more coconut before heading home.
Finding Prasat Tonle Sngout Temple
I made an attempt to find the ruins of Prasat Tonle Sngout – a temple that's off the main road, but according to the map, just by the side road that branches off the Grand Circuit at the bend north of Angkor Thom North Gate, across the road from Krol Romeas. I took that road and followed it for a few kilometers but found nothing. Locals in the areas – there were beyond plenty of them – were not only not helpful, but showed undeniable signs of hostility as this road clearly lead to a highly populated area but no foreigners ever go that way so I was seen as an invader of space beyond my limits. I tried never the less, but gave up after a while, returning to the relative safety of the paved road on the Grand Circle. Without wasting any more time getting off the road, I headed straight down south to meet with my coconut friends again.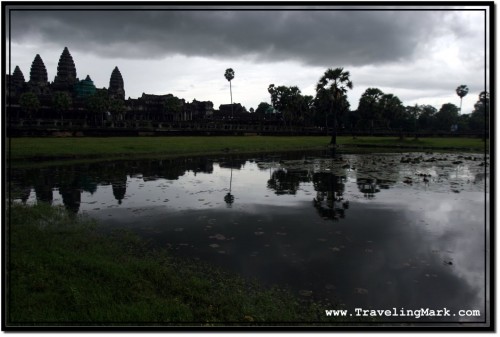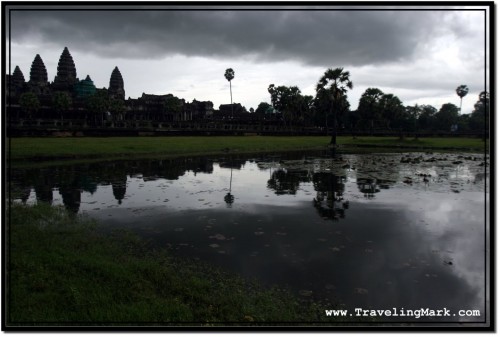 By that time, both weather and daylight started to change rapidly. Dark clouds rolled in out of nowhere and covered the sky, giving me just enough time to make it to the concession area in front of main temple of Angkor Wat before the first drops of rain started to fall. Since 6pm – the official closing time at Angkor Archaeological Park – was only minutes away, not only were there hardly any tourists still in the temple when I arrived, the looming rainfall also rushed the touts and concession stalls owners to quickly start packing and prepare to leave. I was pretty darn tired after a whole day of riding in the sun and wanted to take a breather before the last leg of my journey so the imminence of rain was of no concern to me. I just wanted say "Hi" to the girls and have my coconut before leaving the area entirely.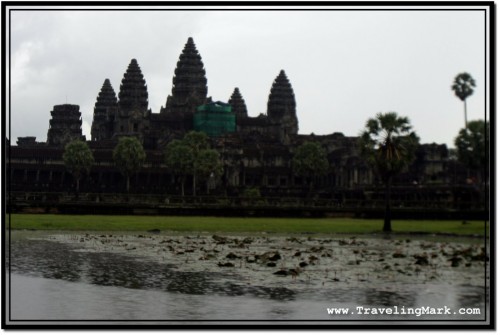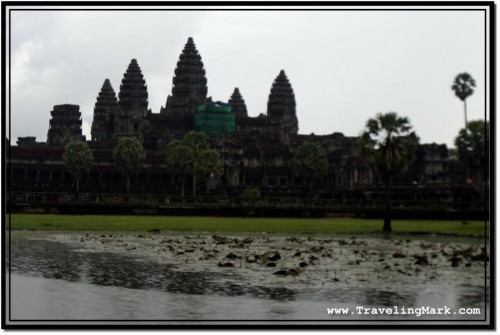 Angkor Wat at Night
Being already a loyal and regular customer, the girls still served me my coconut but said their good byes soon after. By the time I was finished with this delicious fruit, not only were they gone, but so was virtually everyone else. Only myself, who couldn't be distraught by the rain and wanted his minute of rest while recharging with a coconut and other two people stayed to hang around. The other two – a mother and her daughter – took advantage of the fact that rain scared everyone away and dusk fell on Angkor Wat and used it to collect Lotus flowers from the pond in the temple – the one which makes for the most photogenic pictures of Angkor Wat. It is otherwise illegal to pick up the Lotus flowers from the pond, as it is an essential tourist attraction in Angkor Wat, but the APSARA people who have the authority to enforce the rule were not around and I clearly showed that I didn't care, so the mother went into the pool (it was raining so much, she would be drenched wet anyway) to pluck up the stems of the edible plant, while her daughter crouched at the edge to take what her mother collected. APSARA rips locals off enough as it is – I found it only fair that the locals take some of what is theirs for themselves too. This family needed food to eat and this was their opportunity.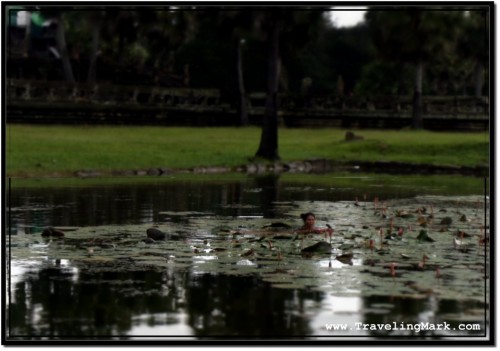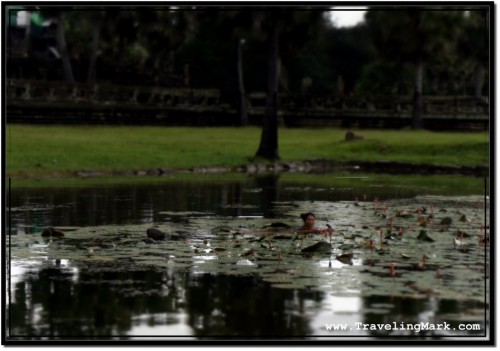 Being so close to the equator, the day changes into the night very quickly in Cambodia. In a manner of minutes, everything went from hot day and bright daylight, into overcast sky and pitch darkness. Still hot as all hell, but now also extra moist due to heavy rainfall. My camera bag is rainproof so the camera was safe. I was feeling content having had a fairly successful day so I didn't let the rain get the best of me. On the contrary, I thought this was a great opportunity for me to experience what most people who visit Angkor don't get to experience – see and photograph Angkor Wat at Night. Everybody was gone. The two ladies who were still there were on a mission of their own. I didn't mess with their business, so they didn't mess with mine. So as the rain kept pouring down and night engulfed the temple, I had an opportunity to become the king of Angkor Wat. I explored it all over again, enjoying the environment without hassle of touts and obstruction of thousands of tourists. Without planning it, or even considering it in any way, I happen upon an experience which I haven't even thought of taking on.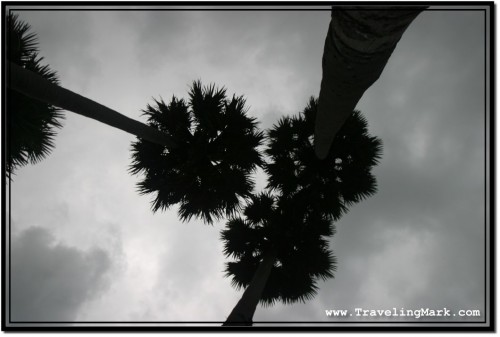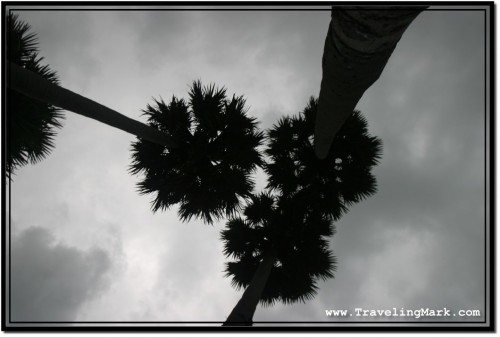 There isn't much to Angkor Wat at night, though the fact that you can stand in the middle of the causeway and take a picture with not a single person on it was remarkable. This is nigh impossible these days as thousands visit Angkor Wat every day. What I found interesting was that none of the vendors locked any of their merchandise up. It would be highly impractical to take all the merchandise with them every evening, only to haul it back every morning so they leave it all there. The stalls are sheltered by thatched roofs and before leaving, the vendors cover them up with large sheets of fabric but somehow the understanding that this stuff is not to be touched when the owner is not around remains deeply embedded in people's minds and they don't take it lightly. It could be because unlike with most other temples, these stalls were within the walls of Angkor Wat and Cambodians seem to become different people when they walk on a holy ground (except from the rapists, who use it to their advantage and there are more than too many of them in Cambodia). I noticed that when I first visited the Preah Prom Rath Pagoda in Siem Reap. Tuk Tuk drivers would be harassing me relentlessly no matter where in Siem Reap I was, but as soon as I walked within the pagoda, even though Tuk Tuk drivers were there, they all left me alone. Hypocrisy of the highest caliber as they're nothing like what they are in a temple, when they are outside, but there was nothing I could do about it.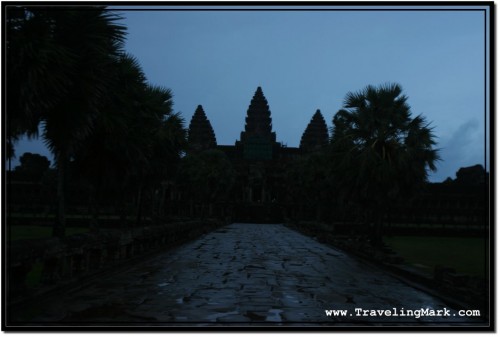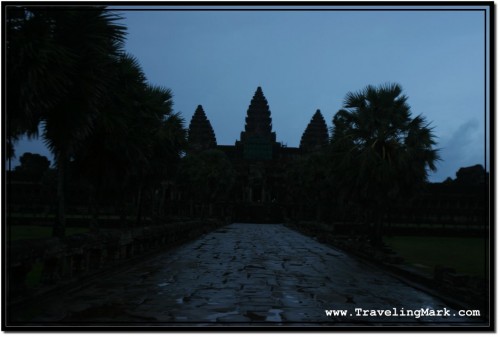 Photos of Angkor Wat Illuminated at Night
Even though I did stay at Angkor Wat at night, I didn't get a chance to take any photos of the temple illuminated with external lights. I've seen such pictures on the internet, but I don't understand how and when they were taken. Angkor Wat was not illuminated when I stayed there at night but most of all – I have not seen any light fixture anywhere around it and this area has (purposefully) no electricity. I simply don't have an answer as to how these pictures could have been taken. Perhaps portable lights and power generators are used on some occasions (New Year?) to illuminate the temple, but at the time of my visit, it didn't seem like any form of illumination existed. Besides – all visitors are expected to be the hell out of Angkor by 6pm anyway, which is when it starts getting dark – so installation of light fixture would make no sense as there would be no tourists to see the temples illuminated against the nightly skies. And since I never enquired with anyone who might know how and when the pictures of Angkor Wat illuminated at night were taken, I still don't have an answer to that.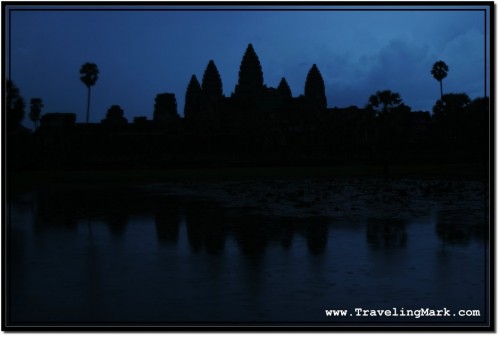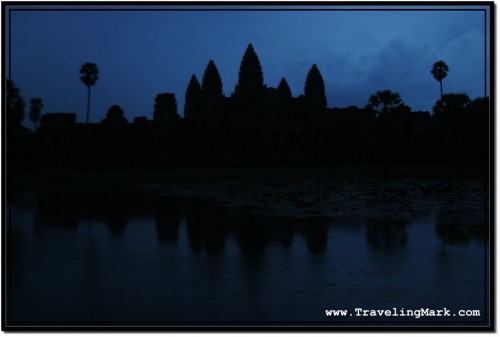 After getting properly drenched with rain (it actually felt better than being drenched with sweat, which was the case of most of the day prior to coming to Angkor Wat) and snapping a few pictures of Angkor Wat at Night, I walked out of the temple, mounted my bike and rode through the rain to Siem Reap. I could not wait to meet with Ha again and tell her all about some kids trying to steal my bike earlier. Needless to say, my decision to stay at Angkor Wat for the night meant that I missed the English language lecture at Preah Prom Rath temple, but that was OK for a day. And what a day it was.