By the time I got to explore Angkor temples on the Grand Circuit, I have been in Cambodia for one and a half weeks. I adopted to the local way of thinking quickly and took all the precautions to minimize chances of being a subject of crime. The local way of thinking – as it exists in Cambodia – revolves around personal enrichment that involves anything other than working for money. Theft, robberies, assaults and various forms of violent crime (including murder and rape) are a daily happening.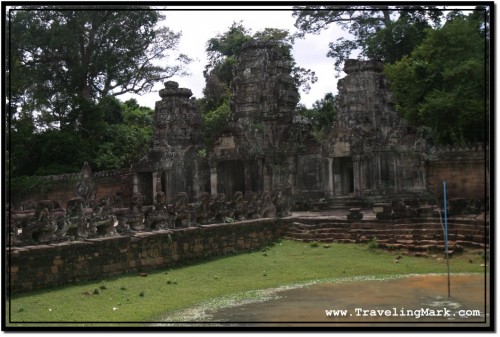 As an observant person, I kept my eyes wide open while I was making my way around the country I have temporarily become a part of. The number of people I securely observed checking my pockets and bags to estimate whether they bore content worth a move was frightening. Frustration I observed in their eyes as I let them know that I am aware of what they are thinking and will be keeping a keen eye on their every move so they can't make me a victim was noteworthy. I did stand my ground firmly and faced the dangers even though it continuously jeopardize my personal safety.
I did good though. By the time I reached Preah Khan temple, almost two weeks into my stay in Cambodia, I still have not had anything stolen from me. Few people who visited Cambodia can say that. With majority of the local population being constantly, round the clock on the lookout for a foreigner who would drop their guard for a second, it's always a mere question of time before one succeeds with their pull. And after years of doing nothing but perfecting their art of crime, they've become masters of theft capable of getting almost anything from anyone. It's unfortunate, but no matter how careful and vigilant you are, you cannot be 100% alert 100% of the time. There is bound to be a moment during your visit to Cambodia when you have had a long day and as you blink your eye to sooth your mind, your possessions will be gone. There will always be a local in your vicinity checking out whether an opportune moment to rob you has come. And when it comes – which is something that comes upon each and every one of us – you can bet your Scooby Doo Panties that Cambodians will be there to take advantage of you.
Cambodians are well aware of the above mentioned fact and rely on it for their daily thieving missions to be successful. They are ridiculously skilled in thievery and often work in teams to keep you distracted while the one with the most skilled fingers makes the pull. They are so skilled as thieves, many foreigners who were deprived of their possessions would actually believe that they must have forgotten their wallet, camera, laptop, or whatever the thieves attempted to steal in the restaurant where they dined earlier.
It only gets better in the fact that the restaurant staff, the police and virtually everyone else you encounter as a tourist in Cambodia would also never pass on an opportunity to steal from a foreigner so even if they don't happen to be around skilled thieves themselves, locals you are around will be well connected with groups who are skilled thieves and will tip them off. You visit a restaurant and the server notices that you are a potentially easy target because you left your camera on the table while you were reading the menu, thus neither holding the camera securely in your hand nor keeping your eyes firmly locked on it, or they would notice that you keep your wallet loosely in your pocket and don't have it on a chain fastened against yourself, or would simply notice that you carry on yourself something that seems of good value (laptop, jewelry, SLR camera, etc.) and you are a marked man. Cambodia is both a breeding ground for thieves as well as a well connected network of commission seekers. Nobody does anything in Cambodia unless there is a kick back in it for them. And since they are also inherently lazy and always looking for personal enrichment that doesn't require working for money, vast majority of your day to day encounters will be with locals who will either try to steal from you themselves or will set somebody who is better at it than themselves on you.
Taking all that into an account, there are hardly few people who visited Cambodia and lasted for a week and a half without having something stolen off them by the locals. Being a rare one of the few, I knew that my "luck" if you can call it so was not because thieves never stumbled across me – that is impossible in Cambodia where there are more thieves per cubic meter than there are mosquitoes. It was only and solely because I always made sure that stealing from me would be impossible. I always made everyone visually checking my pockets know that I am aware that they are checking my pockets. I always made it clear that my camera or bag never leaves my grip and are always zipped up and across my shoulders. When I sat in a restaurant to do some work on the laptop, I got the laptop chained against an unmovable bar and laptop bag locked against the chain. When someone came within an arm's reach of me, I increased my mental alertness to 100% and watched every move of the person closely while at the same time periodically checking my surroundings to make sure nobody else is getting close enough from behind to take advantage of me while the other fellow/lady is keeping me preoccupied.
The reason why virtually everybody who comes to Cambodia ends up having had something of their stolen, is that they do not do it the way I did. It has absolutely nothing to do with being paranoid and everything to do with reading people who surround you well and not fooling yourself they are nice when they are not. Being extra cautious when your environment warrants it is smart, not paranoid. But that's why I lasted for a whole week and a half without having anything stolen, unlike vast majority of other people who visit Cambodia.
It was only thanks to that utmost vigilance that those suspicious individuals who kept checking my pockets and trying to take a peek inside my bag, started to back off instead of crawling nearer and took their stare away instead of systematically continuing to assess the contents of my pockets. And after whole week and a half, I still had everything that was rightfully mine under my control. And then I came to Preah Khan.
At the Preah Khan Temple
When I was at Angkor, I only carried my camera with me and always made sure I could physically feel it. The only other possessions I had with me while exploring Angkor temples were the cell phone in my pocket and my mountain bike. Cheap and beat up as it was, the bike was still mine and I wanted to keep it for future use as my transportation means to avoid having to deal with the aggressive tuk tuk drivers. However in order to ensure that Angkor touts can successfully bother foreigners out of their money, it is not possible for the visitors to Angkor to take bicycles inside the temples. You will see the locals entering temples with both bicycles and motorcycles, but if they allowed for tourists to do that, it would be much more difficult to for touts to pester them, hence ban.
As a result, if you come to a temple on a bicycle, you have to leave it outside of the entrance gate. This is usually not much of an issue on the Petit Circuit, as there is always a busy flow of tourists coming in and out at all times and some have small structural fences around parking areas you can use as unmovable bike racks. However it's a whole different story in temples that are less popular. Cambodians are always on the lookout for something to steal from tourists. They won't hesitate stealing if they have to pull it out of your pocket so when you make it easy on them and leave your possession in a stealable form don't keep a keen eye on it, you will have created an opportunity for which they would hate themselves if they passed up on. It's a way of personal enrichment without work, which fits their profile to the dot.
Fake Orphanage Kids
When I came to Preah Khan, I did just that. It was incredibly hot and all I could see in the vicinity were trees too big to wrap my chain around. So I merely leaned my bike against one of them and locked the wheel against the frame. This would make it impossible to ride the bike, but if someone were to come with a truck, they could easily load the bike up and ride off. Then once safely in their home, they would deploy whatever tools they had (or borrowed) to remove the chain and voila – they would have just become the new owners of a mountain bike.
I sort of suspected that something like this could happen, but fooled myself for a second that since Preah Khan is on the Grand Circuit and it doesn't see that many visitors, local traffic in and out of it is not as heavy either so perhaps no truck would come while I'm inside. To further secure my position and have the locals who saw me leave the bike there be on my side and watch it for me, I responded to a swarm of kids who jumped me as soon as I was done locking my bike and insisted that I donate to their orphanage cause they are oh so poor orphans and will starve to death unless I give them money.
Cambodians, in their divine greediness will not hesitate to pull off lies that will stop your brain just to get money off of gullible tourists. They play with visitor's feelings and try various things until a certain something proves to work. In less visited temples, such as those along the Grand Circuit, they really have to get creative in order to succeed because these temple simply don't receive traffic comparable to the traffic popular temples along the Small Tour get. So they set up booths, print out a sign and pose as people from an orphanage to make their efforts more fruitful. Knowing darn well that they are fake orphans only using the sob story because it works better in getting money off tourists, I was reluctant to contribute. However since there was nowhere to securely lock my bicycle, I thought that if I gave them money, they would feel grateful and would in return ensure that if someone did try to steal my bike, they would prevent them from doing it. What foolish thinking on my behalf!
Exploring Preah Khan While Bicycle Easily Movable
Feeling slightly better about leaving my bike out of my sight while not properly secured, I walked into the Preah Khan temple and started exploring. The temple looked pretty good – overgrown with jungle intertwined with collapsing walls kind of like Ta Prohm, it offered many great opportunities for photography. It was early afternoon, though, so face of the temple and all of its important elements which were built to face the east had sun behind them, creating a mighty strong backlight which spoilt most of the pictures, but the impressive size of the trees growing over the structure left me in awe never the less.
Still, while I was exploring Preah Khan and taking pictures, I started feeling uneasy about my bike being out of sight and not fastened to anything unmovable. It was extremely hot so any extra steps to take would lead to extra wastage of energy of which you never have enough in this sun, but I decided to backtrack anyway, take my bike down to the paved road and look for a thin enough tree there to lock the bike against. Granted, a dedicated thief could saw the tree down to gain possession of the bike, but the likelihood of one armed with a saw walking around just after I locked my bike there seemed minimal. Plus the effort needed to mow the tree down would take some time which could serve as a deterrent because if it takes an extra time, then chances of the bike's owner returning to get it increase dramatically. Plus it takes quite a bit of work to take a tree down and Cambodians don't like to work hard. Locking the bike against a tree simply seemed like the only way to get a more realistic peace of mind, even if it meant extra walking in this unbearable heat. So I interrupted the exploration of Preah Khan to move my bike somewhere where I could lock it against a tree.
Thieving Fake Orphanage Kids
As I come out of the temple unexpectedly early, I see the group of kids and their supervising adults to whom I previously donated money all packed up, leaving with their table used for donations and my bicycle lifted up on their shoulders because they couldn't roll it due to a locked up wheel and dashing off. The group, after I donated money to them even though they were no orphans, saw the bike was stealable and as I got out of sight, they quickly started packing to be gone the hell out of there along with my stealable bicycle by the time I was done exploring the temple. Somehow early on, I had my guardian angel watching over me and the feeling of uneasiness because I left my bike out of my sight while improperly secured continued to grow until it reached the level of being unbearable so despite the heat, I invested extra energy to return and have my bike reparked somewhere where I could lock it up securely.
I just spotted the thieving kids in the last moment, let out the deadliest shout I could summon and charged full speed towards the group. Scared by my yell of doom, the thieves dropped my biked and took off for their lives. Happy to know that in this, furthest from home point on the Grand Circuit I am still left with my transportation so I'm not at the mercy of greedy tuk tuk drivers who would only see it as an opportunity in itself and would take advantage of me for being out of options, I did not return back to Preah Khan and abandoned this temple never to return. Quite shaken and distressed, I rode on to my next destination. Not only was I shocked to have just nearly had my bike stolen, I was also disgusted by the fact that it was done by the kids to whom I previously donated money. Greed of Cambodians knows no limits whatsoever. You can simply never trust one as giving them a finger merely translates into an opportunity to snatch an entire hand.
The First Mistake
I guess all you can do is give them the finger the right way – by giving them the right one and nicely upright. For one and a half weeks I was able to keep relentless Cambodian thieves at bay only to make my first mistake by fooling myself into believing that by giving Cambodians money, they would respect me and in turn watch out for my property while I am exploring the temple. It was a ridiculously foolish thing of me to think and a valuable lesson to learn. Cambodians are not only greedy beyond words, they are also a bunch of backstabbers without a back bone of their own. There is no low to which a Cambodian would not stoop. And to no surprise of mine, I had it later confirmed by my friends from the Sras Srang village that none of these kids were orphans, none of the adults who were with them were orphanage owners and there was no such orphanage under any such name anywhere in the Angkor Archeological Park.