To me, a visit to Krol Romeas evoked similar feelings to those I felt when I first entered the Neak Pean Temple – a positive change from the "same old". After a while, whether it's due to immense heat of the Cambodian sun, harassment by relentless touts or whatever other reason, all Angkor temples start to look the same. Many are built in the same way – both architecturally and artistically – bearing the same styles and motifs, but even if you get above all that, they all start to look like crumbling piles of jungle overrun ancient rocks after a while. But then you come to Neak Pean and you see something entirely different and it just feels very uplifting. And if Neak Pean felt positively different, then Krol Romeas does twice as much.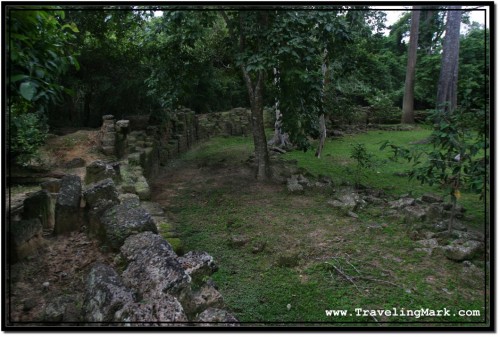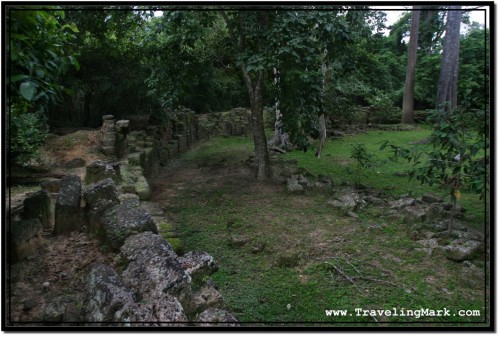 What's most intriguing about Krol Romeas is that it wasn't even built as a temple. Neak Pean looks unlike anything else at Angkor, but it's still a temple. Back in the years of the Angkorian glory only temples – being dwellings of the gods – were built out of stone and as such, they are the only thing that still remain. Dwellings of people, including royalties were built from wood and other perishable materials and have long been claimed by nature – including palaces. Everything that was once a powerful and busy area is now gone, except from the temples which still stand. Yet there is one exception to it – Krol Romeas. As it turns out, Krol Romeas is not a temple.
Because not even Khmer kings had their palaces made from stone, the discovery of Krol Romeas lead many to speculations that it must have been a water reservoir. All that remains of Krol Romeas today is a large circular hole in the ground with thick walls of stone along its circumference. But when the signs of an inner wall were discovered, and the fact that the outer wall is just unreasonably thick for a pond of this size, the notion that Krol Romeas was built to be a Baray (water reservoir) was quickly abandoned. But if it's not a water reservoir, than what is it?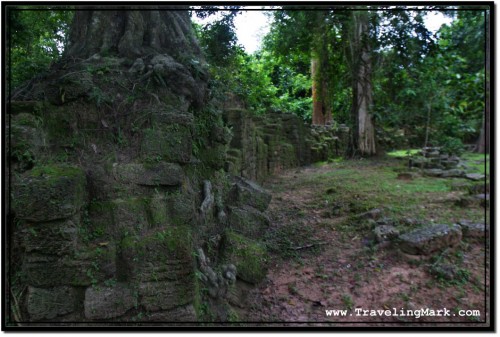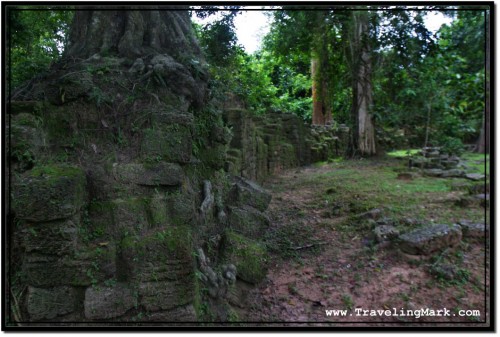 A different look at this unique monument would have it that Krol Romeas was an elephant corral. Its location just outside of the north gate to Angkor Thom would make it suitable for royalty to mount their mahouts for long journeys through the jungle, yet by being behind the gate, the roaring and smell associated with large keep of wild beast would not bother anyone in the palace. Elephants would be bathed and fed inside of the keep and its level being slightly below the ground would make it easy for the nobles to board the animal.
Needless to say, scientists are not firm as to the real function of Krol Romeas but one thing is for sure – it stands out. Unlike Neak Pean, Krol Romeas has not been restored at all. It is as difficult to find as Prasat Prei and Banteay Prei so virtually nobody ever goes there and since it's completely overrun with trees, it's also impossible to step back to take any reasonably looking photo of it which would fit all of the structure within.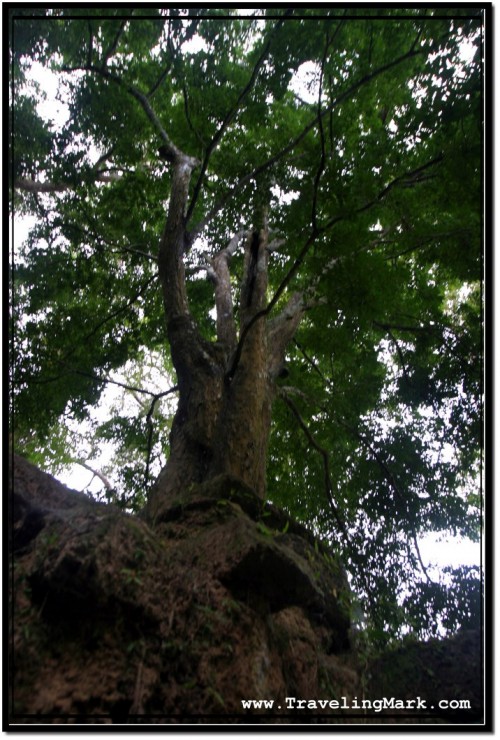 The dirt road which leads to Krol Romeas has a slight upward slope and is far less trod down that that leading to Prasat Prei and Banteay Prei making its identification tricky. Since the structure doesn't stick above ground and trees grow uniformly throughout it in the same density as they do outside of it, any form of guesswork which could imply that there is something up that road is not gonna work. Luckily, being not far from the north gate of Angkor Thom, you don't have a long section of the road to scout through so if you find a dirt road which diverts from the paved road forming the Grand Circuit of Angkor towards the east, regardless of how little used it may seem and how into the middle of the woods it seems to point, it's probably the one leading to Krol Romeas. Take it.