Sras Srang is a man made, rectangular shaped water reservoir located just across the road from the Banteay Kdei temple. Many water reservoirs were integrated into the designs of ancient cities of Angkor but nowadays, most are dried out. Sras Srang is one of the few still holding water which lead to speculations that it may have been a natural lake prior to its transformation.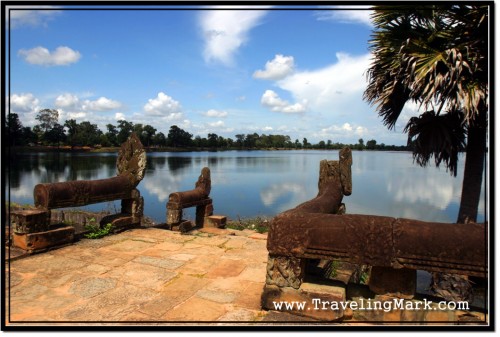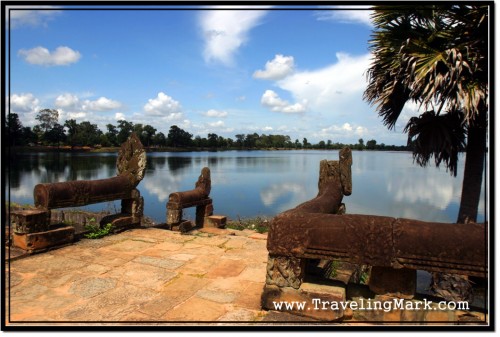 Built during the reign of Rajendravarman II, Sras Srang was designed by the Buddhist scholar Kavindrarimathana whose name is the only name of an Angkorian era architect that survived and is known to us today. In Khmer language, Sras Srang translates into "royal bathing pool" which, given the size of Sras Srang was quite the pool. Being 350 meters wide and 700 meters long, it takes 30 minutes of brisk walk to just go around it.
It is quite possible that the original access route to Sras Srang was via Prasat Bat Chum, which would explain its inscription which requests the elephant owner to prevent their animals from trampling the dikes and polluting the water. Later date construction of Banteay Kdei has moved the access point to the lake's west bank.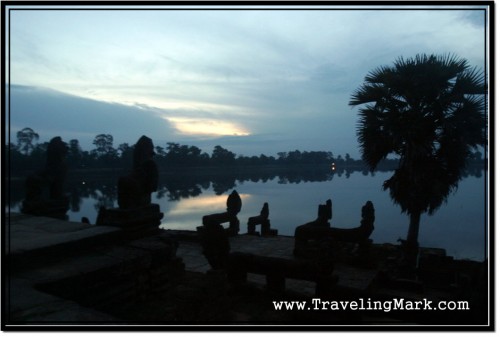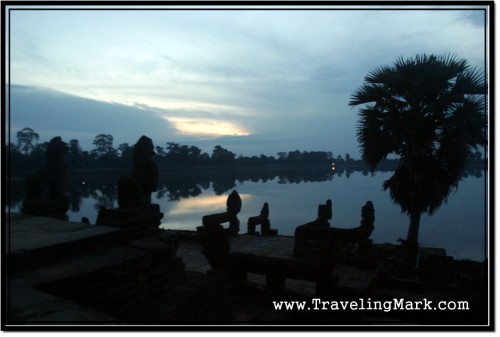 There is a small, artificial island right in the middle of Sras Srang. It is believed that it once housed a small temple, but that has since been washed away. The western side of Sras Srang, the one immediately accessible from the road one which you will ride to access the lake contains a decorated, laterite landing stage for boats. This was added during the reign of king Jayavarman VII two centuries later. King Jayavarman VII is also believed to have ordered the sandstone facing of the dykes which also resulted in shortening of the original (larger) lake into its current size.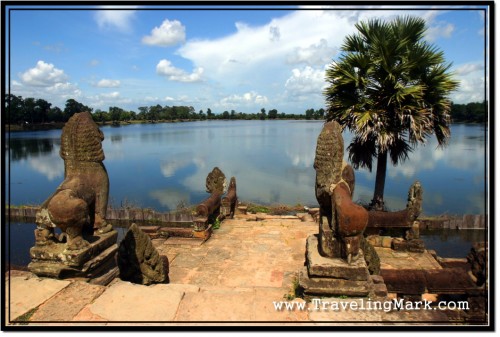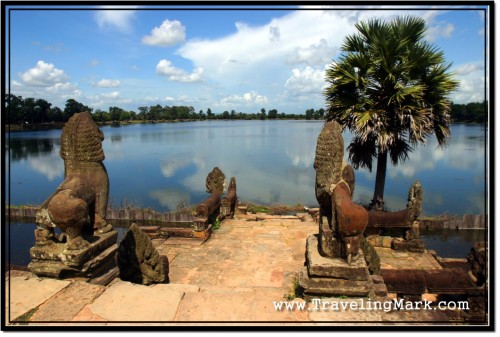 Landing stage on the western dyke is decorated with naga balustrades and guardian lions flanking both sides of the stairs. These decoration are rather damaged with parts of them missing making for a lack of impressiveness upon an initial visit to the reservoir. As a result, most visitors don't spend more than a few minutes at the lake.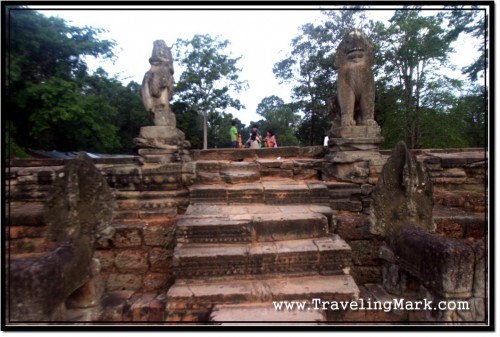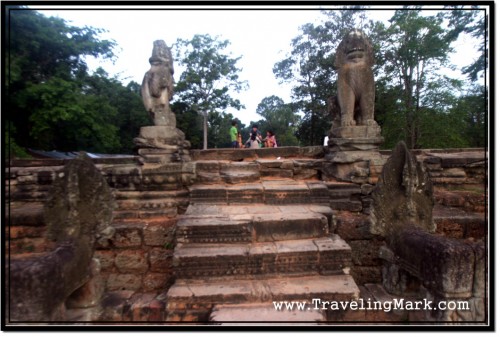 It is quite likely that Sras Srang was originally flooded all the way to the edge but nowadays the water barely reaches half way. Still, considering that many other Angkorian era barays (water reservoirs) are dry now, Sras Srang is doing pretty well.
I spent much of my time in Cambodia involved with the village on the south bank of the lake and found the abuse of it alarming. Villagers have been using Sras Srang the same way other bodies of water in Cambodia are used – as a general dump site into which they piss and shit. It is also where people bathe using non bio-degradable soaps and wash their clothes in using non bio-degradable washing powders. Thanks to its great size, Sras Srang still looks like a large lake, rather than a large septic tank, but how long before the scales are tipped?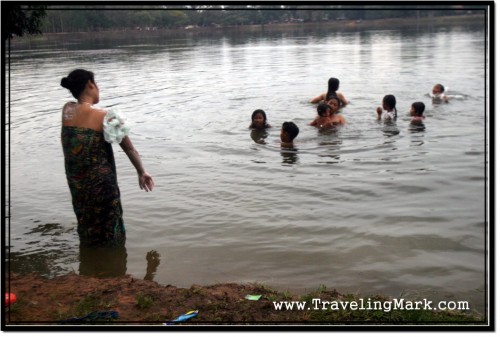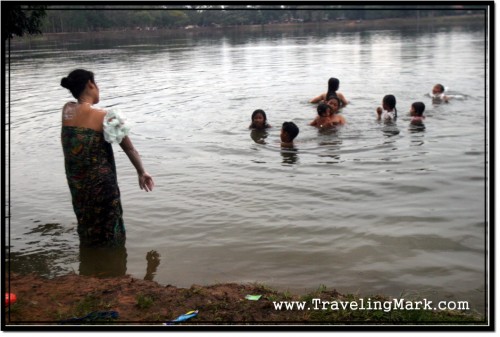 Environment doesn't seem to be on the radar of anyone in Cambodia. It's usually only through funding provided by some foreign organizations if any part of the natural treasures gets non destructive treatment. For months I had tried to explain the villagers that it should be their foremost interest to protect Sras Srang as it's their lake, the lake by which they live but it all seemed to have fallen on deaf ears.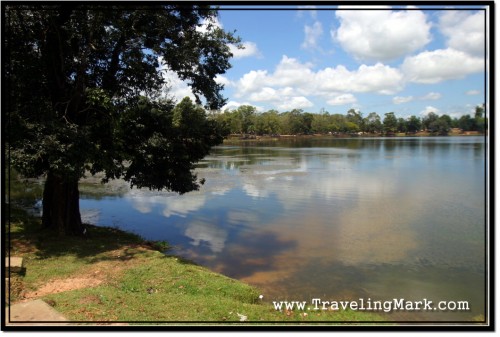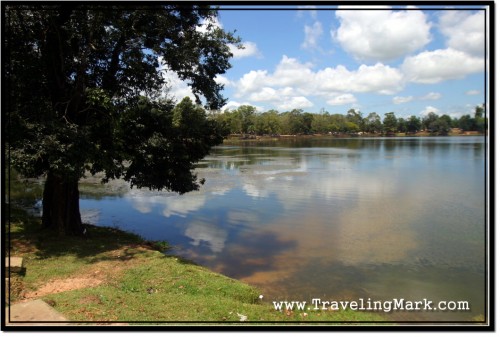 I was told that their predecessors used to bath and wash their clothes in the lake for centuries yet the lake is still there, so why should they start getting concerned about it and change their behaviour now. What they don't realize, though is that their predecessors probably used some organic compounds (coconut extract or who knows what?) as washing fluid, not any of those cheap, chemically produced non bio-degradable powders the villagers use today. No matter how hard I tried, it has not stopped anyone from abusing their own lake or taking any kind of measure to prevent an unavoidable bad ending to it.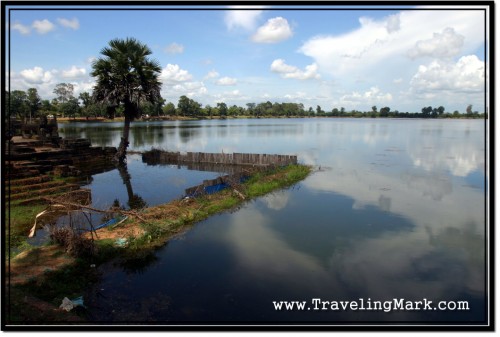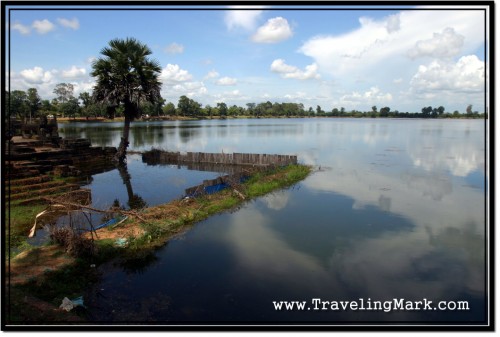 Sras Srang is still there today and it's still flooded. Thanks to its size, the lake offers quite a buffer zone so it may be able to take a lot more abuse before it's irreversible destruction is complete. It's just sad that none of the villagers showed any form of interest in protecting their own front yard. Perhaps when the lake quits on them they will realize what they had done but by that time it will already be too late.