Banteay Kdei temple doesn't get the buzz and attention it deserves. It was built by king Jayavarman VII, the same god-king who built Angkor Thom and Bayon (notorious for its face towers) and as such, Banteay Kdei contains architectonic elements resembling other structures built during the reign of Jayavarman VII. For me personally, Banteay Kdei and Sras Srang – which is just on the opposite side of the road – were the very locations where I spent most of my time during my stay in Cambodia. This makes Banteay Kdei my biased favorite.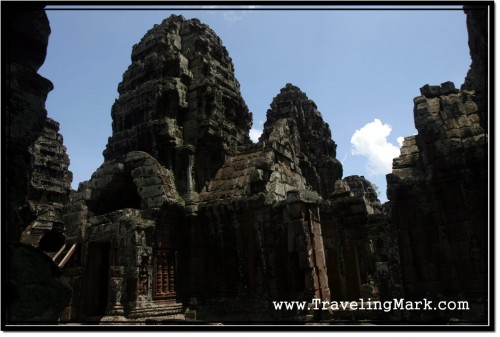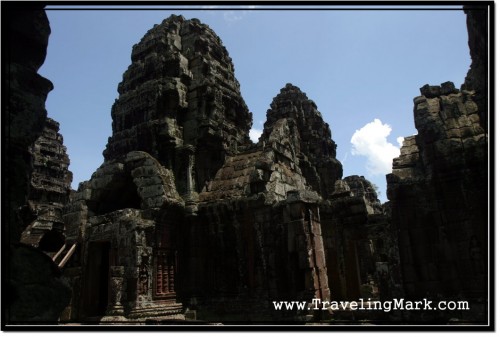 Banteay Kdei, the Khmer name of which means "The Citadel of the Cells" was built in the late 12th, early 13th centuries. Its gopuras (gateways) are crowned with the same face towers that adorn Victory Gate (as well as other gates) of Angkor Thom. Unfortunately, the sandstone used for construction of Banteay Kdei was not of the finest quality and the workmanship of stone masons was nowhere near that of the masters who built Prasat Kravan so the temple fell into a dilapidated state in which it can be found today. Much of the galleries within outer and inner enclosures are in a great state of collapse.
Scholars say that Banteay Kdei was built to be a Mahayana Buddhist temple but even though it was used as a monastery by the monks who dwelt within for centuries, the inscription stone that would contain detailed information about which divinity the temple was originally dedicated to has gone missing.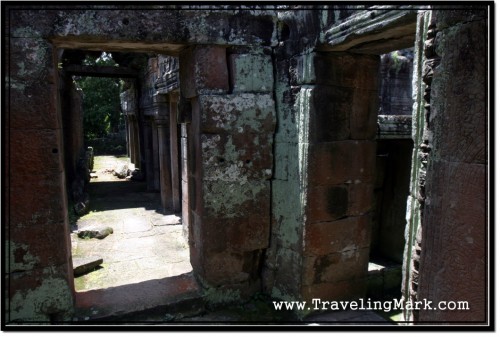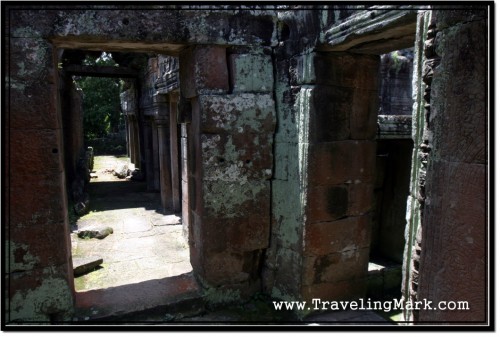 Even though similar in layout to Ta Prohm and Preah Khan temples, Banteay Kdei is smaller and not as elaborate. There is only one level on which the structure stands and contains two concentric galleries enclosed within two successive walls. Banteay Kdei faces east with east wall of its outer enclosure containing the main gopura which serves as the main entrance (from where you will get in). Part of the eastern outer wall is collapsed – it's to the right of the main entrance when facing it from the outside but even though I tried, I was not allowed to enter from there. I saw both wandering live stock and locals get in and out of there, though.
As mentioned above, the main gopura is surmounted by a tower containing four faces of smiling Lokeshvara with features closely resembling king Jayavarman VII. If you look closely, you will also notice three small sculptures of Buddha carved at the base of the tower, at the meeting point of each two faces. The gopura itself is flanked on both sides by garudas (mythical birds) which I always used to think were related to Hinduism but as I had learned, they also apprear in Buddhist mythology.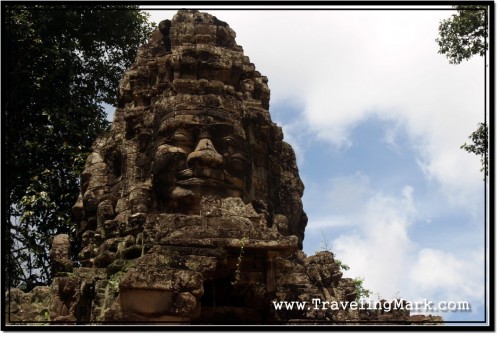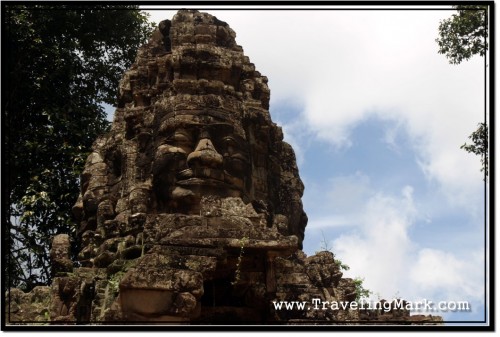 An intriguing thing can be seen to the right of east gopura – step in that direction and focus on the carvings of Apsaras. You may notice what appears to be the bullet holes. I asked locals about it but no one had an answer for me. They certainly look like bullet holes, unless someone tried to deliberately damage the structures by hitting these carvings with sharp, pointy hand tools. If they are bullet holes, I hope they are the remnants of Khmer Rouge activities, not contemporary violence of locals residing within Angkor. Check out the video that shows the holes and judge the cause for yourself:
Once inside, I found myself walking along the cruciform terrace that's slightly elevated above the ground and is decorated on both sides by stone statues of lions and nagas forming balustrades. As I progressed along, I paused at the few, but piquant carvings. I noticed that the towers of the galleries inside resemble those of Angkor Wat giving an impressions of mixed styles (I'm not an expert, don't quote me on that one). Banteay Kdei also has a few spots of massive trees growing on top of ancient stones, which is a sight to behold.
There is a rectangular courtyard to the east of the central temple which may have been used as venue for Apsara performances. The exterior of the courtyard is decorated with figures of dancers and its name translates into "The Hall of the Dancing Girls".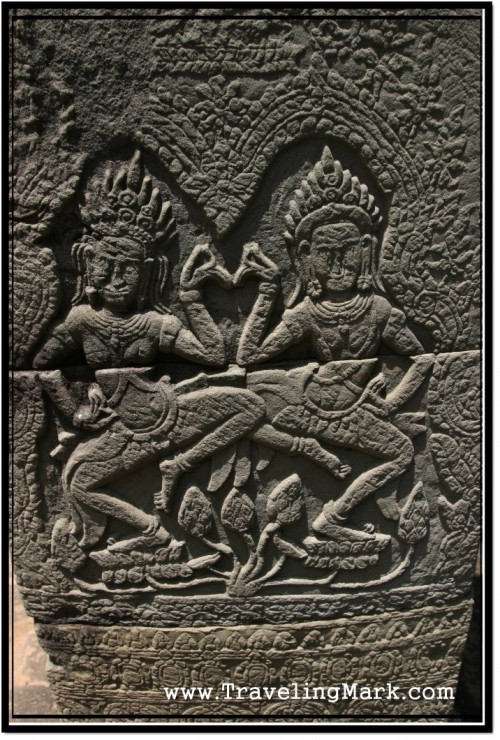 At the entrance to Banteay Kdei there is a sign mentioning that the preservation works on the temple are conducted with an assistance from Sophia Mission, Tokyo. Still, despite funding from Japan and some woodwork enclosing parts of the temple, most of it is unrestored. It looks and feels very ancient inside and unlike Angkor Wat or Bayon, can be enjoyed without sharing with hundreds of other tourists at the same time.
Somehow, even though Banteay Kdei is truly spectacular, most companies that provide pre-packaged tours don't include it in their itineraries. You will see buses full of tourists drive by it at high speeds disrespecting all other traffic participants, never making a stop there. Still, because the temple is on the small circuit, it does get a fair share of visitors. Temples on the grand circuit are far more deserted with myself being the only person when I was there. If you are headed to Angkor, don't miss out on Banteay Kdei.
More pictures of the temple are at the Banteay Kdei Photo Gallery.