At the beginning of the 20th century, when Angkor Wat was just re-discovered and became a popular tourist destination for wealthy Europeans, riding the elephants was the popular way to explore the temples. Improved infrastructure which allowed for the use of motorcycles as well as the pressure from international animal rights groups resulted in elimination of use of elephants at Angkor. These majestic animals were once again reintroduced in recent years and became available for hire by tourists wishing to experience the traditional means of transportation.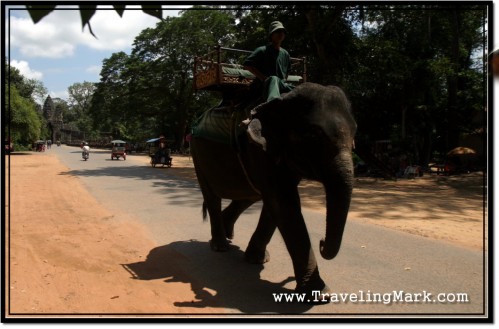 Rumor has it that Angkor Village, the resort group which owns and operates the elephant farm at Angkor looks after their animals well. I have never had a chance to verify the accuracy of these claims but Cambodia is a major scam operation so it's hard to believe anything you hear. This is in no way to imply that Angkor Village could be mistreating the elephants, though. If they really treat them with respect and dignity, then hats off to them – there are not many ethical businesses in Cambodia so if some, despite difficulties exist, then I must express my utmost respect. And I truly hope, for the sake of the elephants, that Angkor Village is the way they say it is.
As for me – I do not support abuse of animals for entertainment by humans no matter what. I believe in freedom of choice by all living creatures. Animals, such as elephants who are kept prisoners – regardless of whether they are happy there or not – for the sake of generating money for their captors don't have the choice, in my mind to go and be free. As such, I would never consider hiring an elephant to ride through Angkor as it only supports this type of business and ensures that more elephants will be (ab)used to do what they are told, not what they would like so their captors financially benefit from it.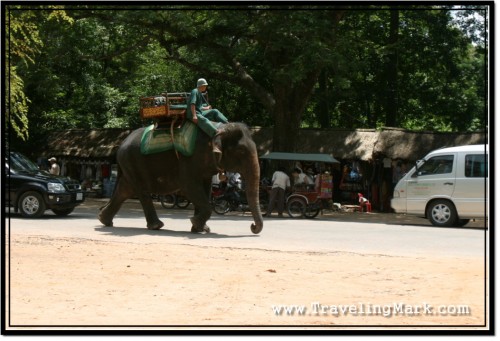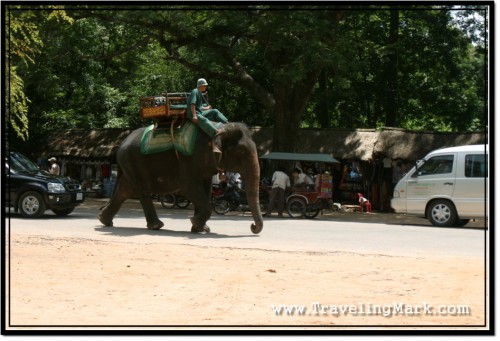 I saw the elephants at the Southern Gate to Angkor Thom and understand that they can be hired for a ride from Angkor Thom to Bayon for $10. In the evening, elephants are available to take people up on top of Phnom Bakheng which is a popular spot for sunsets. This ordeal costs $15. Those willing to shell out $50 could get a ride on an elephant and spend half a day with them which would include bathing the elephant and learning how to command them. Again, I see it as torturous experience whereas the elephant is turned into an obedient puppet on a string for entertainment of people with money.
There are countless videos on the internet of captive elephants flipping and goring their owners (or whoever was the closest). These things need to start happening more often. I sympathize with the elephants and believe they have the right to stand up for themselves. There is only so much abuse you can take before the cup of patience overflows. Live and let live is the only way to be.