Baphuon temple is located to the north-west of Bayon. It was built in 1060 which means it stood at its location long before the royal city of Angkor Thom was built around it. Erected during the reign of king Udayadityavarman II (ruled from 1050 to 1066), Baphuon was the state temple of Yasodharapura. Being a very old structure, Baphuon is in a great state of ruin and in desperate need of repair. Unfortunately for me, restoration works were well underway during my visit with main area of the temple mountain being off limit to tourists. Several high cranes were spoiling the view so pictures look rather crappy. It has been known for centuries that Cambodians are the laziest people in the world, but luckily the Baphuon restoration project is financed by the government of France with foreign workers involved so hopefully the temple will open for public soon.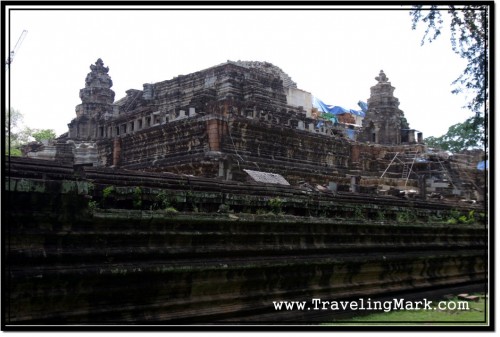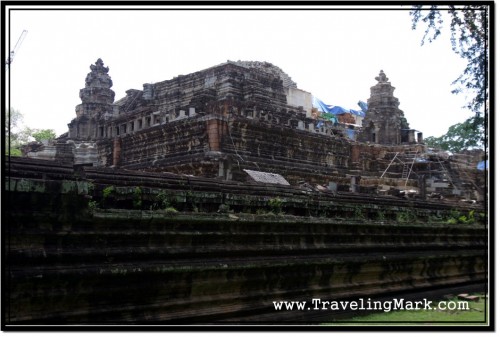 The entrance gopura is in line with the Terrace of the Elephants which serves as an entry point to the royal palace area. Few steps got me on a narrow, 172 meters long causeway leading to the temple. The causeway must have been added later as it's no where near as collapsed as the temple itself. There were two basins on each side of the causeway and one rectangular shaped basin to the south of the cross shaped pavilion in the middle of it.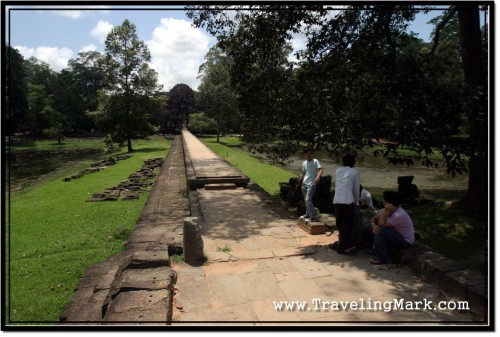 Even though I couldn't access the temple itself, I stood in awe over its size. It appears to be taller than nearby Bayon and consist of four or five floors (unlike Bayon which only has three). I walked around Baphuon noticing countless stone blocks randomly scattered along the fields surrounding the temple. Construction noise was coming from within giving an impression that works are being done to make the temple accessible to public one day. Wooden stairs are being built for easier access to upper levels of the temple but how long it'll take to make it safe for visiting is anyone's guess.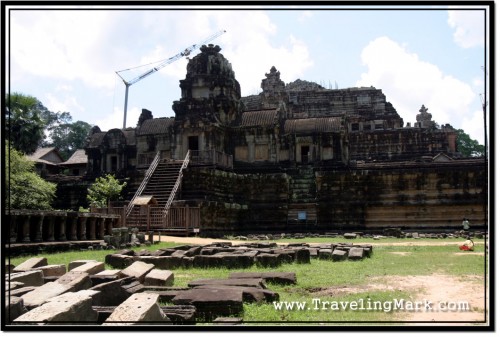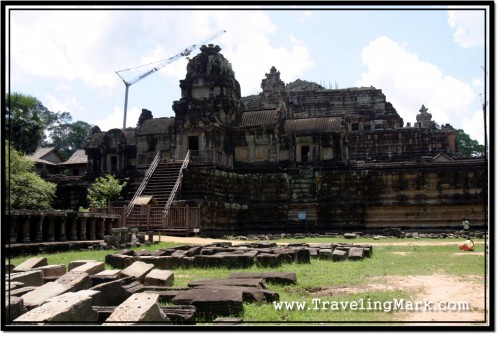 I understand there is an impressive statue of a reclining Buddha in western gallery of the second tier, but for obvious reasons I never got to see it. I can also imagine the view of Angkor Thom from the summit much be impressive. Perhaps one day when restoration of Baphuon is finished and temple made available for visit, I will make it back to Cambodia and get to see what I couldn't during my first visit.