Phimeanakas was the state temple of king Suryavarman I. It was built in late 10th to early 11th centuries which means it was at its location long before the royal city of Angkor Thom was built around it. When king Jayavarman VII had the plan for Angkor Thom laid out, he made Phimeanakas part of his Royal Palace area. Because none of the carvings on Phimeanakas survived, this temple is artistically characterless, however it's easily scalable and provides interesting views from the top. Perhaps when Baphuon is restored and made accessible by public, the views from up there will be even better, but for now the top of Phimeanakas is the highest you can get at Angkor Thom.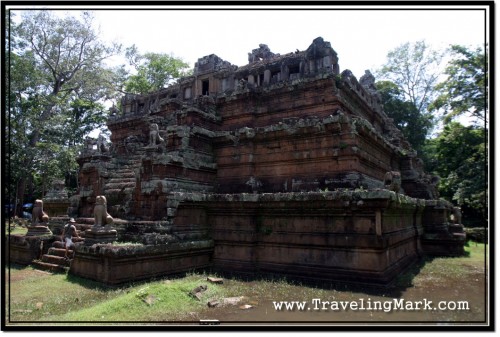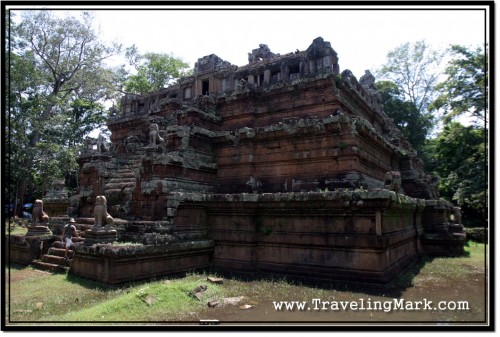 Yes I did climb on top of Phimeanakas and yes it was not particularly easy. The climb itself is not too bad, the western side of the temple (the back of it) has a wooden stairway built alongside the original stone stairway to make for an easier ascend but as is the case of everywhere in Cambodia, it's not the climb that'll destroy you, it's the heat. A few minutes climb up the steep staircase directly exposed to the dilapidating sun will wear you down like a marathon run. The sun will suck out the last drop of energy you had in your body by the time you made it through the initial few steps. Each time you take a breather, it will only get worse. And as if the extreme heat from the sun was not enough, the temple blocks radiate it back at you from below giving you absolutely no way to escape the destructive heat.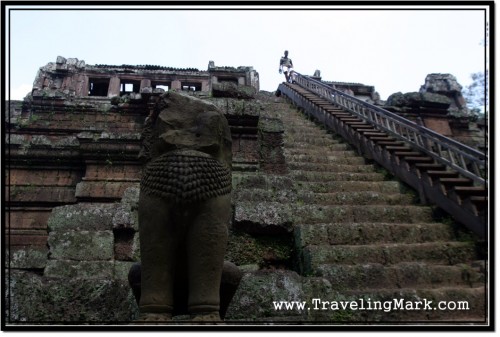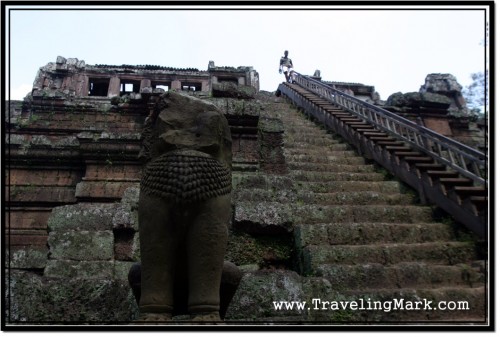 Reaching the summit doesn't make it any better. There is nowhere to escape the heat, only the rays of the sun within the blocks of stone where it seems to be hotter than in direct sunshine. The feeling of reaching the top is satisfying even though you will be entirely out of juice. The sanctuary on top is currently empty but was likely used to house a divinity while the temple was in use. According to the Khmer legend, Phimeanakas was crowned with the golden tower within which dwelt a nine-headed naga serpent which transformed into a woman every night. The king was obliged to make love with the serpent every night or else the kingdom would fall into ruin. I guess one of the kings failed in the task as once powerful Angkorian kingdom did eventually fall into ruin.