After I was done exploring Pre Rup Temple, I gave my last wave to the young Water Buffalo herder who had not left my side for a second and kept insisting on more money after I gave him a dollar, I mounted my bicycle and quickly darted off further north to reach my next destination on the Grand Circuit of Angkor – East Mebon.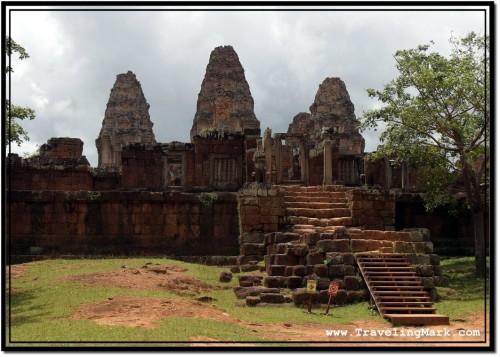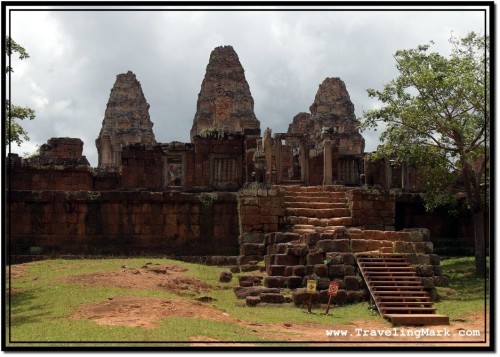 The East Mebon Temple was built on an artificial island in the middle of a large water reservoir called Yasodharatataka, or as it is known by its present day name – East Baray. While most maps of Angkor Archaeological Park still display East Baray as a water reservoir, you won't find any water there these days. The reservoir has been dry for a long time and little remains to give visitors hints on an immense area this body of water once covered.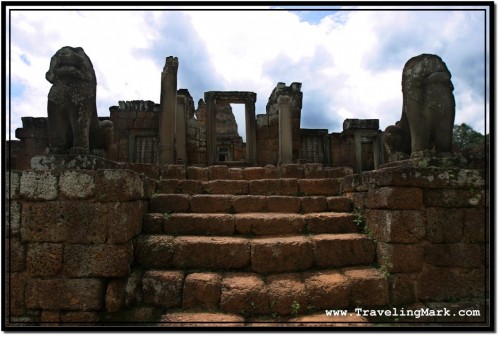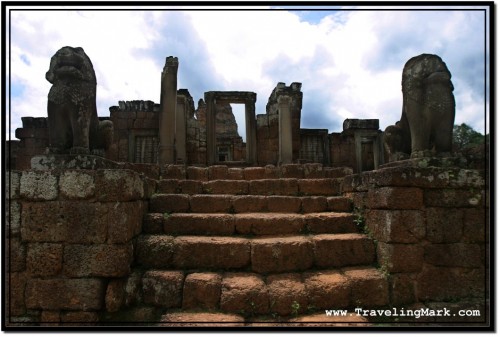 East Mebon was built by King Rajendravarman II – the same king who built Pre Rup. Both were constructed in the same style of a temple mountain with two enclosing walls and three tiers. The water reservoir the temple was originally built in the middle of was 2 kilometers wide and 7 kilometers long. It was fed by the water of the Siem Reap River and used as a regulator of its flow and irrigator of surrounding planes in the dry season. Its south bank was just 500 meters north of Pre Rup. It must have been quite a lake back in its day, even though judging by the size of the island on which East Mebon still stands, it would have been only about 3 meters deep.
The inscriptions found on of near East Mebon suggest that the temple was finalized in 952, predating Pre Rup by mere 9 years. It originally housed several Hindu deities, including several gods – notably Shiva and Parvati whose statues were carved in the likeness of the father and the mother of King Rajendravarman. Some sanctuaries housed statues of Vishnu and Brahma.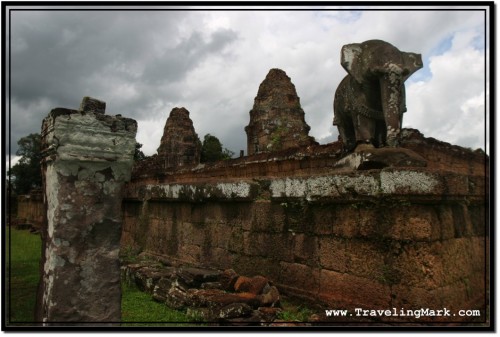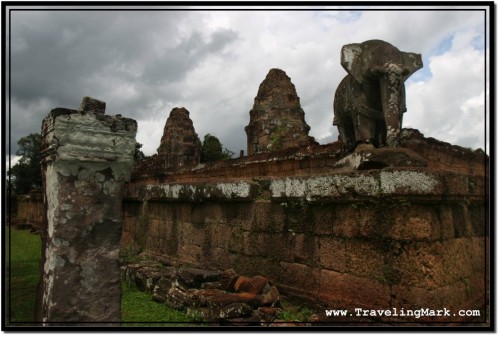 From a distance, East Mebon appears to be in greater state of ruin than Pre Rup, however there were few elements that made this temple more interesting than her younger brother. I particularly liked the lone elephant carved out of a single block of rock guarding the temple from the ground level (there is one on each corner and more on the upper level – I took the picture of the one I liked the most). Carvings of Apsara dancers on both sides of the entrance to the main tower of the central sanctuary, as well as other carvings found on the lintels were also worthy of attention as they were much better than anything found on Pre Rup. What would have been the most impressive part of visiting East Mebon – the large body of water that once surrounded it – is unfortunately no longer there making the visit to it otherwise vastly unspectacular.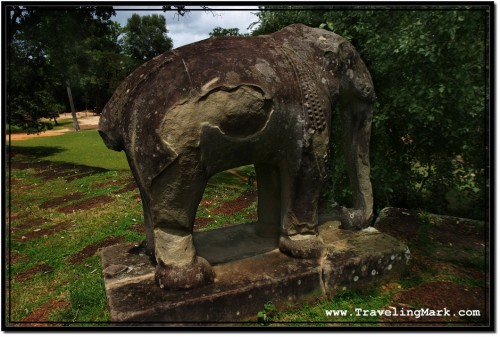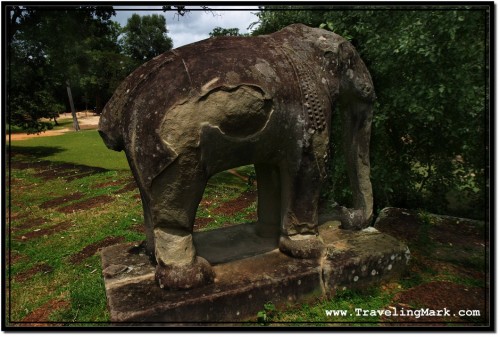 There was one other random person at East Mebon when I paid it a visit, which was really odd cause other than him, I would be the only one at most other temple ruins along the Grand Circuit I visited that day. The sun was already roasting everyone in the area like she liked her roaches very well done, so knowing that it's only gonna get worse as midday gets closer, I didn't waste any more time and moved on to my next destination.