This was my second day at Angkor Archaeological Park, but I have already noticed several people with disposable cameras. I could not help but wonder what in the mighty heavens they were thinking – flying all the way to Cambodia to see Angkor temples and bringing only a measly disposable camera with them? It made no sense. But then while I was at Ta Prohm, I was approached by a couple of girls who asked me if I would take a picture of them in front of that picturesque spot with blind door where massive tree roots grow over the structure and a brief conversation with them made it all clear. They handed me a disposable camera so I got an opportunity to strike a conversation and ask why they would come all the way to Angkor without bringing some kind of decent device to capture their memories on.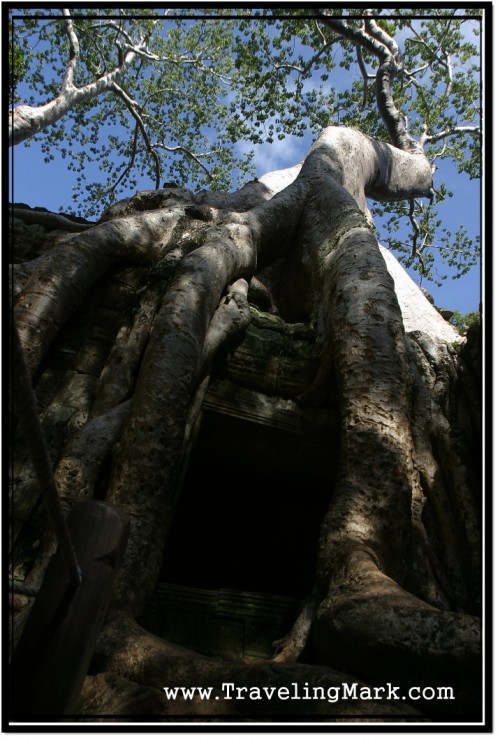 Given that at this time I have already been in Cambodia for a little over a week, I should really have known without asking. I already had a thief attempt to steal my bicycle but I had my guardian angel on duty that night so he only got away with stolen keys from the bicycle chain lock. I had to carry the bike on my shoulder to the shop to have the lock cut and get a new one, but at least I still had the bike. Theft problem is very prominent in Cambodia (as are other forms of crime) so the real reason why I saw so many people with disposable cameras at Angkor should have really been clear to me straight of the bat but for some reason I needed a heads up from those girls as a slap on the forehead. The conversation went something like this:
Me: Where are you guys from?
Girls: Denmark.
Me: Beautiful country, continuously ranking as #1 country with the highest standard of living in the world. But why would you come all the way to Angkor, from Denmark and bring nothing but a disposable camera with you?
Girls: We had nice cameras, but they were stolen along with our money and passports in Phnom Penh.
Oops! How could I have possibly not figured that out without asking? While Cambodia is not the only country in the world with theft problem, the number of Cambodian thieves on the loose looking for a foreigner who's had a long day and is too tired to stay fully alert is staggering. After the experience with the Danish girls, each time I saw a person or a group of people with a disposable camera at Angkor, I didn't go to ask why, I went straight to have the suspicion of theft confirmed.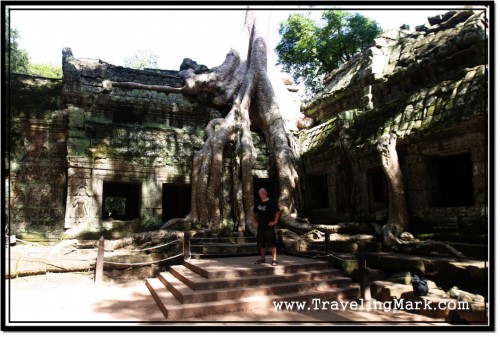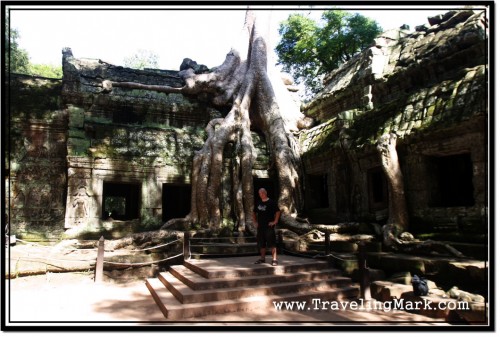 Since I spent virtually every day of the rest of my stay in Cambodia at the Banteay Kdei temple and the Sras Srang moat, I had a chance to meet and speak with hundreds of Angkor visiting foreigners every day. The numbers of those who were victims of theft were alarming. You could see the sadness and horror in their eyes. You could see they only came to Angkor because they already had the ticket, but they could not wait to get the hell out of Cambodia before something more serious happens.
The stories of how it all went down varied, but the outcome was the same. Devastated individuals, couples and families who will definitely never consider coming to Cambodia again and I don't blame them. Out of hundreds of people who had their cameras and other effects stolen, there was only one couple who didn't think they were victims of theft. They told me they'd forgotten their camera on the table of the restaurant where they had eaten that day.
The couple realized they were missing the camera shortly after leaving the restaurant. Being new to Cambodia, they didn't suspect any foul play and simply thought they must have left it on the table. They returned to the restaurant hastily, but the camera was not there. I asked them if they glanced over the table the way people do before leaving the restaurant and they both said they did but thought that the camera just didn't stand out among the plates and silverware scattered across so they missed the sight of it and left without picking it up.
What really happened to them is hard to know for sure at this point. The only person who would know for sure is the one who took it. While dining, the couple was approached and bothered by several pestering touts who approached them in an attempt to sell them postcards, bracelets and other stuff Cambodian touts sell. Whether somebody saw a camera on the table and stole it while they were still there, or whether it was taken by someone after they'd left leaving the camera on the table is truly irrelevant, though. Honesty and will to help another are not traits commonly found among Cambodians. Greed and malice, on the other hand are omnipresent.