If you do like I did and take the Grand Circuit of Angkor in the counter-clockwise direction, you'll get to Prasat Ta Som after visiting Pre Rup and East Mebon temples respectively. And if you start roughly at the same time as I did and do a thorough exploration of each ruin you pay a visit to, by the time you get to Ta Som the noon hour will be upon you and you'll be sweating out of every pore on your body, including those you didn't think contained any sweat glands. I provided myself with self propelled transportation, so when I reached Ta Som, I was ready to throw the clothes I was wearing in a garbage bin. Even my underwear was drenched in sweat to a point of drip marking my every step.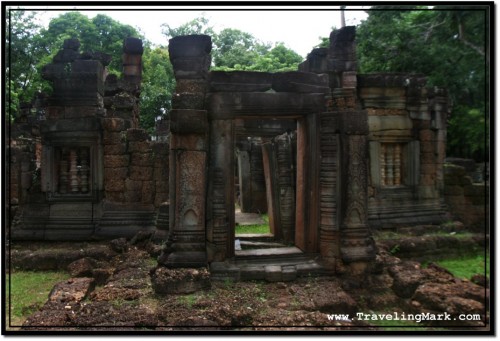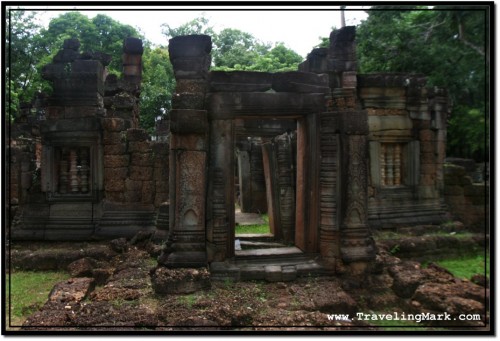 Ta Som Temple was built at the end of the 12th century by the Khmer King Jayavarman VII (the great builder king who also built Ta Prohm, Banteay Kdei and Bayon, among others), which makes it one of the younger temples on the Grand Circuit. Because of its location (it is the most distant temple on the Grand Circuit, meaning that it is furthest away from other temples than any other ancient temple in the main area of Angkor) and great state of ruin, it doesn't attract very many visitors. Being a single tier temple, Ta Som doesn't have any stairways to climb making for a less challenging exploration however because of almost completely collapsed rooftops, the temple offers no real places to hide so a visitor gets pretty heavy beating by the merciless Cambodian sun rays.
There are three sets of walls surrounding the central sanctuary which in itself doesn't look like much due to lacking restoration funds, however there are some well preserved carvings to be seen. Ta Som was one of the last bigger temples in Angkor Archaeological Park to be added to the World Monuments Fund (WMF) restoration program but the work so far has mostly only consisted of securing the structures to remove an immediate threat of collapse while visitors are around.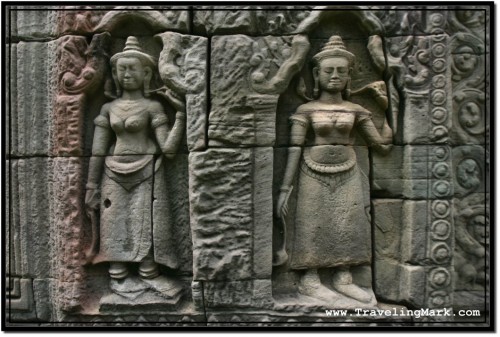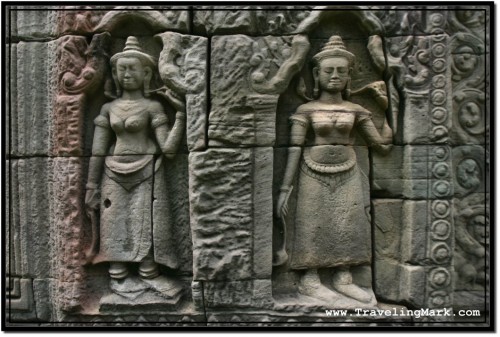 As is the case with many other Angkorian temples, centuries of neglect resulted in jungle overgrowth with huge fig and silk trees growing on top of the collapsing stone walls. The presence of the trees as well as an architectonic style of the temple which is similar to that of her more famous sibling has earned the temple a name of Mini Ta Prohm. Entrance gopuras in the outer enclosure are crowned with four faces similar to those found in Bayon. The main entrance gate used by everyone who visits Ta Som looked much like the South Gate of Angkor Thom, only smaller and more crumbled up. The state of Ta Som's collapse seems to get worse with each enclosure you step within. Since outer gate still stands in a pretty decent shape, it is patrolled by aggressive child touts who wait in its shade for a sun beat tourist to walk right into their arms like a fly into a jar of honey.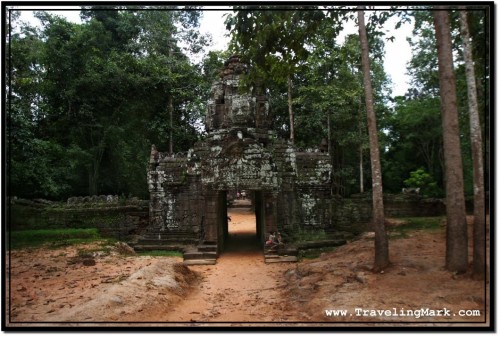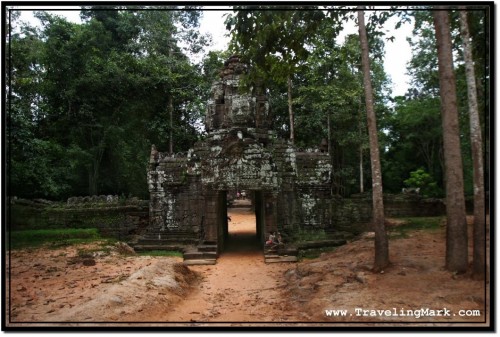 Stone causeway which once served as a bridge over a moat is located inside the outer enclosure, rather than outside of it which implies that the outer wall was a later date addition to the temple. The causeway is decorated on both sides with serpents and Garudas, however they are broken into pieces and miss large parts which is the price the temples paid after greedy locals discovered that they could loot the temples and sell their ancient art for personal profit. What's truly amazing is that despite looting and decay through neglect and time, many carvings and reliefs throughout Ta Som are in a remarkably good shape and are remarkably well carved for a late 12th century temple. These fine carvings of Apsaras and Devatas more than make up for a disappointing sight offered by a largely collapsed central sanctuary.
More Photos of Ta Som Temple at Ta Som, Angkor Photo Gallery.