At this point things really started to look crappy. I only had a week until my departure and still didn't have a laptop. I had last two options left – either go for a large screen laptop but be stuck with this heavy, oversized piece of equipment I will have to haul around endlessly, impossible to use in confined spaces, such as plane seats, or purchase extremely expensive, but super lightweight and super small laptop from Sony or Panasonic. Sony was not a brand of choice as I had previously had bad experience with their laptop, so Panasonic Toughbook seemed like the only option. And while these ToughBooks are impact resistant, small and lightweight, they are super expensive making it more than unjustifiable (unless you have lots of money to waste). Performance is nowhere near where it should be, however the fact that they are so small and so light (and so durable) would make it a perfect companion on the road.
Price tags for these laptops are sky high, however. Cashing out $2,500 for a laptop is not an easy thing to do. And it was at that time when Samsung introduced its laptop to Canadian computer market. Their laptop model was Q320 and even though Samsung is not known as being a solid computer maker, I have been using 24″ Samsung screen on my desktop and it's the best screen I've ever owned. The Samsung Q320 specs were impressive. More than I could ask for which was making it very attractive. It cost $1,299 Canadian which was more than any previous laptop I have looked at but it had components to well justify the price. As a matter of fact, when it comes to value for money, Samsung Q320 was on top of the game. Given high performance components inside this laptop, the price was amazing.
I was still a little bit reluctant because Samsung is simply not a make you ever think of when you talk laptops so I went to search for Q320 reviews on line. Surprisingly, people did not have enough good things to say about these machines. It almost seemed unreal that there would be a laptop with such amazing set up for such an attractive price. I went to take a look at it in Future Shop and sure enough, the feel of Q320, the performance, the screen output – this was one amazing machine. Unfortunately in Canada, Samsung Q320 laptops were only available in white. That made the unit look like a MacBook which is not very visually flattering, but I wasn't buying the laptop for its looks. I needed performance, reliability and small size. They way a laptop looks was vastly irrelevant so I got past the Mac-like looks and gave myself just one day to think it over (I'm not an impulsive buyer, no matter what).
My original intention was to only spend up to $1,000 for a laptop and this Samsung Q320 was way over my budget. Given the components this laptop was equipped with, however, the price tag made it more than worth it so value for money was there more than with any other laptop. I went back to the Future Shop the following day only to find out with horror that the only model they had there yesterday sold during the day today. Since this was a brand new model, no other outlet in Canada carried it. I went to Future Shop in Northgate, Edmonton and was told that they didn't even have any of those yet. As a matter of fact, first two sales reps I was talking to didn't even know this model existed. I had to refer them to their website to make them believe that I'm not making it up and Future Shop does in fact carry this model.
I spent whole day trying to buy the best small laptop that was currently available in Canada only to end up with nothing at the end of the day. At least formerly worthless sales reps from Northgate did me a favor and called other Future Shop locations in Edmonton to see if anyone still has one of the units in stock. Luckily, the west end location did have it so I assured them I would be there tomorrow to pick it up and asked them to secure it for me. The following day I jumped on my mountain bike and rode all the way to west Edmonton where brand new Samsung Q320 was waiting for me. Without second guessing I bought this laptop and headed home to enjoy its performance.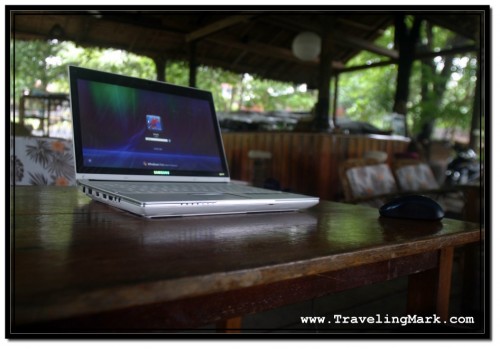 This machine worked like clockwork. The best laptop I have ever owned. It had the speakers on the bottom giving out poor sound when you had the laptop on your lap, covering the output, but other than that I could not think of any other downside. The best laptop ever. Never let me down in any way. I was really happy with the choice I made and as I kept using it, I even grew to accept the not-so-flattering, Macintosh-like white exterior. I had the most important piece of electronic device needed for my travels. I was ready to board the plane. As far as laptops in Canada are concerned, Samsung Q320 is hands down the best model to buy.