My awesome Samsung laptop was gone and all the data on it went with it. It was a horrible loss the repercussions of which are still very much painful. However, this milk was already spilled, crying over it would not make it better. It was time to move on and start looking at buying a new laptop. This time around I took well into account the most important argument one mustn't forget when buying a laptop to travel overseas with. I was more than happy with the Samsung laptop I bought before and the same company has just released a new netbook with latest Intel N450 processor (known for low power usage) so I went to take a good look at it. It was called Samsung N150 and like it's bigger brother, it was only available in Mac like white in Canada.
That bothered me not. I knew Samsung makes solid portable computers and as I was looking up N150's specs, I had no doubt that just like Q320 in laptops, this is the best netbook on Canadian market and it's also the best value for money. Unlike great deal of its competition, Samsung N150 netbook was sold for $399 or less at Canadian big box electronics stores which beat many inferior models by $50 to $100 Canadian.
Future Shop Canada had Samsung N150 listed for $399 and since I bought my previous laptop with them, including an extended warranty (never ever again), I thought of giving them a call to see if they'd be able to work something out for me. Afterall, I had just spent $300 half a year ago which they can stick right in their pocket as there will never be any warranty claims against that purchase. I phoned the Future Shop location in West Edmonton where I bought my laptop and asked to speak with the computer department manager. It was a bit difficult to get to him but I was persistent as non managerial person would not be able to address my issue.
I eventually got a manager on the line and explained that I had spent $300 for 3 years of extended warranty with Future Shop but the laptop was stolen so I won't make any claims with it hence basically all of it goes unused because the laptop was still under manufacturer's warranty. I told him that I would be interested in purchasing a new laptop with them if they were able to work out part of the money I spent on the extended warranty towards the purchase of my new Samsung N150 netbook.
The manager was a complete ass and acted like the world belonged to him. Once he was done explaining how important he and the company he works for were, he mentioned that he would be able to put part of the extended warranty I had already purchased towards the purchase of a new extended warranty. In other words, I lost $300 once and he used it as an opportunity to upsale me with another rip off extended warranty. Nevermind the fact that Samsung Q320 which I had stolen was more than 3 times as expensive as N150 so extended warranty for my new netbook should be less than one third of what I paid for Q320. That means that not only should I get the extended warranty for free, there should be the left over money on it to use towards the purchase of the netbook itself.
At that point the manager concluded that he needed to go and couldn't discuss this matter with me over the phone. I went to visit said Future Shop in person yet when I asked for the manager and explained who I was, I only got a message that he's not coming out of his hiding, but one of the staff can work out some kind of a discount for an extended warranty I should purchase for my new netbook. Wow! What a manager. Extended warranties are not worth it to begin with, no matter what kind of discount he'd offer, I'd be losing on it, Future Shop would be the only one benefiting. So they were using my huge financial loss for their own enrichment and the manager didn't even find the respect to come and greet me and talk to the staff on my behalf. Future Shop – you can keep my $300 I spent for the extended warranty on Q320. I will not ever buy from you again!
I went to the nearby Best Buy Canada shop and checked out what they had there. I really enjoyed the treatment there much more than in Future Shop. Too bad they didn't have Samsung Q320 when I was buying it prior to my first departure. I would have bought from them but at that time the model was just released and Future Shop was the only outlet in Canada that carried it right away. Best Buy started to carry it later, but I was already gone.
I tried a nice N150 at Best Buy and definitely loved everything about it, except from ridiculously low screen resolution. This was gonna be a tough one to get used to but it was only gonna cost $400 total so I had little room to complain. Best Buy sales people are not commission paid – unlike Future Shop sales people. You experience way less pressure at Best Buy however because Best Buy sells electronic with very little margin, their financial sustainability depends on sales people's ability to sell extended warranty with each purchase. These try hard attempts to sell extended warranty were too blatant from start to end. I wasn't even buying, just enquiring yet the debate kept going towards extended warranties all the time.
Never the less, the treatment I have received from people at Best Buy was far better than that from Future Shop so I had nothing to think about. However, the only Samsung N150 model they had in the store was the display one. Unfortunately, on top of already pre-loaded bloatware, Best Buy display models are loaded with more bloatware to display their own sales pitches, mostly geared towards promotion of their Geek Squad.
They expected a new delivery next week so I went home without buying. I still had a couple of weeks before the departure so I didn't need to rush with the purchase that much. Oddly enough, Best Buy updates their prices on Thursday so when I went to check out their website the following week, I found the price of Samsung N150 dropped down to $369 Canadian. That was my cue – this netbook is not gonna go any lower than this. It was already priced extremely well for what it had at $399 but to see it at even better price was an instant cue to buy it while this special lasts.
I knew that Best Buy in West Edmonton was out of N150s when I was there (except from the display model) so I called them to make sure they did get a delivery of new ones before I travel half way across the city to buy it. Unfortunately, they didn't. I called their North end location and those guys only had a display model too. That was kind of disappointing and as the days were passing by, I was getting closer to Thursday when prices get updated again so I eventually went and bought it online at BestBuy.ca – good idea.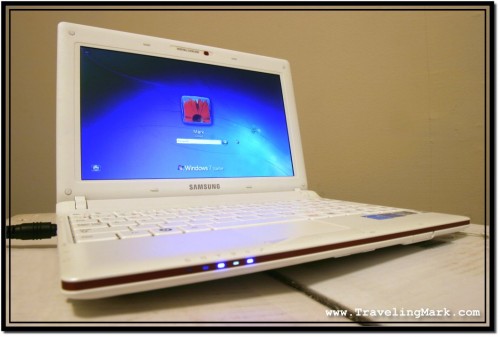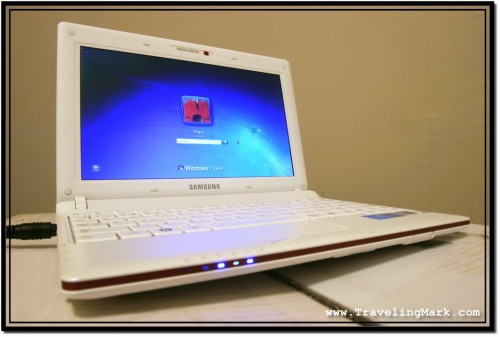 Processing of their on line orders is very smooth and fast. My netbook was shipped to me the following day from British Columbia and I got it the day after. From the beginning it seemed as though there will be a charge for delivery, but it turned out not being the case. It's just that their website is a bit confusing. The good thing about buying on line is that you have no sales person throwing at you their well tested arguments to make you buy the extended warranty package. It is offered on one page when placing on line orders which I declined and that was it. I had my brand spanking new, super awesome Samsung N150 Netbook ready to roll. I was mobile again.