Having concluded my weekend in Lima, I returned to Cusco. The 22 hours long bus ride seemed as neverending as when I went the opposite way.
Instead of going back to Hostal Margarita where I stayed when I first visited Cusco, I however decided to try out El Viajero Hospedaje, because it was close to the bus terminal. I quickly came to regret the decision.
El Viajero
The room at El Viajero cost 30 Soles, the same as at Hostal Margarita, but to my shock, after an hour of stay, the owner switched off the wifi router, shutting off the internet for me.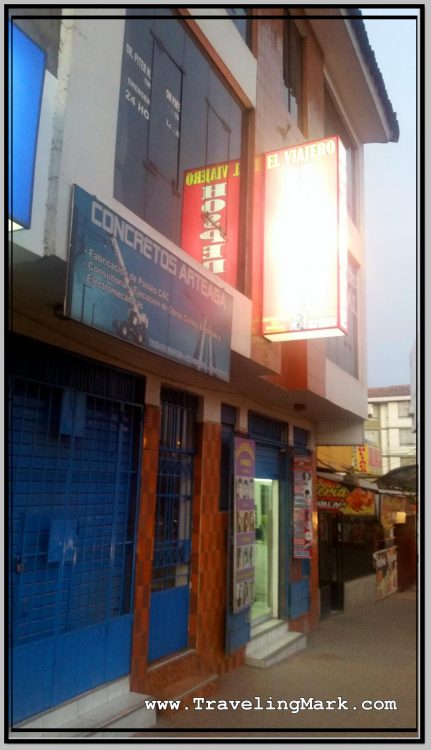 When I confronted him about it, he said I'll only get an hour of internet, and if I want more, I would have to pay for it. I quickly said I'm canceling my stay there and demanded my money back, because before moving in, I had done what I always do with every single place before I pay for a room – I asked whether the rooms come with free wifi internet. Whereas he confirmed I'd get free internet with the room, I agreed to stay there, so now that he was changing the rules after the game has started, I was having none of his crap.
With unshakeable determination I told him I demanded my money back and proceeded to pack up in order to immediately leave. After that, he said he's gonna turn the internet back on for me, although after a few hours, he turned it off once again.
That sparked another argument from me, until he eventually agreed not to turn it off again.
Booking Tour to Rainbow Mountain
Meanwhile, I went out to find out what it'd cost to book a tour to the Rainbow Mountain. I have never heard of the Rainbow Mountain before (known locally as la Montana de Los Siete Colores – the Mountain of Seven Colors), but it was strongly recommended way back after I had just landed in Peru, and hang out in downtown Lima with Isadora from Brazil.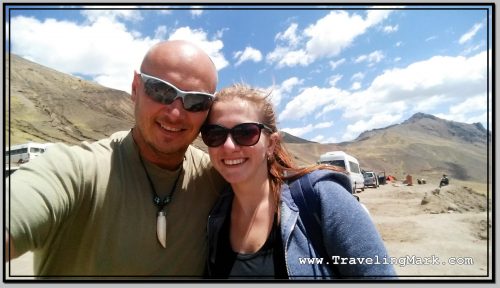 I went to a few tour operators in Cusco and enquired about the prices for the Rainbow Mountain. While there were some overpriced options, general cost seemed to be in the neighborhood of 60 Soles for the trip, including the 10 Soles entrance fee (Peruvians milk tourists every chance they get, so every time there is a new attraction, they instantly introduce an entrance fee).
Several tour operators advertised what they promoted as a great price for the trip to the Rainbow Mountain at 50 Soles, but that was just a marketing gimmick, because unlike the regular 60 Soles worth tours, the 50 Soles ones did not include the 10 Soles entrance fee so the end cost for the unaware tourist would in the end be the same anyway. It would appear that the deceptive marketing works out well, because in the tour bus I took, all but two people fell for it, thinking they got a better deal.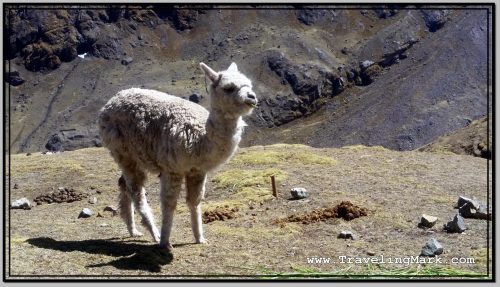 The Rainbow Mountain tours start early in the mornring. The include pickup from the hotel and I was told to be ready for my pickup at 4:30 am. Whereas the tour would last whole day, what it meant for me was that I would have to leave my room at El Viajero with my backpack, because there was no way I was staying there for another night
I would have preferred to have stayed in a reasonable place where I would have been able to leave my baggage while I'm up on the mountain, but El Viajero simply wasn't that place, so I had no option but to haul all my crap with me, so I can book me a room elsewhere after I've returned from the Rainbow Mountain. Standard check out time in Cusco is ridiculous 10am. The return from the Rainbow Mountain was not expected until 5pm.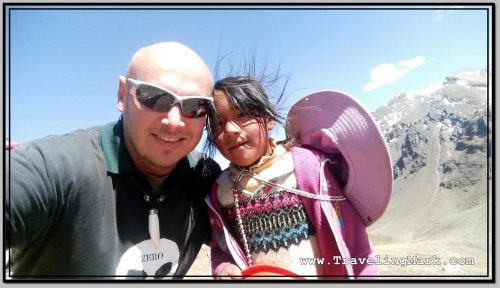 As is also pretty standard with tours in Peru, even though I got up at 4am in order to be ready for the pickup at 4:30 as per the instructions I got, the tour bus didn't show up to pick me up until 6:30am. I would have gotten 2 hours more sleep, had they been up front with me that nobody's gonna bother picking me up nowhere near on time. After my previous experience booking a tour in Peru, I should have known better.
Food Included
The Rainbow Mountain tour also included breakfast and lunch. As is almost always the case, each time the tour comes with a meal included, you'd be better off paying less for the tour and not have it included, and either bring your own sustenance with you, or pay for your own food along the way.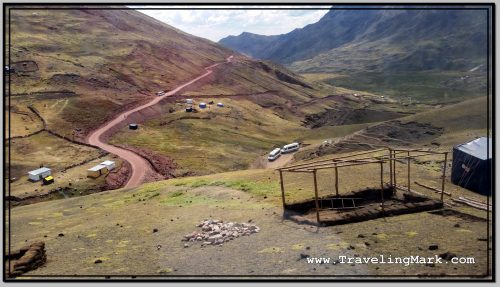 The included food is in a restaurant that pays the best commission, and it's mass produced to maximize profit. I was told it would be a buffet style service, but all there was for the breakfast buffet were a few baked breads with butter and jam, plus a cup of tea. The latter was the only thing I used, as pure carbohydrates with no nutritious value of the rest did not attract me at all. Luckily, as far as the tea was involved, the restaurant did provide coca leaves, which are known for being beneficial when braving high altitude, and give the drinker a bit of an energy boost.
The lunch, which was served in the same restaurant on the way back from the mountain, was not a big win either. A tray of rice, a tray of a bit of chicken, a plate of lettuce and a pot of soup were provided, but there was so little of each, by the time one half of the bus filled up their bowls with soup, there was none left, and likewise, with the exception of rice of which there seemed to be enough, only the first ones at the tray of chicken got a reasonable portion.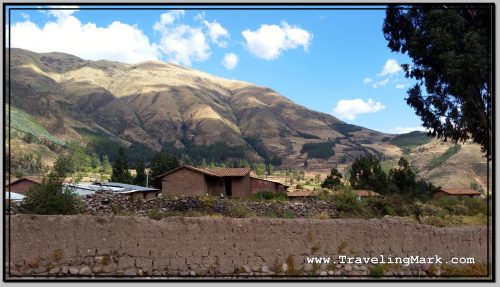 Basically, for my breakfast buffet I got a cup of coca tea, and for my lunch buffet I got a scrap of chicken with a small side of veggies and that was it. The jugs of juice that accompanied the lunch were filled with some syrup water loaded with sugar.
Other than that, the trip to the Rainbow Mountain itself was amazing. For me, it counted as the best experience I have had in Peru, mostly because it was the first time I climbed to over 5,000 meters above the sea level and even though it was tough on my body, I pushed myself and battled through the low oxygen environment and did it. The feeling of accomplishment was amazing, as were the views of the spectacular mountainous scenery.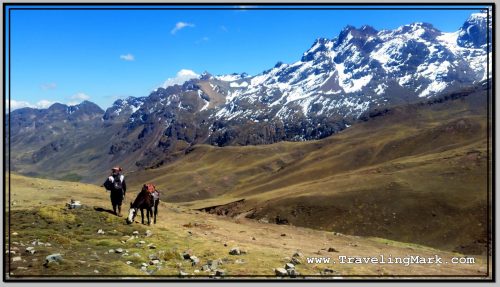 Just as Isadora strongly recommended a trip to the Rainbow Mountain to me, I also strongly recommend it to anyone visiting Peru. It's a high altitude hike so it's not a walk through a park, but if you push through and reach the top, the reward will be very much worth it.