After returning from a walk up and down Miraflores, I went to my dorm, took a shower, washed my clothes in cold water, put earplugs in and hit the bed.
I woke up around 3am, but stayed in bed until 8am to catch the complimentary breakfast Pool Paradise provides their guests. It consisted of what could have been one, maybe two eggs scrambled, two bread buns, a banana and a glass of orange juice. Tea and coffee were also available.
The checkout was at noon, and whereas I knew I was leaving Lima, I decide to check out after breakfast, put on my backpack and head downtown to visit some of its old quarters before I leave the city for good. I did not want to do it knowing I'd have to return to Miraflores in the city's awful traffic in order not to miss the checkout, which is why I had to do it all with my backpack on.
In August it's winter in Peru, so ever since I arrived, the sky was overcast and it was rather cool – around 14 degrees centigrade during the day. The hazy conditions also brought rain, but it was the type of rain that sogs everything, but you can hardly see any drops fall to the ground. The humidity is super high the whole time, but I found the weather suitable for walking with a load on my back because it's not overly hot, so you don't sweat the whole time, but it's neither cold, so you're not freezing your buns off either.
When I was checking out of Pool Paradise, I met a Brazilian girl named Isadora. A resident of Sao Paolo, she was also getting ready to do the tour of downtown Lima, but she didn't take all her belongings with her, as she planned to return to the hostel to continue her stay. We hit it off really good right from the start, and went downtown together.
We left Miraflores in a Metropolitano bus. It costs 2.50 Soles per ride and is paid upon entering the area from within which a bus can be boarded. The bus identified with a letter C connects Lima's downtown with Miraflores. That's what we took.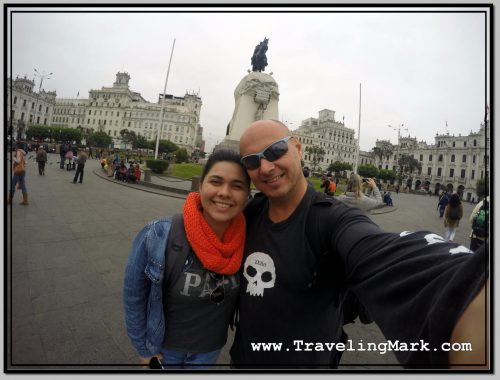 We first visited Plaza Jose Marti, who's considered the liberator of Peru. We took a few pictures there and headed toward Plaza del Armas, where the presidential building is located. Behind its gates a brass band in full military attire was playing. The whole area had a strong military presence, with a number of soldiers armed with rifles, several policemen with spooky looking canines scanning the area, and armored vehicles parked on corners.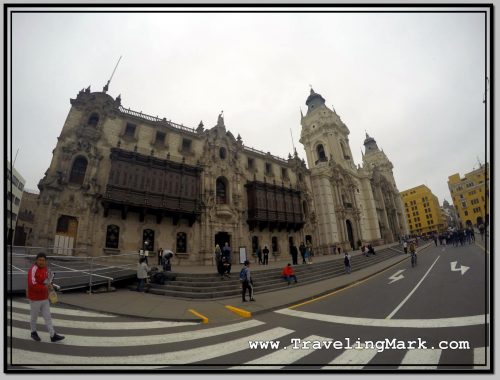 There was a group of school kids that walked past us while at Plaza de Armas, who were so excited to see a white man, they got in chat with me and really wanted to take a picture.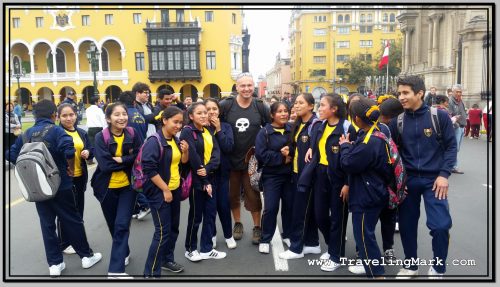 From there we headed toward Plaza Simon Bolivar, with a building of the Peruvian Congress behind the statue of the other Peru's liberator. But first we made a brief stop in the Choco Museum, where Isidora bought a few chocolates to take home as presents for friends.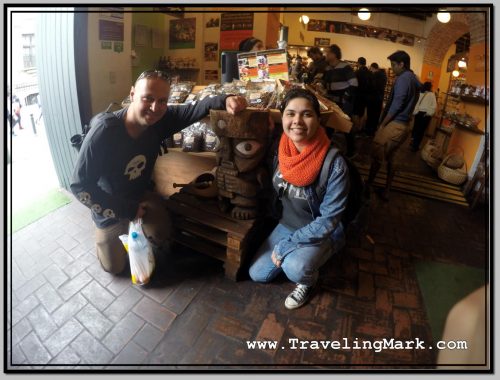 We then made a stop at Basilica and Convent of San Francisco – a church within which there are catacombs filled with skulls and bones. The access to the catacombs is paid and picture taking is prohibited, so we decided against paying for that access.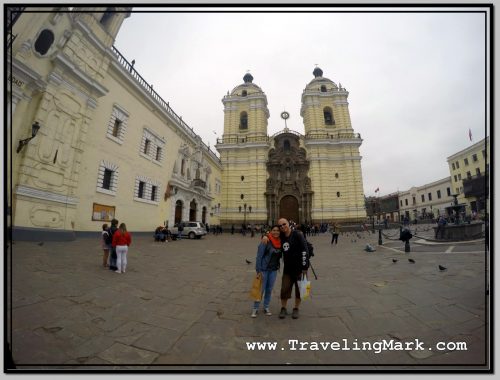 Afterward we walked a little bit more toward an overcrowded market with fruits, meats and fish (the type I lacked in Miraflores), where I bought half a kilo of mandarin oranges. They were all incredibly bland and tasteless. It made me really miss Ecuador where fruits were delicious and juicy.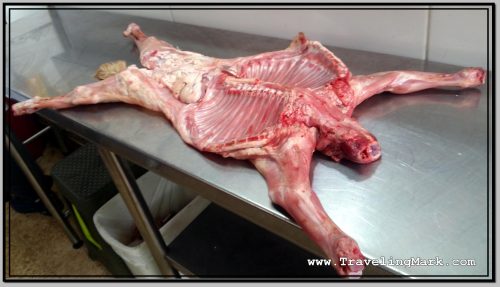 From the market it was just a bit more walk to an adjacent China town, where I bought Palo Santo from a very nice woman with Shamanic training. I will write a post about Palo Santo later.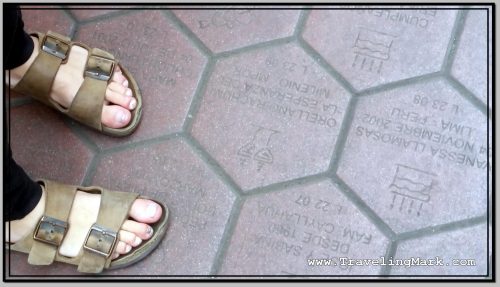 Having concluded we've covered enough of Lima's downtown, we decided to wrap it up and pace our way back toward a Metropolitano bus stop. I was gonna take it a few stops to Avenida Mexico, near which I found out there's a bus terminal with buses going to Ica, and Isadora would carry on over several more stops back to Miraflores.
We however got lost along the way, and found ourselves in a shanty town area with a lot of shady characters and no police in sight. We have not encountered any problems, but had no idea where we were nor where to find a Metropolitano bus stop. A few people we asked provided conflicting information as to which way to go to find one.
Eventually, after crossing a bridge, we saw a traffic police and got some reliable pointers. As we walked toward the station along a busy street, we passed multiple sellers of Palo Santo and other incenses and tools for shamanic rituals, so I bought a baggie of myrrh, frankincense and copal resins to use with my earlier bought Palo Santo for deactivation of negative energies and evil spirits that may have latched on me.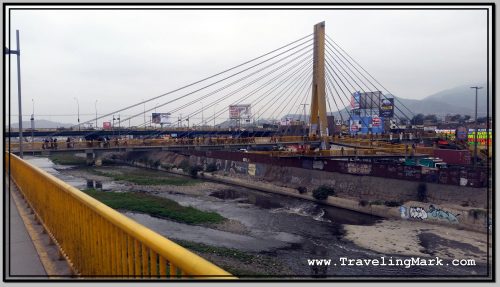 After a busy day together, having also got lost in Lima, I parted ways with Isadora, with a promise that we'll stay in touch, and a hope we'll meet and hang out again.
At Avenida Mexico I asked which way the terminal for buses to Ica was, and bought a ticket for a 3:30 bus, which I boarded and left Lima. The trip lasted 5 hours, and I was unlucky to have a guy sitting behind me who spent the whole 5 hours yapping his head off on the phone. I never wished more for a meteorite to blow up half of the bus before.