Having returned from the trip to the Mirador in the early afternoon, I was happy with my visit to Nazca. I flew over the enigmatic lines, and also got to see them from up close.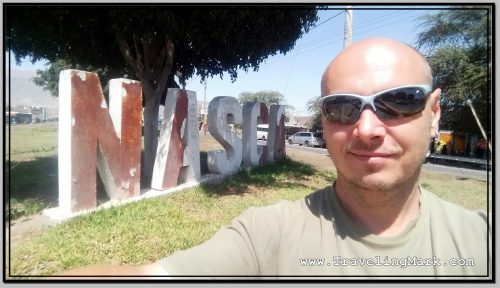 I was however not too excited about the proposition to extend my stay in Nazca due to the fact that the availability of fruits in the city is very limited, and they are very expensive. Most expensive from all places I have visited in Peru so far. Being a person who likes his fruits and wants an ample supply each day, this was off putting.
Nevertheless, as I was deciding on whether to stay a bit more in Nazca or make my move elsewhere, I stumbled upon one of the tour agencies that caught my eye. There are many of them all over Nazca, but Edunas somehow felt right.
Under normal circumstances, I would not take an organized tour and would instead get myself to where I want to go the same way I got myself on foot to the airport for the flight over the lines, or to the Mirador by bus.
A brief search on the internet however showed that some of the other interesting sites around Nazca are way too far off to get there on foot, and are also not along paved roads, so the access would have to be in a specialty off road vehicle. Nevermind the fact that the dozens of miles of unmarked passage across the desert can only be done by someone who knows how to navigate the endless dunes.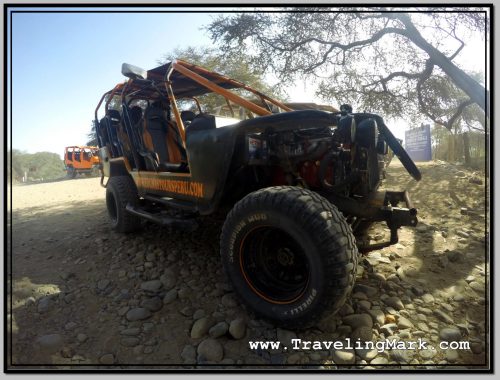 Edunas had a tour lined up that was to commence at 2pm and last until 6pm. It was in an off-road "buggy" as they called it, and involved visits to Aqueducts of Ocongalla, the Pyramid of Cahuachi, the desert cemetery, and it all got topped off with sandboarding on the Dunes of Cerro Blanco.
The cost the tour was 50 Soles, which I was assured by the agent selling me the tour was a good price. At the time of buying I had no way of knowing whether that's true or not, but in hindsight I think it was indeed a decent deal. The vehicles take a good deal of beating having to ride on rock covered arid soil, and the distances were truly in the tens of kilometers, 90% of them were off road.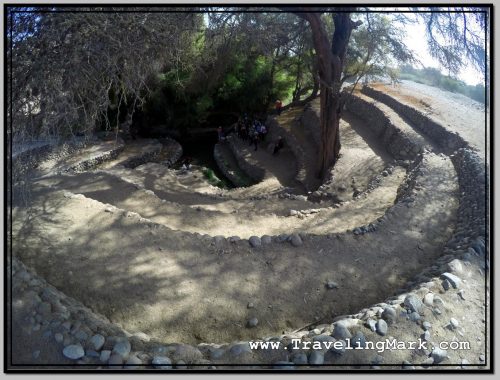 Overall I would have been reasonably happy with the tour, but whereas we were told the tour would commence at 2pm, and come 3pm there was hardly any sign of it beginning anytime soon, the first impression was not the greatest. It was only made worse by the lies that the reason the "buggy" has not shown up yet was because it was picking up other tour-goers from their hotels. That was obviously not true, seeing as it showed up (when it finally showed up) without anyone, and the lot of us already at the office got on, and only then we went to pick up the rest from a nearby hotel.
I could have used the time I spent waiting at the Edunas office for something more productive to do, had they been frank and told me the tour would be delayed. And I would have expected them to make up for it by coming to pick me up at a chosen location, or whatever. Instead they were telling me the "buggy" was only 10 minutes away, but every time I asked, it was always 10 minutes away. It ended up being more than an hour and nobody was being picked up during that time.
When it finally arrived, we took off but at that time I had no idea that what started as your seemingly plain everyday tour, would turn out to be a major adventure involving wild riding on the storm – quite literally.
Everything went normal during the trip to the Ocongalla Aqueducts, which were an ancient cascading structure that funneled underground water for irrigation and drinking in the area with virtually no surface water.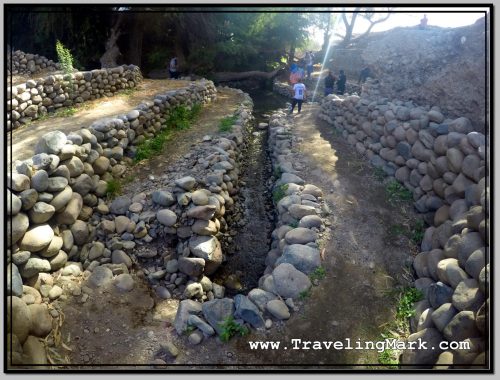 It was an impressive feat of ancient engineering, planning and thinking and a wonderful showcase of human ingenuity dating back hundreds of years.
Here's a GoPro video of the ride down the dirt road to the Ocongalla Aqueducts, right outside the city limits of Nazca: