Unless you visit Nazca or its surroundings between January and March, the weather you will encounter will be sunny and hot, with no clouds to obscure the sun during the day, but bone chilling cold at night.
You can tell by the entire surroundings that this place is baked by the unobstructed sun a lot, and by just visiting outside of the brief rainy season, it'll all make sense why. Nazca is for all intents and purposes a desert with everything that makes a place a desert.
At 2pm when the Edunas tour was scheduled to start it was an unbearably frying day. At 3 something pm when it factually started, the day was still unbearably frying. Taking a bit of an air in an open "buggy" during the ride to and from the aqueducts was a welcome refresher. But things quickly changed after we started the passage across the vast desert field separating Nazca from the Adobe Pyramids at Cahuachi – ceremonial center of the Nazca culture.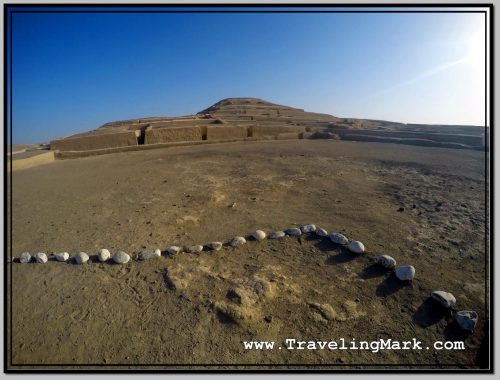 A few minutes into the ride, we were hit by a savage sand storm. The wind came out of nowhere and hit us with so much force, every single one of us had sand in every single orifice and pore. Our driver told us he's been doing these tours for years, but has never experienced anything like that before. He however encouraged us by saying that the storm will likely pass in maybe 10 or 20 minutes and everything will go back to normal. That actually never happened.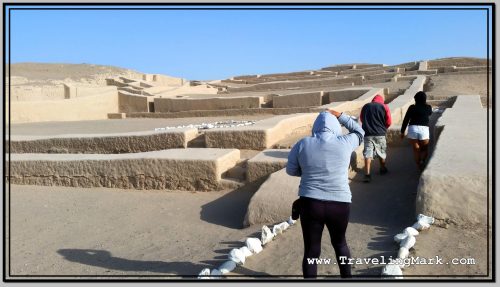 We arrived at the Pyramid, where we were getting relentlessly hammered by the wind so strong we could barely hold our footing. A guide was trying to tell us the history of the pyramid, but no one could hear a word of what he was saying, plus standing in this wind that relentlessly blows sand into you and shows you not a bit of mercy was no fun at all. I remember catching something about only 5% of the entirety of the complex having been uncovered so far. Yet the uncovered part was already expansive.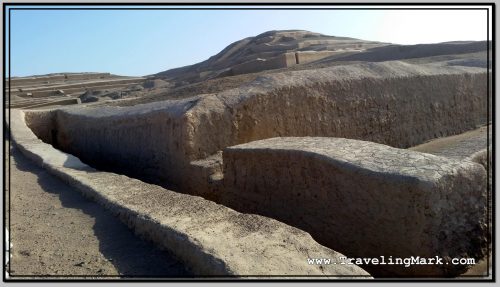 Being an active archeological site, the visitor walkways were marked with white stones and signs everywhere reminded us all to not wander off marked walkways. Meanwhile, the storm kept pounding the living crap out of us, and whereas our vehicle was an open "buggy", we had absolutely nowhere to hide from it.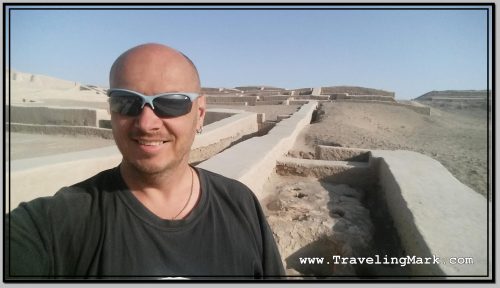 The road to the pyramid consisted of about 20 kilometers of an unpaved desert crossing. The storm encompassed the entire desert, so we were within it during the entire crossing, the visit to the pyramid and basically the entire time henceforth.
All those scenes you see in movies about people layng on the ground and covering up with specialty blankets to wait sand storms out, before they emerge from two feet of sand on top of them – that's what we should have done, but instead kept going.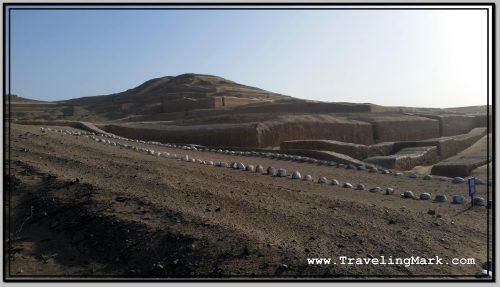 You could not keep your eyes open because sand was getting blown into them. Your regular shades are worthless during a sand storm. No matter how tightly you kept your lips together, you could always taste the crunch on your mouth as sand got in there anyway. When I reached into my ear to clean off the collected sand from the ear canal, I was surprised by the thick layer that accumulated in there in minutes. The clothes – I stopped worrying about those very quickly. I could feel sand between my toes as it snuck its way through my hiking boots into the thick sheep wool socks.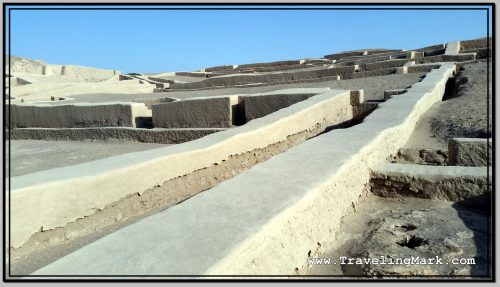 It was simply brutal and I got to say I got more than I bargained for from the tour. How awesome is that? Sure I got the absolute living crap beat out of me, but the whole time I was thinking to myself – holy s%$t, I'm riding a massive sand storm in Nazca, Peru.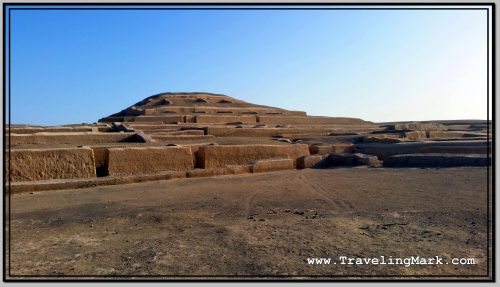 Money could not buy that experience. I'm in the real desert and the desert sure lets me know she's indeed real. No joke, this was some serious sand storm and we spent hours in it without any protection, including an hour after dark, when the temperature dropped to near freezing. Talk about adventure in every sense of the word. This I will surely never forget. I'm not even sure the word "relentless" does it justice.
Check out the video that provides a better perspective of what the storm was like. We stopped because we thought the storm would pass. It didn't. So we rode through it. It would not have been easy getting that on camera: