I stayed in Arequipa for a week. I liked the climate, the city and the surrounding scenery with the dominant Misti Volcano. I didn't like that frequent and well documented express kidnappings make taking a taxi a super risky business, so I got by without, but overall I truly enjoyed my stay. But after a week of being an Arequipeno, it was time to move on. I decided to head down south to Puno – a city on the shores of Lake Titicaca, located at the elevation of 3,830 meters above sea level.
Being quite familiar with the downtown core of Arequipa, I checked out of Hotel Diplomats at around 10:30am and took a 30 minute walk to the bus terminal. Several operators sold tickets to Puno, so I chose the one whose bus was leaving the soonest. On the map, Puno didn't seem all that far, so I expected the bus ride to take maybe a couple of hours. I should have seriously looked more into it, instead of assuming the distance as the crow flies would somehow be indicative of the time it would take to get there.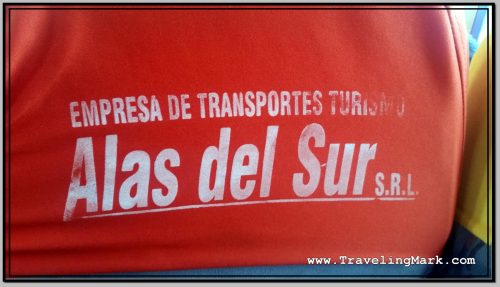 I rode with the company called Alas del Sur. Having mistakenly expected a few hours long bus ride, it was just a local type of nothing-fancy bus. The departure was at 11:30am.
The ridiculous thing about the Arequipa bus terminal was that as always, the hygienic services were charged for – a cost of 50 Centabos, and you were issued a ticket permitting you the use of the bathroom. I got to say that was a first for me.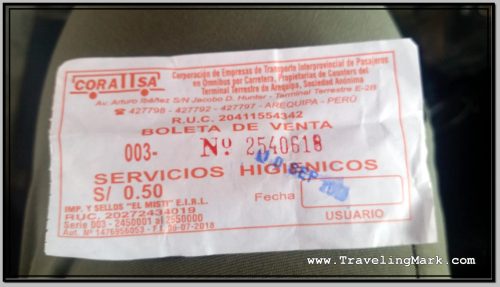 Next ridiculous thing was that there was a 2 Soles terminal tax imposed on everyone looking to depart with a bus from the station. It was kind of like an airport fee you get charged for as part of taking a flight somewhere. After Arequipa, I've encountered the bus terminal fee a few time at other terminals in Peru. Peru is ridiculous like that.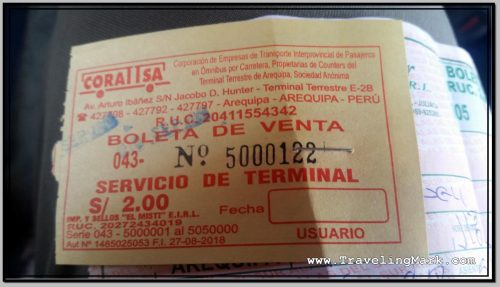 An even more ridiculous thing was that everyone boarding a bus was taken a mugshot of. Even though I'm a citizen of a European Union country, the GDPR was useless to me in Peru. Needless to say, after Arequipa I realized that the mugshot taking in order to be allowed to use a bus you have paid for is a common practice in over-the-top Peru.
The bus left as scheduled at 11:30am, and I truly enjoyed the scenery as we went along. The vegetation-free, arid hills, with towering volcanoes often bearing snow covered caps, were spectacular on every turn.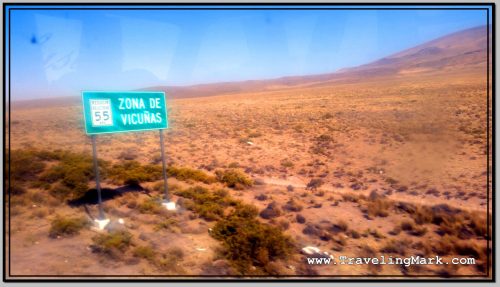 A couple hours after leaving Arequipa we passed through the national park Reserva Nacional Salinas y Aguada Blanca with multiple hoards of wild vacunas roaming about. There were plenty of them on the vast planes of the area, but they were always at a distance from the road, and taking a reasonable picture of them from a moving bus was a challenge.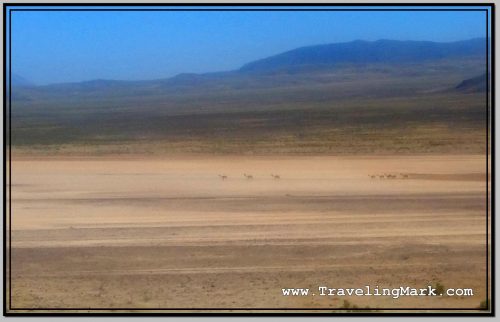 Somewhere around there I also spotted my first cloud I've seen since leaving Ica for Nazca. This part of Peru receives very little precipitation so despite cold nights, days are sun filled with clear blue skies and nothing obstructing the sun for months on end.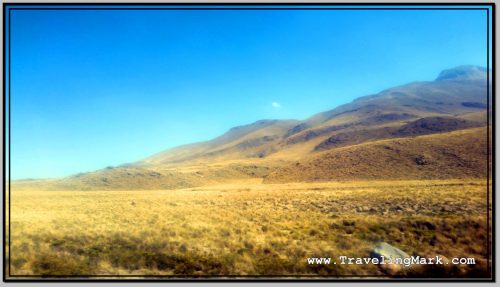 As the sun got lower, we passed by Laguna Lagunillas which I thought was the beginning of Lake Titicaca, but it was still far from it. The hours were passing by and soon enough it became very clear to me that we're not getting to Puno during daylight. As a matter of fact, by the time we arrived in Puno, it was already past 9pm, making me truly regret not looking into how long the trip to Puno would really take. Had I known I'd waste all daylight if I take a bus during the day, I would have waited in Arequipa to take an overnighter instead, and arrive in Puno in the morning.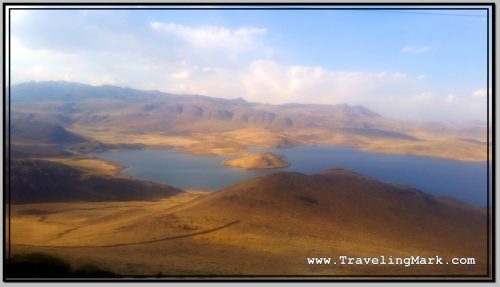 Having truly messed up on that, I had no option but look for accommodation in the city I did not know late at night again. What made matters worse was that because of the high altitude and the proximity to the highest commercially navigable lake in the world, nights in Puno are bone-chilling cold.
Luckily, a number of hostels near the bus terminal provided enough opportunity to secure a room rather quickly. The cost for what you get was however off the charts. The problem was then further compounded by the fact that once I paid for a room at El Lago, I realized the internet in the hostel was spotty, frequently cutting off so every simple task took a very long time to complete.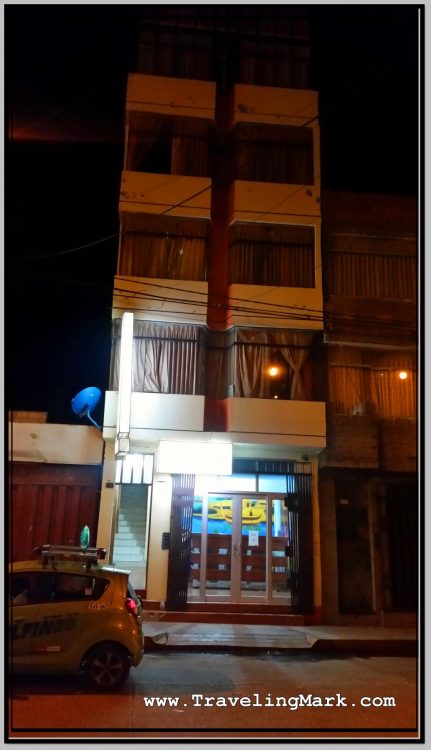 The rooms in the hostel were not heated, so the incredible cold of the night outside made any possibility of having a decent rest overnight a challenge at best. Likewise, the shower water was only a little warmer than fully cold, having only been warmed up by the daytime sun. Needless to say, taking showers in cold water when you're shivering to begin with was an adventure in its own right.
The hostel also did not provide a roll of a toilet paper, but instead just a few sheets torn off from a roll. At 40 Soles per night, it was definitely one of the worst deals for the money I've had in Peru. But then again, I found Peru to be expensive in general. Especially when value for money is concerned.
The worst part of staying at El Lago, however, was the constant noise from incessant screaming and loud talking by the guy at the reception with his mates. Earplugs were of little relief against the party-night type banter in the place.
Nevertheless, the brutally cold night didn't kill me and come morning, I was ready to truly hit it in Puno.