After I was done exploring the Chapel of the Hospital, I was already so worn out by the scorching Cambodian sun, I didn't have any strength left for any more temples. The day was drawing to a close anyway and I spent much of it battling the heat and the relentless touts so it was time to call it quits and start making my way back to Siem Reap. That heat definitely gets you. There is absolutely nowhere to escape the boiling hot temperatures within Angkor Archaeological Park so sooner or later, you're bound to humbly yield to this mighty element hours of unceasing exposure to which will floor you. Luckily for me, Chapel of the Hospital was the last temple ruin on the Petit Circle through Angkor Archaeological Park I have not been to yet so I could consider this part of my Angkorian adventure successfully concluded. I only had one more stop to make – to get one more coconut at Angkor Wat just before they close the park for the day and night falls on the area. To get to Angkor Wat, I had to first ride through Angkor Thom the southern end of which gets busy with monkeys looking for handouts from people heading home this time of the day.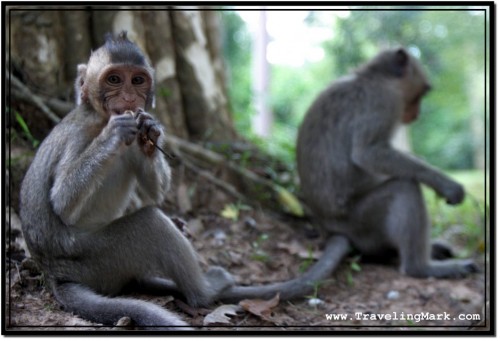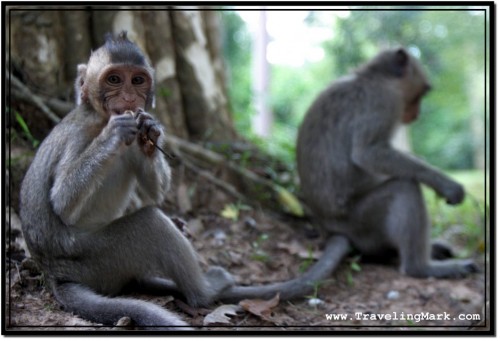 I was only steps away from Angkor Thom as the Chapel of the Hospital is very near the Victory Gate so I rode right through and then left at the Terrace of the Elephants, and straight down to pass by Bayon and further along the road leading to the South Gate. It was on this stretch of the road – between Bayon and the South Gate where hundreds of monkeys seem to descend from the jungle to look cute as they prance alongside the road to entice the visitors to Angkor to pause on their way back to Siem Reap and have a picture of themselves taken with them while at the same time feeding them. Needless to say, this dependency of monkeys on food from humans is bad for the wildlife and could have detrimental consequences but in Cambodia nobody cares as long as in the end there is some profit for them in it. And if engaging foreigners in feeding monkeys gets them all excited to spend money on overpriced seeds to give the anxious animals, they won't let that opportunity to pass them by. Wildlife and all tree huggers can go eff themselves. Cambodians want tourists' money. They care less if it results in gradual dependency of wild monkeys on humans and loss of their ability to fend for themselves.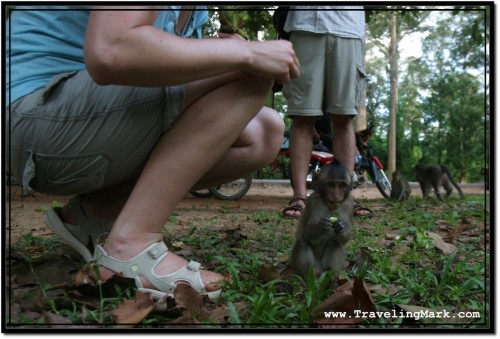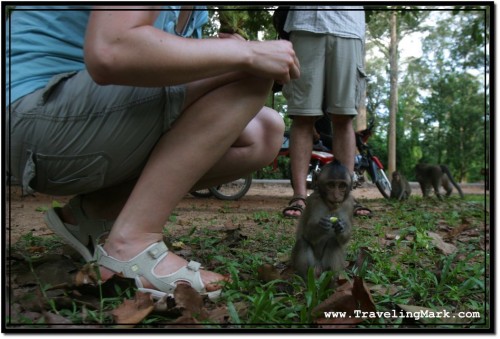 There was a pretty sizable group of people engaged in monkey feeding along the road out of Angkor Thom. I got attracted by the crowd and paused to see what was so engaging about this tree-lined road to have everyone stop and hang around. I pulled over and pulled out my camera to take a few pictures to document what's going on, but that didn't go without attention from the monkeys who seem to switch their focus on a newcomer almost immediately, unless a person whom they are around is currently feeding them. As I had observed – they (the monkeys) are rather ungrateful creatures when it comes to that. People would spend money to feed them and for as long as their supply of monkey munchies lasts, the monkeys are all over them but as soon as they're out, monkeys ungracefully move on to somebody else forgetting all about that original donor.
There were monkeys of all shapes and sizes along that road – from young and agile to old and grumpy. And they are uncontrollably attracted to shiny things and… well, basically all things that they can carry. Insatiably curious and investigative, these monkeys will steal anything that can be stolen. Put your bag on the ground to free your hands so you can feed a monkey that starts to cutely climb up your leg and next thing you know, other monkeys are already in the bag and if they grabbed something, consider it gone. They will climb up a nearest tree and you will see your possessions disappear before you're able to do anything about it. I already had my scary encounter which nearly cost me a camera equipment before getting to Angkor Wat so I knew that one needs to watch their stuff really closely and have it safely mounted against themselves or put into something that's tricky to open and unmovable. But as I stood there and had a few monkeys probe my wallet and key chain and my bag I had over my shoulders, I saw one lady lose her sunglasses after a monkey snatched it off the top of her head and disappeared into the crown of the tree above.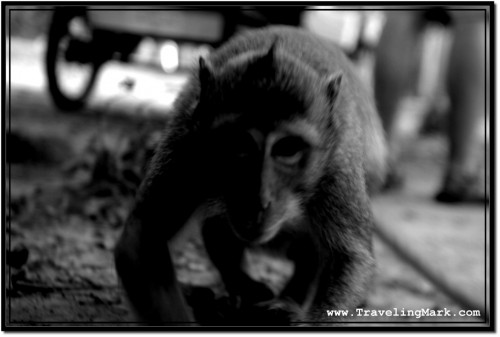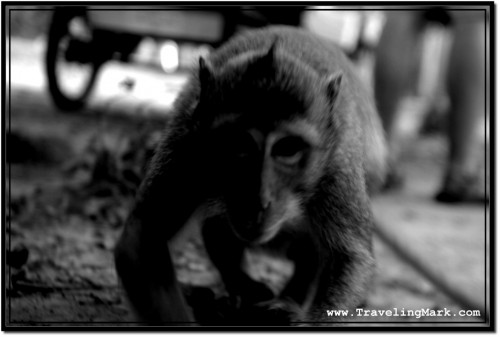 Once my presence away from the main group attracted attention of way too many monkeys, I perceived it was time to move on. I mounted my steel horse and rode off to have my last coconut of the day at Angkor Wat and then head back to my room in Prom Roth Guesthouse. I was looking forward to meeting with Ha again in the evening.