I have said it before and I will say it again – exploring Angkor Wat or any other temple at the Angkor Archaeological Park is an extremely hot and sweaty effort. Cambodian sun is scorching hot and the stone blocks temples are made of get exposed to it on daily basis and radiate this heat back. You have nowhere to escape the heat and it will wear you out sooner than you would care to admit. It is absolutely essential that you keep well hydrated in this heat but your body will certainly need more than just water to keep going. For that, there is nothing better than coconut water from fresh (green) coconuts.
When you start traveling a lot and leave your home country for an extended period of time, you'll soon grow to realize that you need to do more for your health now than you would at home. Getting sick in a foreign country could be a traumatizing experience but moving from one geographical zone to another changes the demands of your body making good care of your health confusing. So what do you do to provide your body with what it needs regardless of whether you are sweating in a tropical country or freezing up in a snowy mountain? The answer is simple – fruits and vegetables endemic to that area.
Nature has the best answers for the needs of people so look to the nature and stick with produce that's endemic to the area where you currently are. Fruits and vegetables that are native to the geographical zone you are in will contain nutrients you need to keep you going in weather typical of that particular zone. Coconuts are endemic to the tropical climate zones, such as that of Cambodia and contain nutrients that are an essential source of hydration and energy you desperately need in this heat.
Clean, safe drinking water is without doubt essential no matter where you are, but if you are in a tropical location and exposed to excessive heat such as when exploring Angkor temples, you need more than just water. You need an additional source of hydration, which is also a source of essential vitamins and minerals you burn off the fastest as you sweat excessively and is at the same time a source of natural energy.
This is exactly what you get from fresh coconut water. It is 100% natural and full of biologically pure natural sugars, vitamins and minerals to beat off fatigue, boost immunity and hydrate your parched cells. It's like drinking the most potent energy drink but all natural, without harmful chemicals and preservatives. Potassium, Calcium and Magnesium contained in the coconut water are in perfect balance. Isotonic properties of coconut water replace the minerals and fluids that your body loses during excessive sweating or increased physical activity.
Yet there is one more essential fact to consider – energy drinks can strip your wallet off a few dollars per bottle. Similarly, bottle of filtered tap water of questionable quality costs $.50 (or 2,000 Cambodian Riel) to purchase in Cambodia, yet one fresh coconut costs the same: $.50. You get a little less fluid out of a coconut than you would get one of a 1.5 litre bottle of water, but it is pure nature, not potentially bacteria filled tap water and it is full of essential vitamins and minerals you would have to pay a lot of money for if you wanted to buy as supplements. And you get it in purely natural form, and as a liquid for easy and fast absorption and additional hydration.
Savvy visitors to Angkor drink a lot of coconut. Those unwise stick solely with water (again, you do need clean water but it's simply not enough) or buy carbonated soft drinks and condemn themselves to inevitable burnout. As a guy who used bicycle as his sole means of transportation from one temple to another, I was exposed to the heat and remained physically active at all times. The demands of my body were severely high and coconut was the only thing that kept me going.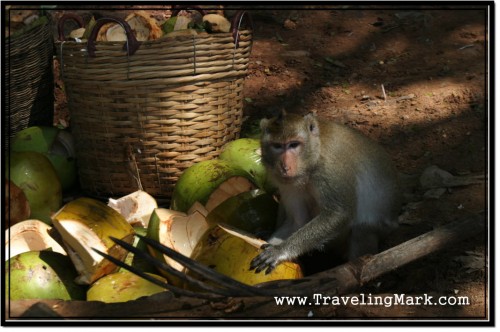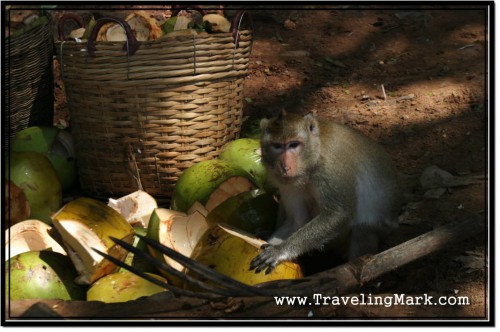 Cambodian heat and radiation of temple stones make exploring Angkor Archaeological Park an extremely challenging adventure even if you hire a cab and get driven around in an air-conditioned vehicle. If you opt for a less expensive option and hire a Tuk Tuk to drive you around, you won't get the pleasure of cooling down in an air-conditioned space, but you will get a chance to sit and relax for a moment while the Tuk Tuk is moving, creating a fan effect that washes off your sweat during the transport. However if you go for a self powered, environment friendly transportation option – such as a bicycle the way I did, you will face a rewarding, but excessively challenging adventure. To not give up and see it through to the successful end, do yourself a favour and drink fresh coconut water every time you can. Coconut is an essential source of hydration and energy and provides you with nutrients you desperately need to survive in this heat. And what's more, it's one of the most effective antiviral superfoods that's available (in Cambodia) for as little as 50 cents.