Wat Kesararam is the most confusing pagoda in all of Siem Reap. The inconsistencies in name were driving me insane and the more I was trying to find out which name was correct, the more confusing it was getting. Basically, aside from Wat Kesararam, this pagoda is often referred to as Wat Keseram. Not even Cambodians themselves know which name is right and which is wrong as each you ask them about it, they will give you different answer. Hence it is best to refer to it by its English name – Pagoda of the Cornflower Petals.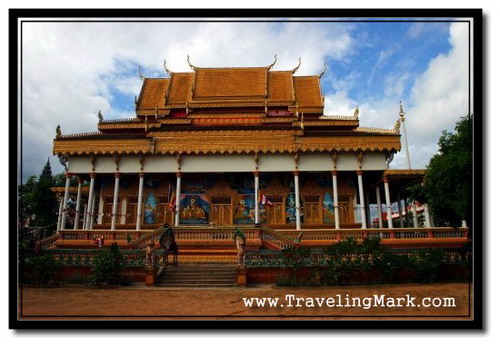 Wat Kesararam is located at the north west side of Siem Reap, right on National Road #6, en route to Siem Reap airport. It is a very colorful pagoda the beginnings of which date somewhere to the 1970's. The paintings on the outer walls are very bright and so are the lions and nagas – seven headed serpents the body of which serves as a balustrade around the temple. The balustrade is held up by statues of divinities that are repeated all around the structure.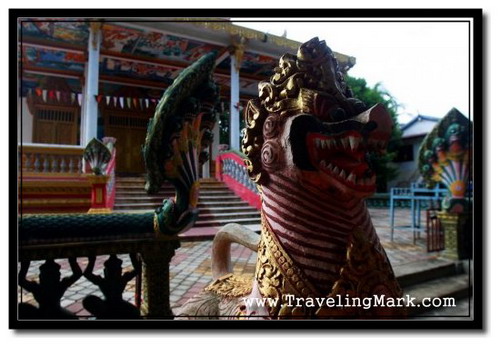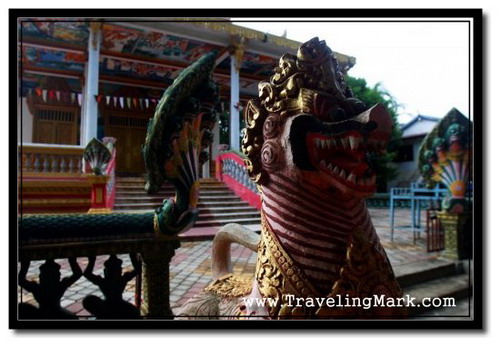 I have not walked inside of actual temple, but it's said to house extensive collection of Buddha relics. Since it was the second day of Pchum Ben festival, the pagoda of the cornflower petals was very much alive. Traditional Khmer music was being played back out of bad quality, old loudspeakers and dozens of people knelt inside the prayer hall chanting their prayers. More people were coming in and out, all bearing bowls with food which is what the festival of the dead is all about. This food is offered to their deceased ancestors to ease their way in the underworld.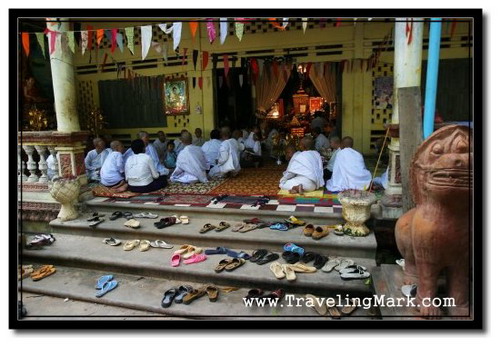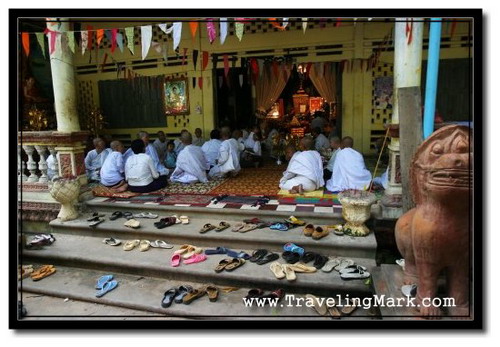 I noticed many kids running around and hanging off the barred windows of main vihara – prayer hall. There was some commotion coming from the inside and the presence of countless shoes before the entrance to it suggested that something must be going on in there (Buddhists always take their shoes off before entering pagodas or basically any other dwelling or sacred place). This is what attracted me to the vihara as it was also what detracted me from going to the actual temple to see what they say is a vast collection of Buddha relics. On the other hand, I'm glad I went in the vihara because this was my unique opportunity to witness real amateur Apsara dancing.
MORE PICTURES OF WAT KESARARAM AT:
Wat Keseram Photo Gallery