I woke up to a new day ready to explore more of Siem Reap's pagodas. The sun was already baking the air outside which made me happy since it was rainy season in Cambodia, but this was the second day with no rain. Already well aware of how devastating Cambodian sun is, I fortified my skin with natural sun block (as close to organic as it gets), applied powerful mosquito repellent (don't even bother with anything that contains less than 30% deet – Cambodian mosquitoes are vicious, plentiful and active during all parts of day and night), sat on my mountain bike and off I rode for Wat Damnak.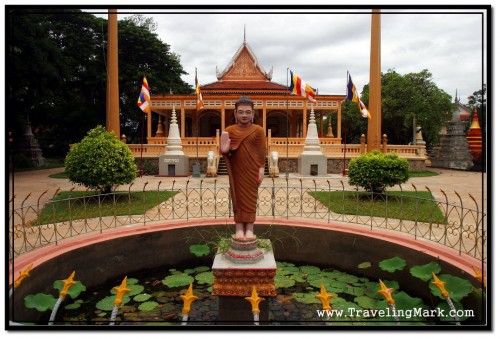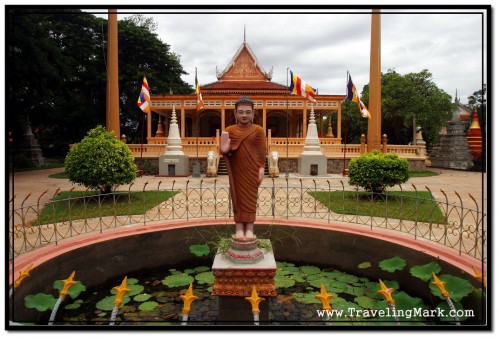 As always, I used the map provided in Angkor Siem Reap Visitors Guide to find locations of most relevant temples and pagodas in Siem Reap and used it as my main guide in choosing the best itinerary to get me there. Not that it's in any way difficult, given rather small size of Siem Reap.
Wat Damnak is located near Phsar Chas aka Old Market, just on the opposite side of the Siem Reap river. If you were to take a walk around the Old Market, you would see the stone bridge right on its south-east corner. Take a walk across the bridge and by the time you made it half across, you will see the roof of beautiful Wat Damnak to your slight right.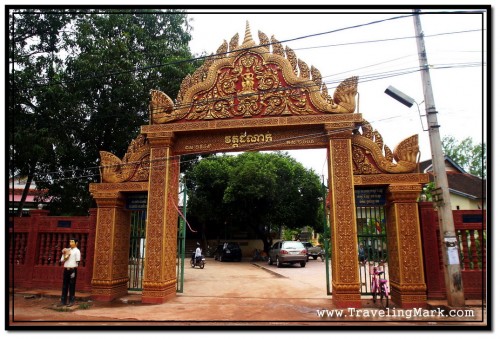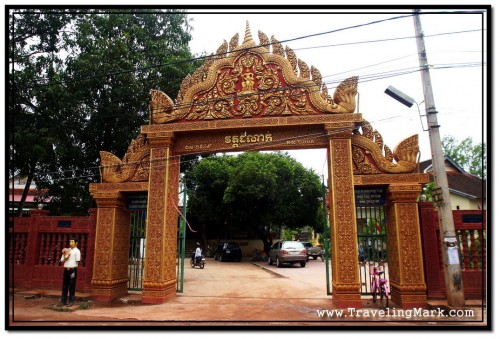 Once I was across the river, I just followed the road that seemed to go in the general direction of Wat Damnak and it got me there. The entrance gate was the same way I got used to seeing from other temples I have visited before – magnificent, but spoiled by presence of disorganized bunch of cables which are used to electrify Cambodia. These cables spoil the view of basically every important or nice to look at structure in Cambodia, except from Angkor Wat temples since this part of the country has not yet been electrified. This was driving me up the wall as no matter where you go, you see beautiful temples, but you have no means of finding an angle under which to take a picture so it is not ruined by crap loads of cables cross knitted along each other.
This would have been the second day of Pchum Ben Festival. The 15 days long Festival of the Dead is an important part of Buddhist Khmer culture so during these two weeks I was encountering it on my every step. Pchum Ben was the most prominent within temple grounds. It always involved presence of dozens of monks, very loud traditional Khmer music played from really old loud speakers (awfully painful for the ears) and lots and lots of food and then some more.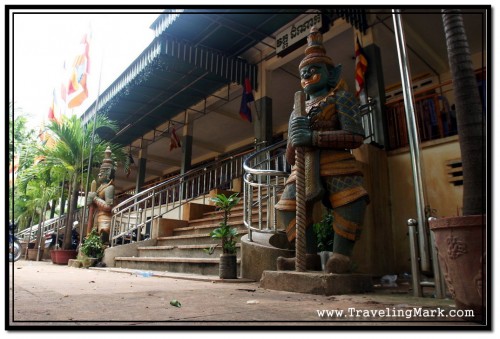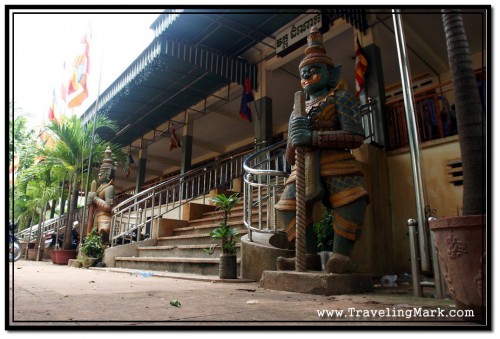 Just as with any Cambodian temple during Pchum Ben festival, there were many people around and lots of traffic in and out. It was a scorching hot day but locals were all nicely dressed and carried bowls with food they'd use as offerings to their dead ancestors and to local monks. I parked my bike by Vihara – the prayer hall. It was close to Wat Damnak's entrance gate and there seemed to be most commotion happening there. Aside from noticeable crowds, there was also obvious audible effect as Buddhists inside were repeating chants with powerful unison after the leading monk.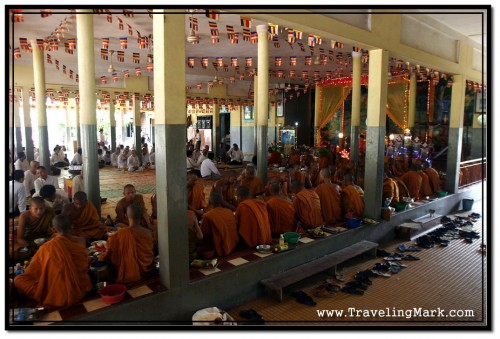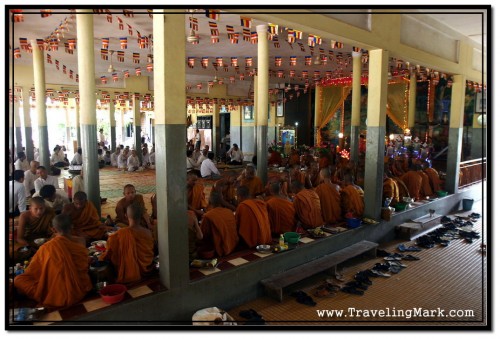 RELATED GALLERY:
Wat Damnak Photo Gallery