As soon as I could recognize what was making that loud shriek I could hear from a block away I was impressed with extraordinary size and numbers of these bats. These bats are locally known as the Flying Foxes because truly the reference to a flying mouse would be highly disproportionate to their actual size. I would have never thought bats this huge exist. As I have later found out, Flying Foxes belong to the Fruit Bats sub group (Pteropodidae family) and some fruit bats are known to grow this huge. There were thousands of these flying foxes high up in the trees and since it was dusk, they were all waking up and started getting active. It took me a while to recognize a shape of a bat against the dark blue sky, especially since I've never seen a bat of such humongous size.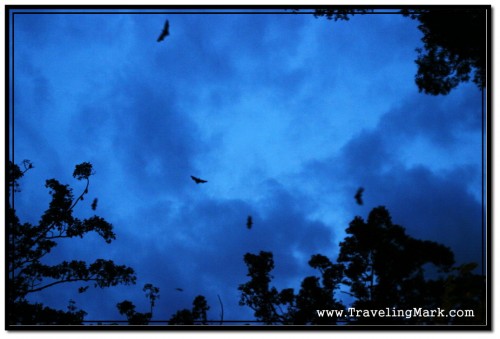 This entire place had an amazingly magical feel. First of all I found myself amidst beautiful garden with pathway lined with huge trees tops of which were a dwelling place of monstrous bats and secondly, in the middle of it all there was a small-ish, but gracefully illuminated shrine which was incredibly busy because it was the first day of Pchum Ben Festival and both nearby Ya-Tep Shrine as well as Preah Ang Chek Preah Ang Chorm Shrine are believed to gain magical powers this time of year allowing Buddhist devotees to deliver their food for the dead. I was impressed how none of hundreds of people visiting the shrine would pay any attention to overwhelming numbers of huge flying foxes above their heads. And similarly, none of the thousands of bats flying over the shrine would care about any of us humans down below. It was such a sense of incredible harmony between men and nature my heart felt like jumping out of my chest with joy. I'm very environmentally conscious and seeing animals strive in an area close to humans gives me some hope for our future as the species.
Oddly enough, as I have found out later, flying foxes or any other kind of bats that can be found throughout Cambodia are habitually killed for food. Virtually anything that can be eaten, is eaten in Cambodia. Not only bats, but also spiders, cockroaches, snakes, toads and whole lot of anything that has meat on it. Luckily for Royal Independence Gardens flying foxes, because these gardens are right opposite Royal Residence and because of presence of holy Buddhist place (Preah Ang Chek Preah Ang Chorm Shrine), killing these fruit bats was strongly prohibited here. The Royal Independence Gardens were a safe-haven for Flying Foxes. It was a sanctuary where they could peacefully live and breed and both they do. They truly strive here.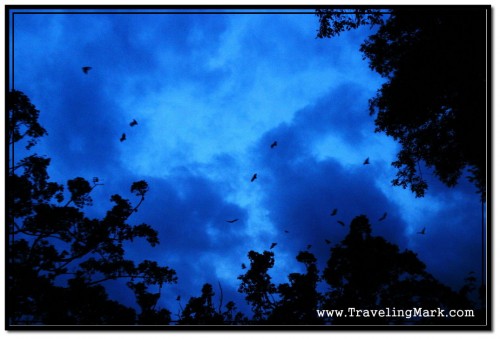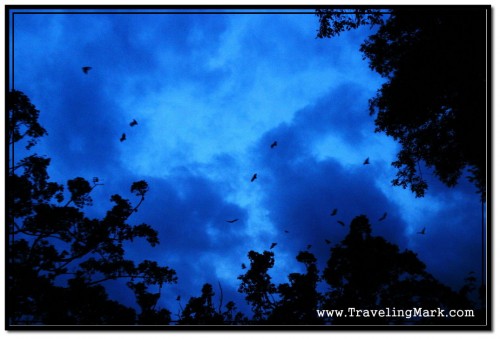 I have fallen in love with Royal Independence Gardens immediately after this first exposure to it. I have fallen in love with shriek these bats make and with their sizes and numbers. This became my most favorite place in all of Cambodia and I would visit often, especially if I didn't particularly feel well.
The shriek of Flying Foxes was like poetry to my ears. There were so many people around, but all I felt like doing to to take off my camera, walk up to the walkway amidst the trees where the bats live, spread my hands wide, kneel down and say: "Come to me, my babies. I have arrived at last!"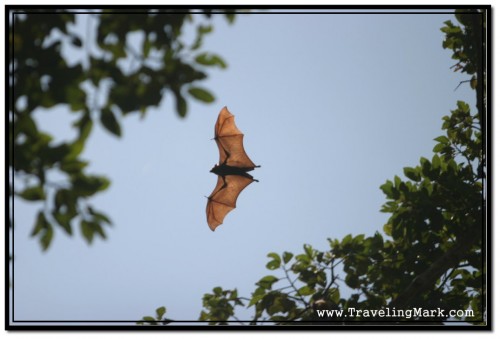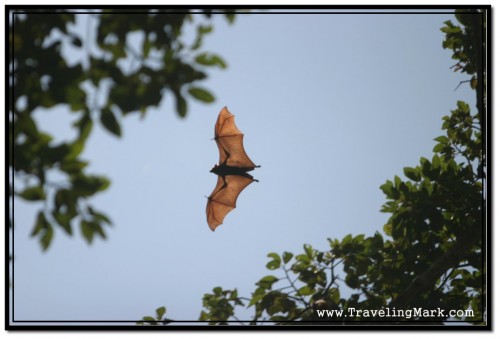 Call me a freak, this is how awesome Flying Foxes sound. It's an insanely loud and hair-rising shriek but when you see the power these bats wield given their numbers and size, it makes you feel powerful as well. Fruit Bats were for the win. They never seemed to have come too low to get close to people and during the day, when they slept they were inhabiting highest branches of the tallest trees in the gardens. They kept their distance from people and none of the Cambodians seem to pay any attention to them. Everyone acted as if there were no bats there. Nevermind the deafening noise and blatant presence. I must have truly looked weird having been completely captivated by them.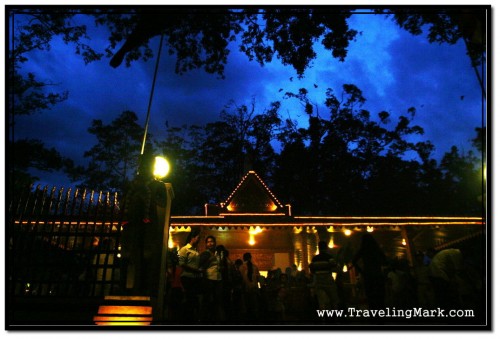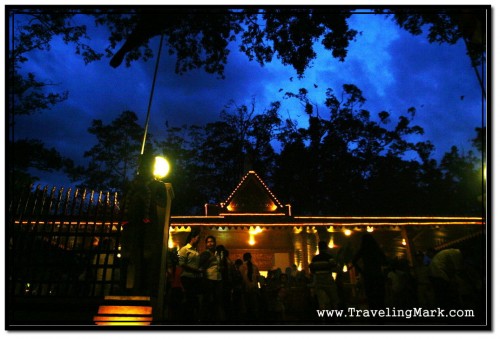 Since it was already dark, taking pictures of fast flying Fruit Bats was extremely difficult. I also only had wide angle lens mounted on my camera so my options for capturing a decent photo of Flying Foxes were narrow (basically equal to none). So instead I went and visited the Preah Ang Chek Preah Ang Chorm Shrine which was entirely immersed in haze from burning incense sticks. Hundreds upon hundreds of them. I was unspeakably grateful for my bicycle because it was just thanks to it that I made it to this magical place on this evening. I could not have been asked for a better place to be on the first night of Pchum Ben Festival.