Ha really needed to make some money so she can buy food for her daughter, but because she was an alien in a foreign country, her options were slim. All she was left with was prostitution. Because I had evenings reserved to getting some computer work done for myself, I had to leave to her to look after my job during which time she said she would go back to the Temple Club and "work" the way prostitutes "work". Because Siem Reap is not a sex tourism destination, chances were that she would just spend the night looking pretty but not scoring any paying customers. I knew very well how prostitutes work and how they get treated and was not happy knowing Ha was going to put herself up on the market again, but this was her only option at the moment. I told her she could come stay the night with me again after "work". I had actual shower and could keep the room at a comfortable temperature level. Plus the beds were comfortable so at least she could get decent sleep.
Ha gave her daughter good byes and lay her in wooden plank bed to sleep. Then we left for the Pub Street so she can promenade herself at the Temple Club and so I can sit in the Khmer Family Restaurant and do some work on a computer. Again, I wasn't too happy Ha was forced to sell her body out, but I didn't have the funds to support two more mouth myself and she didn't have any other options either, so work of a prostitute it was.
This was a rather sticky situation, but I did all I could to offer assistance. I provided Ha with shower and sleep facilities at no charge, took her out for meals with me and bought treats for her daughter. I think I made their tough lives a little bit better without resorting to giving them the money.
I was done with my work at around midnight and briefly popped in the Temple Club to meet Ha and see how her night went. I was ready for the possibility that she may not be there – which would indicate that she may have scored a "customer" and is "working" to earn money. Horrible feeling but it was the fact of her life at the time.
Oddly enough, I went through all of the Temple Club and didn't see Ha anywhere so I left. I was sort of happy for her, hoping she scored a whale who would pay her a lot of cash for her "services" but at the same time I was sad to have to go home alone. Even though she did not do the "work" with me, I enjoyed her company and loved talking with her.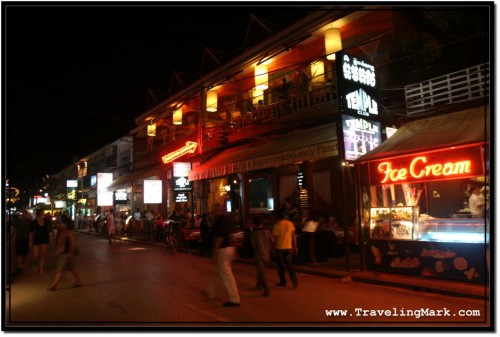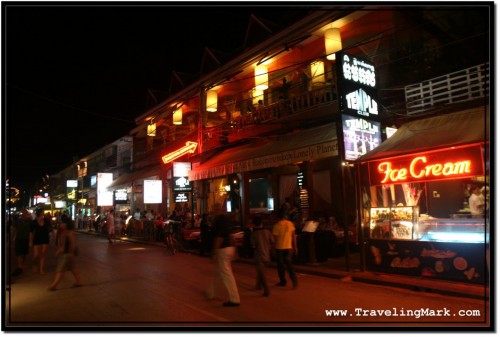 As I was about to leave the line of Tuk Tuk drivers at the beginning of Pub Street, I felt someone jump on me. Warm embrace and lovable laughter gave Ha away. She said she'd been at the Temple Club whole evening but no luck scoring any customers. She didn't see me either, but one other girl who also works at the club noticed me and remembered me from previous night. Knowing I was looking for Ha, she let her know that her man just went through the club obviously looking for someone, but hasn't found her so he left. She must have thought I took Ha with me the night before to have sex with and was looking for her again to do the same thing this night as well. Being a nice fellow-prostitute, she let Ha know and that's how she caught me just before I would have disappeared in the gloomy darkness of the street that leads to the Prom Roth Guesthouse.
This was good news. I really didn't want any men abusing this wonderful girl and at the same time I wanted to enjoy her company myself. On top of it, I wanted her to get decent sleep and be able to take decent shower so I was glad she didn't score a customer that night. But that also meant that she wouldn't have any money for her daughter so I would have to support her somehow. I was gonna do it like this:
Get up reasonably early in the morning to see whether it's a nice sunny day again. If the day was going to be nice, I would sit on a bike and ride to Angkor to visit the ancient temples at last. Because the entrance fee to Angkor Archaeological Park is very expensive, there was no way I could also take Ha with me. This meant that if the weather was nice, Ha would have to go her own way while I'm at Angkor. We would still meet in the evening, but wouldn't be able to spend the day together.
Whereas if it rains, we would just go ahead with an alternative program which wouldn't involve me going to Angkor, because I wasn't gonna waste $20 for not even being able to take a picture of any temples because when it rains in Cambodia during rainy season, it really comes down.
Either way, I would take Ha to have a breakfast with me and would buy large meal so she has left-overs to feed her daughter with. This way I would still support Ha and her little girl without giving them money directly. I needed to eat before heading to Angkor so this step would be unavoidable and since she was spending the night with me, she could come along.
This plan went pretty well, except from one thing – we were forced to get up much sooner than I would have liked. Because Pchum Ben festival was still underway, Preah Prom Rath temple which was just outside my window started playing really loud Khmer music out of their old loudspeakers. Music was so loud, we were virtually wide awake shortly after 6am. I have originally appreciated the fact that Prom Roth Guesthouse is so close to one of the main temples in Siem Reap, but the fact that you won't get enough sleep because of proximity to that temple made it a bit crappy.
This same thing has repeated every day for the rest of the Pchum Ben festival. I'm not an early bird and I work until late at night because I find working at night more productive and more creative. But with the noise from Preah Prom Rath temple early morning for a few days straight, this was becoming excessively difficult.
Regardless, I was excited to go see Angkor Wat at last. The weather was gorgeous and I knew this was the day. I was woken up sooner than I would have liked, but I was excited to go see my most desired site in the world so I sprung out of bed, shook Ha to get up too, we got dressed and headed to Wat Bo area to have nice traditional breakfast in one of the locally owned and operated restaurants. I had to say my good-byes to Ha right after, but that was only for the day. I knew I was gonna see her again in the evening so I did not waste any more time, and rode off north, towards Angkor Archaeological Park.