I didn't know much about Cambodia before I came to Siem Reap but being here, I learned about Khmer Classical Dance called Apsara Dance early on. They say no visit to Cambodia is complete until you have attended a traditional Apsara Dance performance and since Siem Reap is the heart of Cambodian tourism, many tourist venues offer Apsara performances on a daily basis.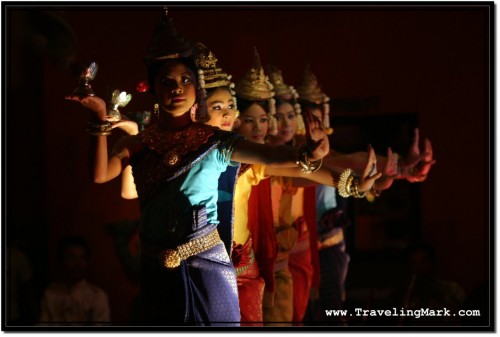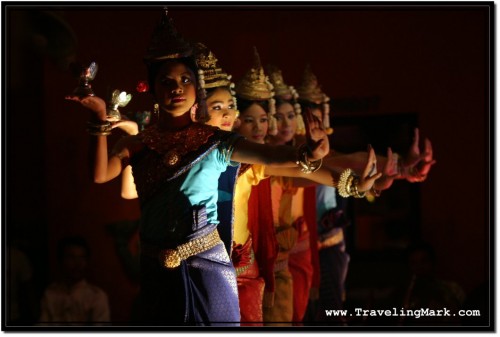 Apsara Dance has been part of Khmer culture for centuries. This fact is evident from thousands of bas-reliefs found on the walls of ancient Angkorian and pre-Angkorian temples. This artform suggests that Apsara dancers were not mere ritual performers that entertained people during the Angkorian period. They were also believed to have been the messengers to divinities.
I have already been in Siem Reap for a week and have already had an honor of seeing an Amateur Apsara Dance, but wanted to also attend an actual Apsara Dance show which would be performed as it's supposed to be – with choreographed story and traditional Khmer costumes. I kept my eyes open and went to enquire with several venues in Siem Reap about their Apsara Dance shows.
This was my last night at Two Dragons Guesthouse so I rode my bike to Apsara Theater because it's in the same area (Wat Bo) to enquire about their admission fees. From what I was told by other people, Apsara Theater is the only air conditioned theater in Siem Reap and their shows are said to be the best in town. Unfortunately, they are also very pricey. At the time of my enquiry, the admission fee was $38 which included supper. The best show in Siem Reap or not, this price was out of my range. I wanted to see Apsara Dance, but I didn't want to spend over thirty dollars for it. In Cambodian terms, this is a lot of money. It's an equivalent to charging $1,500 for a show in Canada.
Several upscale hotels have big signs outside their main entrances advertising Free Apsara Shows however upon enquiring, I found out that while their shows are free, visitors are expected to order dinner which typically starts in a $20 range and seems to go up to infinity. This wasn't an option either. I knew there was gonna have to be a free Apsara Dance show somewhere in Siem Reap in an establishment with reasonably priced food. And I found it in a club I wanted to avoid due to bragging sign that they are recommended by the Lonely Planet – Temple Club on Pub Street.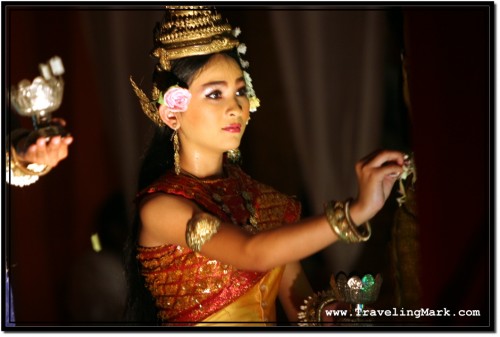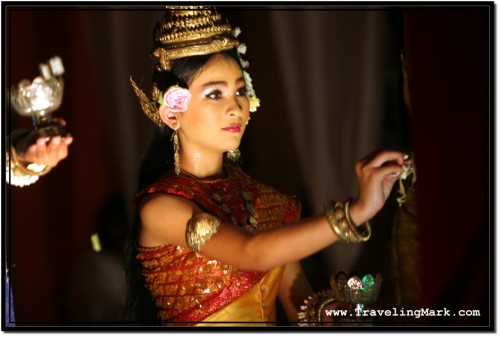 Free shows at Temple Club start at 7.30pm so I got there at around 7 to catch a decent seat. I had my telephoto lens mounted on the cam but my battery was running low. I expected the place to be overcrowded for the show, but it wasn't. There were many people, but it was nowhere near full, which I have enjoyed immensely. It gave me the opportunity to move freely and find a decent spot for pictures and I didn't have to spend the show kneeling so people behind me can see. I came to realize that even though this is a free show, they are running these free shows every night so it's not a rare opportunity for anyone, hence attendance is hefty, yet not overwhelming.
I've order the fish from the menu which cost $5 – so far the most expensive meal I have purchased in Cambodia, however the taste and presentation made it worth it. If the way your food is presented on a plate makes for the restaurant, then Temple Club is the winner. And taste didn't lack in any way either.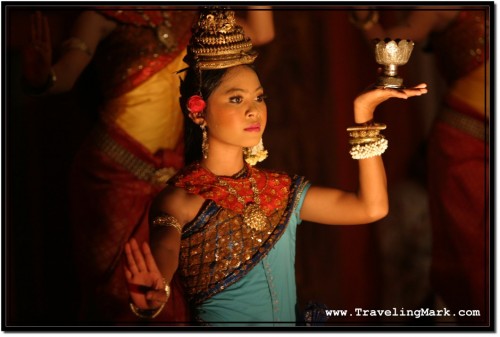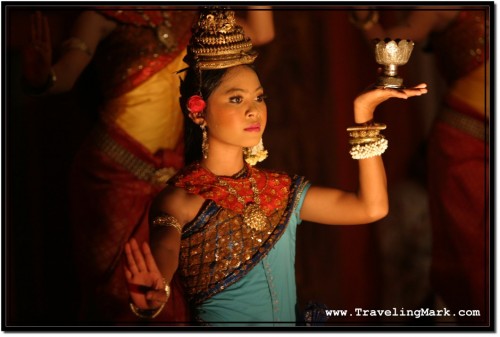 The show started by a three member Pinpeat Orchestra setting up their instruments on the side of the stage and playing traditional Khmer music for about 20 minutes. I was already done with my dinner so I just enjoyed the tunes. After about 20 minute musical intermezzo, a voice from a person on a microphone in a hidden spot announced the dance and introduced it briefly by explaining what it's about. He said that rather than just being a dance, an Apsara Dance always conveys a story and told us what this first story will be about. Similar audio guidance was introduced before each new number.
A single girl in a traditional Khmer costume came on stage slowly pacing her way from the back towards the front of the stage with little impressive about her, but an amazing hand movements. Additional 4 girls joined her later during the song for a synchronized, yet slow paced dance. Apsara is very slow. The beauty and magic is not in speed and neck breaking stunts. It's in an amazing sense of balance and posing. Faces of Apsara Dancers bore blank, emotionless look throughout the show. The emotions were expressed through an absolutely mind-boggling movement of their hands and fingers.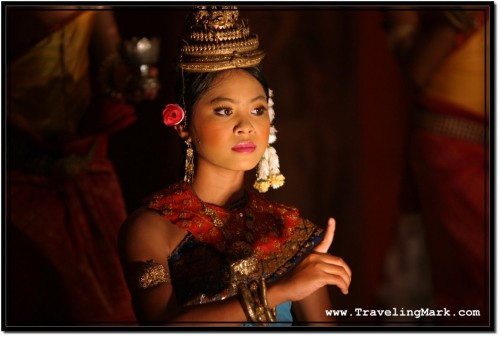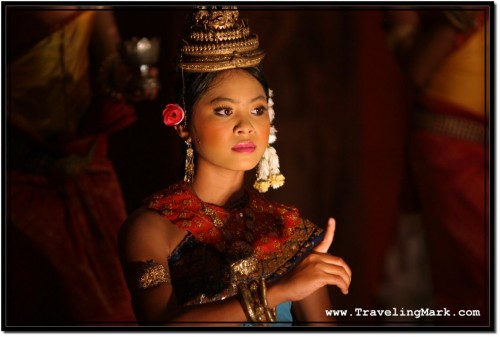 When you watch Apsara Dancers perform a number, it all seems very easy because the dance doesn't involve any tossing, jumping, spinning or otherwise dangerous routines. However it is not easy at all. There is a great deal of flexibility and unsurpassed balancing in the most unimaginable positions. But most of all, Apsara Dance is a showcase of how much can be told through the movement of fingers. If you are a hand person, the dexterity of their fingers will blow you away.
I have enjoyed the free Apsara Show provided by Temple Club immensely. I didn't stay until the end because my camera battery died and I was getting eaten by relentless mosquitoes. I had to go back to the guesthouse and apply a thick layer of Muskol to be able to go back outside for a beer (which also helps to keep mosquitoes away by supplying the body with B Vitamins).
The only negative about the show had nothing to do with the show. Pub Street is the "to be" place for all tourists after dark and that's precisely where you would find them in the late hours. Because of that, Pub Street also attracts countless touts and other locals looking to score some hard cash off of tourists. There is a band that performs outside and their loud bells sound too distracting and take away from an enjoyable show. It's unfortunate, but Pub Street is all about who's gonna be louder. It spoils the experience a little but performers have no control over it and are definitely not to blame. Other than this one negative, I have nothing but the positives to say about the Apsara Dance in Temple Club.
My stay in Cambodia was slowly becoming complete. I have already seen the Apsara Dance, but still had the biggest adventure ahead of me – exploring the temples of Angkor Wat and the rest of the Archaeological Park. I had my mountain bike which was gonna serve as my sole means transport and was going to move to a guesthouse that was both close to Wat Preah Prom Rath where I was teaching English and it was on the road that lead directly to Angkor. The only thing I needed was a day without rain.