Having been in Siem Reap for almost a week, I had to go to town's most prominent entertainment venue – Temple Club. Located in the center of Pub Street, Temple Club is Siem Reap's heart and pulse of night life. There is a big sign above the entrance on the canopy which reads: "Recommended by Lonely Planet". This was precisely why it took me a week to pay a mandatory visit to the venue. I'm not particularly fond of places where "everybody else" goes. This is my personal review of the Temple Club as seen and experienced through my own eyes.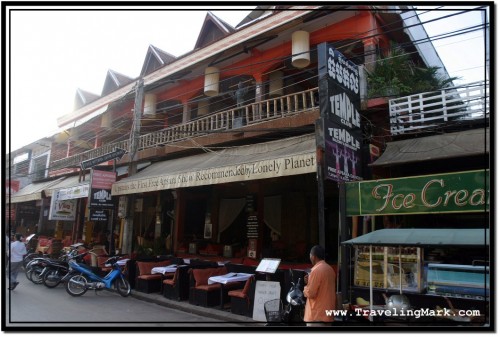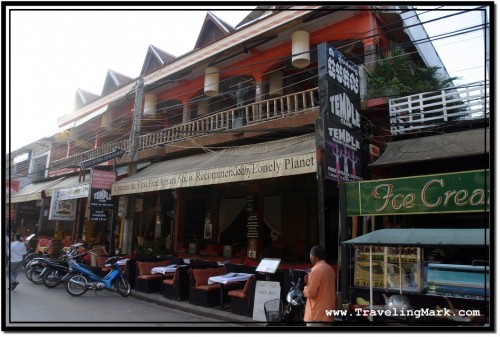 Pub Street comes very much alive at night. While it is true that the very reason why the town sees so many tourists lies in the temples of Angkor, when the sun sets and the area falls dark, all those foreigners come out to take advantage of extremely cheap beer (2000 Cambodian Riel which is about 50 Cents US) and well priced food. They are all naturally drawn to Pub Street because that's where all they are looking for is available at high density. It was no different with me. Even if you've never heard of Pub Street, once you come to Siem Reap you'll learn about it quickly and end up on it one way or another.
Cambodian police come to Pub Street every evening and block both sides of it with their motorcycles to prevent access of any motor vehicles to the street. This is because the street gets so busy at night that there is simply no room for vehicles and besides, something needed to be done to protect those drunk tourists from being run over. There is a lot of movement on Pub Street and a lot of noise from local pubs too. Since Temple Club tends to be the loudest, you notice it right away. You make your first visit to Pub Street after dusk and you'll be well aware of Temple Club and their bragging sign that they are recommended by the Lonely Planet.
Aside from deafening music, Temple Club also attracts passerbys' attention by visual leads – laser disco lights the beams of which make it all the way to the street. The thing with Cambodia is that it's located in the tropical zone, so it's always hot there. As such, none of the clubs or restaurants have any windows. It's all wide open, patio style street sitting everywhere you go. This makes Temple Club wide open to the strollers randomly checking out the Pub Street at night and as they hear the music and see colorful lights, they are naturally attracted and come to see what is going on there.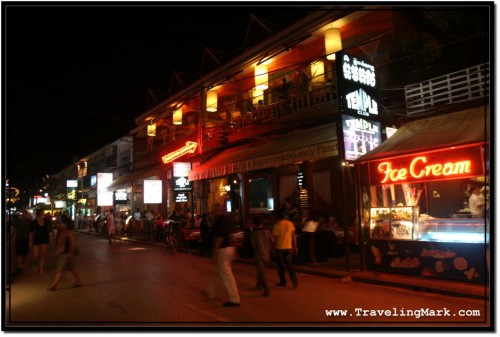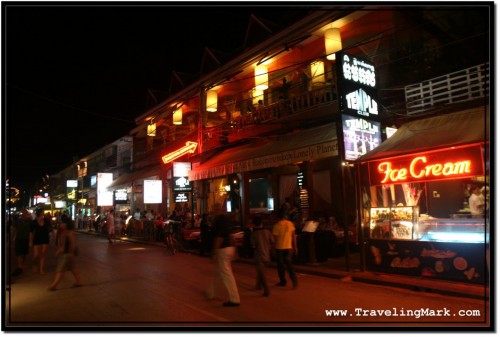 Temple Club – What I Liked
Location is great, food albeit slightly above average for Siem Reap, is well prepared, extremely delicious and well presented on a plate. Beer is definitely above average for Siem Reap, being priced at $.75, making it 50% more expensive than most other restaurants on Pub Street but still not too bad. Service is decent and as is the case with most of Cambodia's hospitality establishments, you are not expected to tip, even though tips are always appreciated. The biggest positive of Temple Club – free Apsara shows.
I have already witnessed Amateur Apsara Dancing, but was eager to see an actual choreographed show with paid to dance dancers and musicians. There are several venues throughout Siem Reap offering paid Apsara dancing shows but for the most part they are obscenely expensive. I went to enquire about the price at Apsara Theater near Wat Bo temple, which is supposed to offer some of the finest Apsara performances in Cambodia, but their entrance fees were obscene. Several upscale hotels offer free Apsara shows, but as a guest, you are usually expected to at least order a meal the price of which usually matches their primary clientele.
Having a club on Pub Street offering free Apsara shows every evening is invaluable for travellers on a budget who would like to experience this must see Cambodian art form. Temple Club offers their free Apsara Shows every day from 7.30pm to 9.30pm on their upper floor. Lower floor has small dance floor, pool tables, large screen TVs playing sports channels and a DJ playing gay music, hence that's where drinkers hang out. Upper floor is dedicated to visitors who seek more from a visit to a Lonely Planet recommended club and anticipate quality dining experience as well as cultural uplift. As such, the upper floor delivers.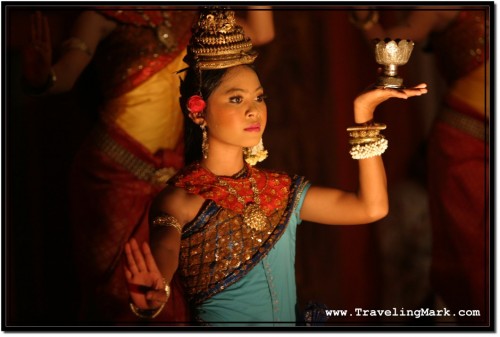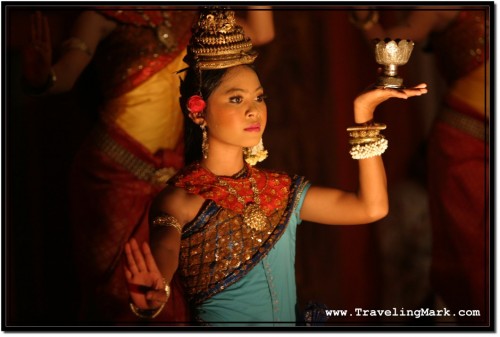 One of the biggest positives (and the only reason why I've ventured to Temple Club more than once) was fast wireless internet that's available to their customers. My initial visit to Temple Club was to attend my first Apsara Show. I didn't have my laptop with me, just a camera for a few pictures and couldn't stay for too long because of mosquitoes. My subsequent visits were strictly related to the use of their fast wifi internet. I unpacked my laptop, asked for a password and surfed the net without any member of staff coming to imply that I should order something. The internet is fast (for Cambodia) and reasonably reliable.
Temple Club – What I Didn't Like
Temple Club is too busy, often full of finest sample of loud and obnoxious tourists who take good advantage of cheap beer. Music they play downstairs is absolutely atrocious. I don't even understand where they are able to pull this crap from. I'm surprised shitty music of this kind is not illegal. Every now and again they would hit an odd good song, but overall it's all about truly awful crap hip hop and mainstream junk. I'm also not into sports so there was nothing to attract me on their big screens.
Being the hottest club in Siem Reap, Temple Club is frequented by prostitutes and con artists. Theft is very common as are other forms of scam so hang on to your belongings really tight and never ever assume that this local person is nice because they like you. They never do. They only like themselves and the only reason they treat you like you're a goddess is because they want to brainwash you into trusting them so they can take advantage of you.
If you are one of the guys who attract mosquitoes like honey does bees, you will be having damn awful time at Temple Club. This downside is not unique to Temple Club though, rather to most similar venues in Siem Reap and elsewhere in Cambodia. They are wide open leaving you thoroughly exposed to the blood suckers. If you forget to cover up in bug spray, you won't last very long. This was unfortunately my case too. I went to see their free Apsara Show on my last night at Two Dragons and couldn't even stay until the end as I was getting eaten alive. This is never any fun in areas where malaria and dengue fever are endemic – such as Cambodia.
What I didn't like about Temple Club the most was the fact that they are so obviously bragging about being recommended by Lonely Planet. There's a thing – even though Lonely Planet contributors plea they never take incentives to recommend certain places, everybody who's not entirely naive can understand that it's not quite the case. There is a lot of money in stake and this cross promotion gives it all away. Besides, from what I understand, owners of Temple Club seem to be on the mission to monopolize Pub Street. As far as I know, there are several restaurants and clubs on Pub Street alone that are owned by the same people who own Temple Club (including Khmer Family Restaurant). Any business that's too big and spreads uncontrollably destroying all smaller business owners around gets a thumbs down from me.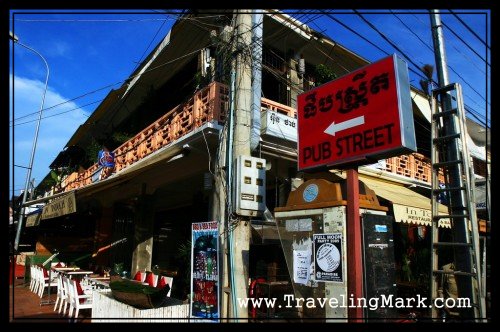 Temple Club Personal Review Conclusion
I've enjoyed free Apsara Show provided upstairs at the club and found it to be a must visit gig for everyone who comes to Siem Reap. If you like big crowds of drunk people and enjoy attention con artists and prostitutes give their potential "clients" until they get what they want from them, then downstairs of Temple Club is for you. Being Siem Reap's epicenter of petty crime, one needs to be very careful about their belongings or should not bring any valuables with them and only as much money as you are going to need for food and drinks. I personally prefer more intelligent entertainment venues so I've only visited Temple Club a couple of times. It is definitely worth visiting if you just want a beer or two and need to get on the internet with your laptop while you're at it. Just keep it low profile so you don't attract too much attention of truly dangerous Cambodian con artist upon yourself.