Upon descending the Pinkuylluna Mountain, I met a middle-aged American couple who asked me if where I came out of was the entrance to the hill with the ruins. I ended up having an interesting conversation with them right there on the narrow, cobblestone covered street of the old Inca part of Ollantaytambo.
At one point they mentioned they had dined at Apu Veronica Restaurant located across the bridge heading out of town, and recommended the restaurant to me for some of the best food in town. So I made a point of heading out there and satiating my digestive system after the uphill climb.
Apu Veronica is, exactly as the Americans told me, across the bridge heading toward the fortress. It is located on the second floor of a building, but is well marked to make it easy to find.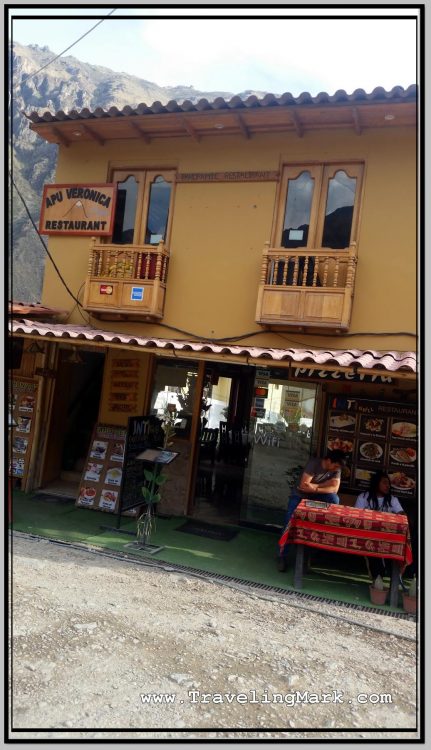 I walked up and seated myself in the smallish restaurant currently catering to just a couple of people eating there. However despite being noticed by the staff, I was totally ignored for the longest time.
I proceeded to walk up to the counter and grabbed a menu out of there myself, thinking this would get the message across and a waiter would come to ask what I wished to order. That never happened.
The menu suggested heavily overpriced dishes, but whereas one of the dining patrons was a local, I knew they also had locally priced options. I found those on an individual sheet on the counter.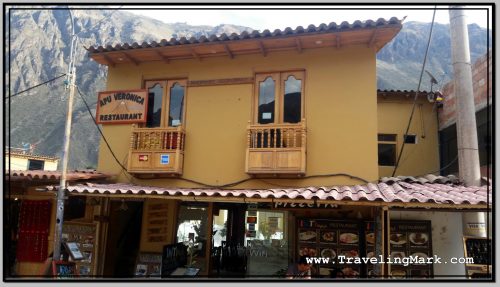 Called "Daily Menu", this option offered a selection of a few pre-made dishes for 15 Soles which included a small plate of soup and a glass of Chicha Morada (traditional Peruvian non-alcoholic, sugar sweetened beverage of deep purple color made from dried dark corn). Compared to the dishes listed in the menu, which sell for upward of 70 Soles (over $21 US) per plate, these three course meals are hell of a better deal, but as a foreigner, you're not supposed to know about them. That's if anyone bothers to serve you in the first place.
Having figured out what I wanted, and having demonstrated to the staff that I'm indeed present in the restaurant and ready to place an order, I expected a waiter to finally show up after some 15 minutes of ignoring me in the restaurant with hardly any people to keep them busy. It never happened, so I stood myself up, walked up to the counter again, and called up a waiter to place an order there.
I ordered fried trout, but asked if instead of standard rice as an accompaniment, I could get a portion of fresh salad made from whatever veggies they had in the kitchen. The waiter said it shouldn't be a problem, so I went to sit myself down at my table again.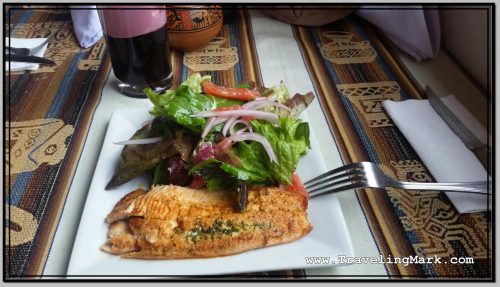 As per the speed of previously demonstrated service, it took forever to finally bring me my order, but nevertheless, I got the trout exactly as I asked for. Compared to what I got in nearby Puno for half the price, this was a miserable portion of fish, but I was in the Sacred Valley of the Incas, so I took it as it was.
I went to Apu Vernica after descending the Pinkuylluna Mountain so I did feel like unwinding after the heart pumping uphill trek, which is probably the only reason why I stuck around. The terrible service with no reason to justify the insanely long waiting times was otherwise inexcusable. The food however, I have to admit, was tasty and the cook prepared it for me the way I wanted, so I feel like my review is at the draw as far as recommending or not recommending the restaurant.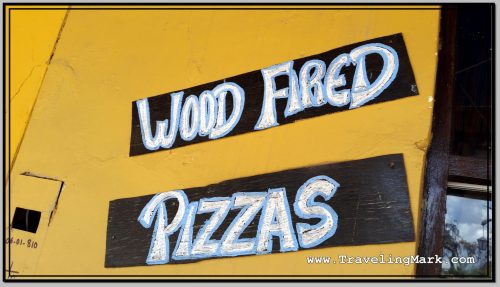 Furthermore, unless you get sucked into ordering one of the hard core overpriced options from the foreigners' menu, the value for money in Apu Veronica is decent. The food was safe and didn't make me ill, so I'll leave it at just that – Apu Veronica is probably a decent choice for dining in Ollantaytambo, but not if you don't have whole day to wait for service, or are really hungry.