Aguas Calientes is the closest town and the access point to the National Park of Machu Picchu. Even though the Peruvian government is working hard to rebrand the town as "Machu Picchu Pueblo" (Machu Picchu Town), the name of Aguas Calientes sticks because it's been known thus for years, and the fact that its original name (meaning "Hot Waters" in Spanish) reflects the fact that at the back of the city, in a small nook of the mountain, you can find "thermal-medicinal waters" only further assists in maintaining the old moniker.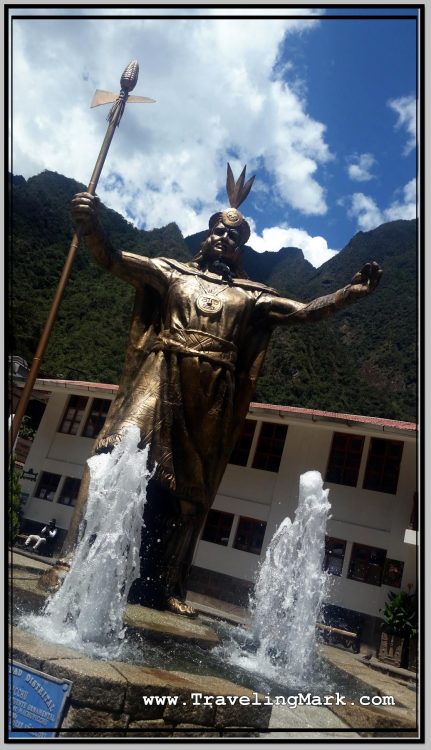 The government of Peru is deliberately ensuring that Aguas Calientes remains an island on the land, isolated from reasonable road access, so that the only way to reach the lost city of the Incas is by way of the train, which allows the government to brutally overcharge the tourists for the access (upward of $480 each way for a ride that the locals pay an equivalent of $3).
Aguas Calientes is for all intents and purposes a tourist town. It's purpose of serving as the final rest stop for foreigners on their way to and from Machu Picchu seems so obvious, that if it weren't for Machu Picchu, it would most probably not exist at all.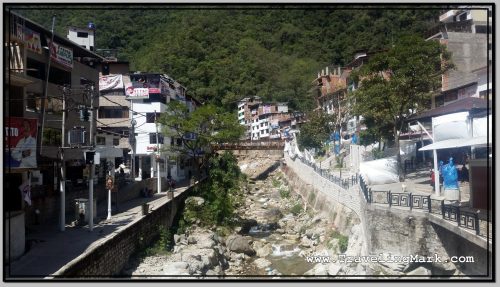 But because of Machu Picchu, Aguas Calientes receives thousands of people from all over the world every day.
As a matter of fact, according to the official statistics, the city has 3,400 residents and receives an average of 1,500 daily tourists. I was one of them suckers.
Because its primary purpose is to serve as the last stop for tourists heading to Machu Picchu, Aguas Calientes is replete with hotels and restaurants, as well as convenience shops selling heavily overprice goods, plus you would find there offices of banks with ATMs, the sales office of entrance tickets to the archaeological zone of Machu Picchu, police station, the IPerú office, post office, pharmacies, small medical center (Health Center), cybercafés, public telephones, shops of souvenirs and gifts, and adjacent to the train station a crafts market with handicrafts of dubious origin and quality.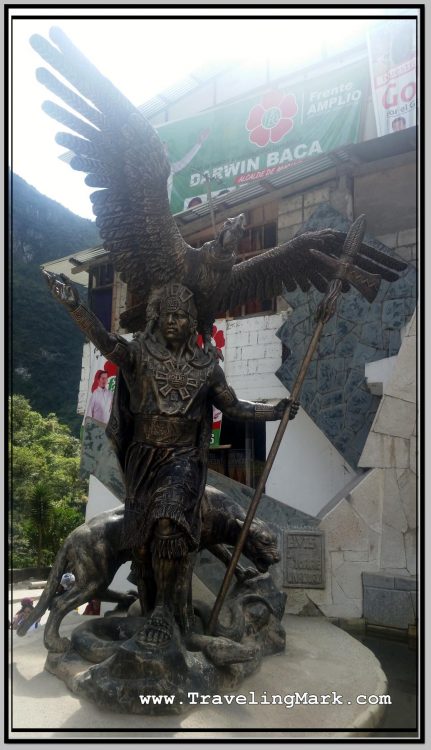 All travelers from and to the Inca citadel of Machu Picchu must pass through Aguas Calientes. The actual Machu Picchu archeological site is located 6 kilometers (3.7 miles) up the hill – about 1 hour 30 minutes walk if you decide to avoid shelling out $10 USA for the bus to take you up the windy road to the lost Inca city.
When I arrived, I was pretty sweaty from the 10km long walk in the mostly unshaded sun. As I was making my way deeper into the city in order to come across more economical accommodation option, I was being repeatedly approached by touts trying to lure me into a restaurant for a lunch, as well as women trying to lure me into a massage parlor to get a massage.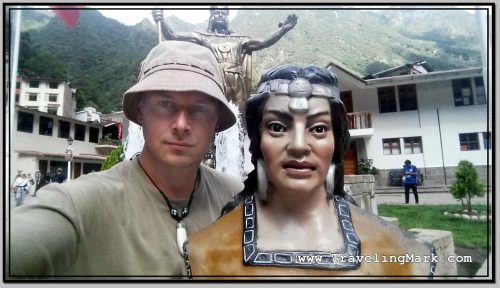 I was pretty adamant that first I need to secure myself with a room, leave my luggage there and take a shower before entertaining any of the offers, so I resolutely declined any and all approaches. As for the massages – I knew from Cusco that it makes no sense getting a massage in South America, and I was sure the prices would be even more aggressive in the entirely touristy Aguas Calientes.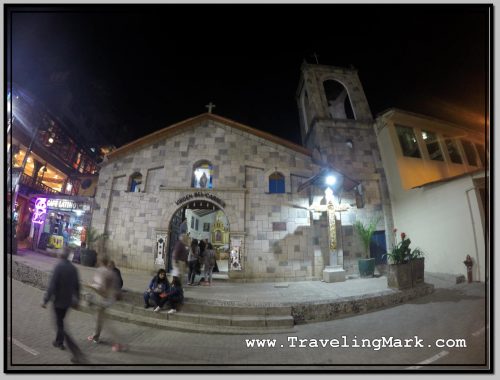 Aguas Calientes has accommodation options for all pocket depths, but expectedly, the cheapest ones also provide the adequate quality. I initially got myself a room for 40 Soles (about $12 US), which had moldy walls and was overall very crummy and dark, but I was ready to suffer through it in order to avoid paying too much in a place like Aguas Calientes, but whereas the internet just didn't work in said hotel, after a couple hours of frustration trying to get online, I had to resolutely cancel my stay there and look for a room elsewhere.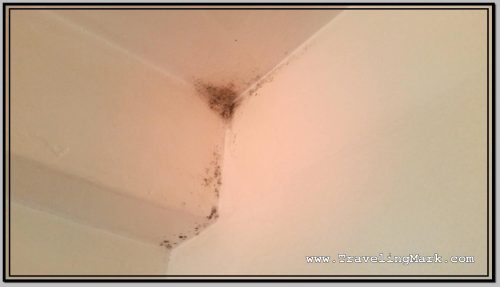 Eventually I got me a room for 50 Soles (about $15 US), which even though located in a really loud place, both internally and externally, was reasonably comfortable and came with a queen sized bed, and whereas the staff could care less about manning the reception properly, I sneaked in a Brazilian girl I met while getting lost looking for the Temple of the Condor at Machu Picchu, and spent the night with her without anyone in the hotel noticing.