The weather in Nazca was great, but that could be expected in the place where it only ever rains in January, February or March. The rest of the year it's bone dry, which explains why the entire area is either desert, or rigid rock covered dry land on which basically nothing grows.
We took off, and the captain's assistant informed us that we'll approach each major Nazca images, from the air and the captain will tilt the plane first right, and then left, so both people sitting on the right and the left get a good view of the geoglyphs. He also informed us that the entire flight would last about 36 minutes.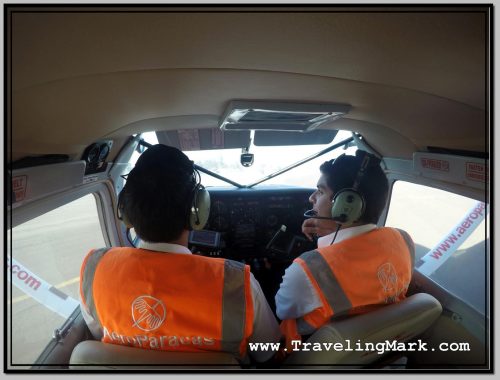 The captain did exactly as we were told and took a half circle over each geoglyph with a plane tilted to the right, before doing the same with the plane tilted to the left. This was great for making sure everyone on board gets a good view of the lines, but whereas the low altitude flight in the small plane was already pretty bumpy to begin with, this fast and rapid tilting from one side to the other made for a fast onset of airsickness.
I started feeling it too, but the poor girls who were with me felt it more and quickly went from losing all enthusiasm to take pictures, to grabbing the vomit bags and dumping the contents of their stomachs into them. I felt the whole time like I was never too far from that either, but managed to hold it back with deep breathing. I felt really sorry for the girls. One especially had a very hard time coping with it, which I can imagine totally ruined the whole experience for her. It took her a while to recover even after we got off the plane.
Overall, the flight was amazing and so were the views. The lines extend over a large area, much larger than I thought, and the vastly flat parts containing the images are surrounded by towering vegetation-free hills, making the entire area spectacular to behold. It's arid, sun fried and wind swept in the most profound ways imaginable.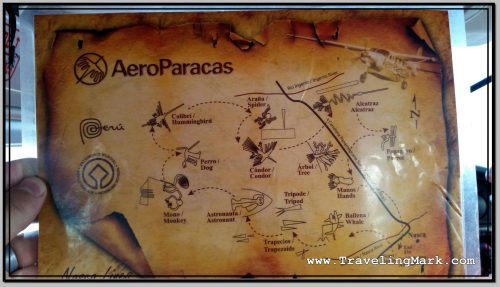 I was glad I caught the last flight of the day. The sun was lower in the sky, offering a deeper dimension to the experience and a less intense head fry. I had good experience flying with Aero Paracas and would recommend the company to anyone. Their equipment is well maintained, pilots well trained and the staff professional. The flight with them was safe and enjoyable, so I ended up giving the flight crew a tip of 10 Soles.
Here's the gallery of the images I took from the air: