I was happy with my squishy, but cozy room in a Sunset View Bungalow on Don Det Island. The sun was intense and I was sweaty and tired after a long bus ride so as soon as I dropped my backpack off in the bungalow, I headed for the restaurant spot in the middle of the grounds to join a group of backpackers who were chilling with a bottle of BeerLao in their hands. I really couldn't wait to have a cold one myself and the atmosphere could not have been more inviting.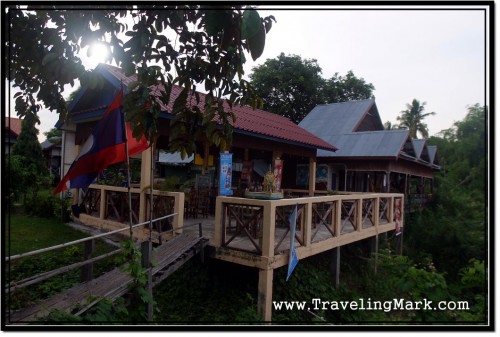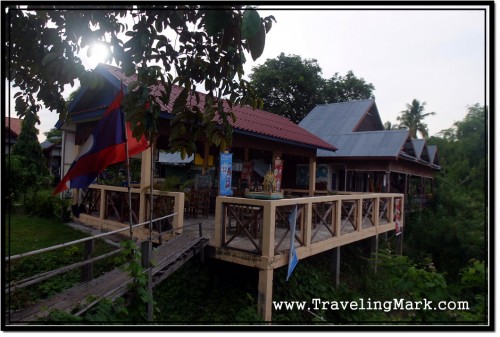 Someone's netbook was connected to an amplifier playing back trance music from large speakers while several joints were being passed around. I fit right in. The moment of truth revealed that large bottle of cold BeerLao was mere 11,000 Kip (about $1.35 US Dollars). This has instantly made Don Det a heaven on Earth in my mind. BeerLao is in my humble opinion the best beer in Asia so even when I was in other countries where it usually costs more than local brews, I used to buy it every once in a while. Hence, I always viewed BeerLao as a treat. As something you pay a premium price for, because it delivers unrivalled enjoyment and satisfaction.
And here I was in the homeland of this famed beer and find it's available for the price that's mere 40% of what I used to pay for it elsewhere. You didn't have to ask me twice to make each day a "drink BeerLao day".
Sunset View Bungalow had a self service fridge filled with lots of BeerLao as well as other beverages available for any of their guests to help themselves to at will, but guests were requested to mark what they took in a notepad dedicated to their bungalow. The desk nearby had several notepads on it, each with a number corresponding with the number of one bungalow so depending on which bungalow you were in, you would mark what you took from the fridge in your notepad and pay for it at checkout.
This is a very convenient way to keep oneself cheered up, but one must not lose control of how much they drink as it's easy to go overboard and it does add up over a period of days. Bottled drinking water was also provided so you could keep yourself hydrated and cooled down without the need to go to a convenience store at the opposite end of bay.
It felt good being in Laos. People were really nice, which felt so liberating after Cambodia. You could tell by looking at other travelers that they felt far less stressed out and pressured in Laos which left them with more energy to truly enjoy themselves. I spent whole night hanging out with other backpackers, drinking lots of BeerLao, playing guitar, smoking pot and just generally having a good time. Life was good and it only further assured me about the fact that spending any more time in Cambodia, where you're constantly under pressure made no sense whatsoever.