During my three day visit to Don Det, I stayed at Sunset View Bungalow. I always check a few available accommodation options to compare what I'd be getting for my money and when it came to Don Det, Sunset View Bungalow seemed like the best of both world.
When you are on an island that's not all that big, there is a limited number of things that you can do. But when it comes to night time activities, this number is further reduced significantly. The main reason why I opted for Sunset View Bungalow over everything else on Don Det was the atmosphere at the outdoor restaurant that's within the ground.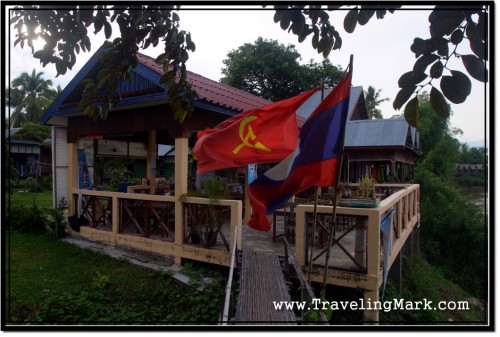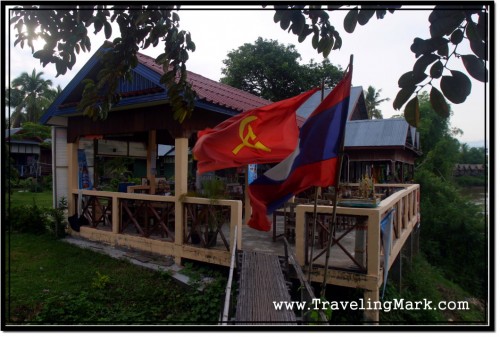 Several cool looking people were chilling with a Beer Lao at the table, a guitar in their hands and trance music on the stereo. On top of that, an unmissable sign of good mood was in the air as skilfully rolled joints were being passed around.
Sunset View Bungalow Price
As I was told by the French fellow who was in charge of showing new comers the premises, a bungalow at the Sunset View cost 30,000 Lao Kip (about $3,60 US) per night. There were bungalows and guesthouse rooms for as little as 25,000 Kip per night on Don Det, but none of these appeared to have had the atmosphere of Sunset View Bungalow. Even though slightly above average priced, Sunset View Bungalow was the hangout spot so that's where I decided to stay.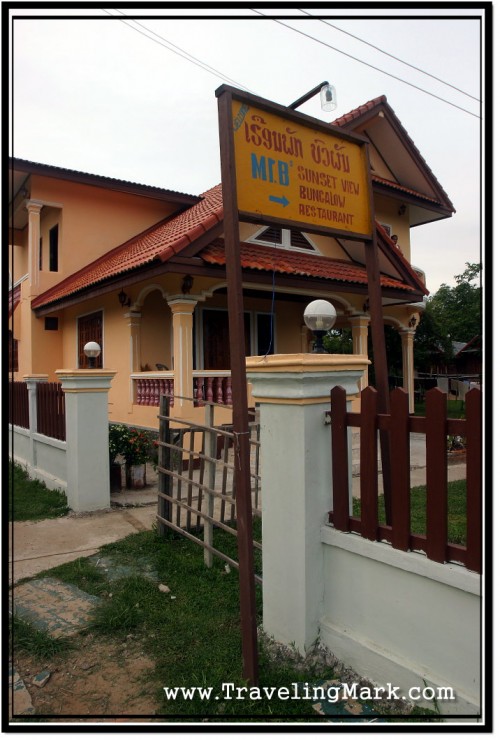 Cheap Accommodation in Laos?
In a rundown of my experiences in Laos, I mentioned that Laos is a surprisingly expensive country to travel through. Yet the very first accommodation I scored cost less than $5 per night so how is that expensive, right? While I do admit 30,000 Kip per night for a private place is not expensive by any stretch of imagination, one needs to put things into a perspective and compare it to the type of accommodation this amount of money would land you in similar countries.
The bungalow I got was about a foot on each side larger than the bed inside. There was not enough space to even turn around, never mind safely storing a backpack. Aside from a wooden bunk bed with a simulated mattress and a pillow, there was only a stained mosquito net with holes in it hanging over it.
Truly partisan style bathroom and a shower were outside to be shared by dozens of others. Bungalows also had a porch with hammock but given the size of that porch, one had to tiptoe around to not fall off on the way inside. Small opening on one of the walls served as a window which when opened, offered the room slightly larger appearance.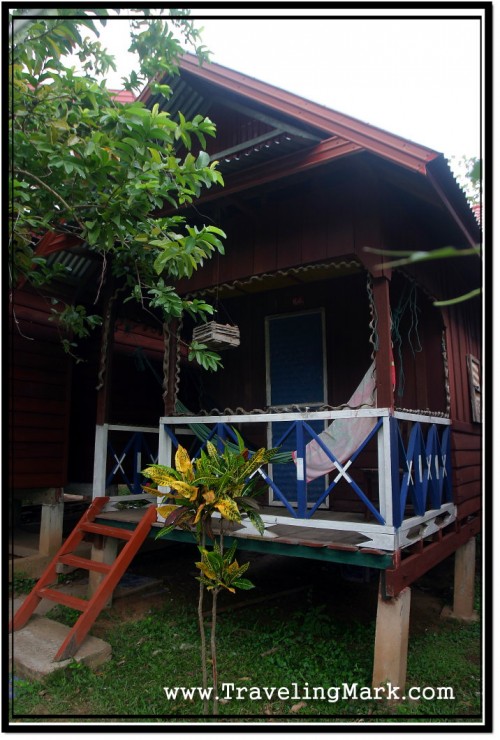 Sunset View Bungalow was a backpacker's paradise. Nothing much to complain about because it was truly cheap, however when compared to what I was getting in Cambodia for $3, this was still slightly pricey and a clear introduction to how expensive Laos is going to be.
More Luxurious Accommodation at Sunset View Bungalow
Aside from the 30,000 Kip bungalows described above, Sunset View also offered slightly more comfortable huts for 50,000 Kip per night (about $6 US). These were a bit more spacious, had more spacious verandas with hammocks for two people and an en suite bathroom. I've never tried one of those, I was just shown and opted for a less expensive, true backpacker accommodation.
Sunsets at Sunset View Bungalow
If you catch a cloudless day while on Don Det and are into all that romantic stuff, then you're gonna like the view of sunsets from Sunset View Bungalow. Located on the north-west corner of Don Det, Sunset View Bungalow offers spectacular sunset views though most of the bungalows don't face that way. You can enjoy the view from the restaurant, though.
The downside is that because of tin roofs, it gets pretty hot inside a bungalow in the afternoon. East side of the island peak where all the guesthouses are faces the same issue in the early morning hours when rising sun turns the rooms into a steaming sauna.
What I Liked Sunset View Bungalow
After personally checking out most other places offering accommodation on Don Det I maintain that Sunset View Bungalow is the best option. There are not many places in Laos where you can stay a night for less than $5 so if you make it on Don Det, enjoy the one place where it's possible. You'll get what you pay for, but at least what you pay is not much. Laos is otherwise surprisingly expensive (compared to most other countries in South East Asia) and even though Sunset View Bungalow seem to be the opposite, when compared what you'd get for this type of money in comparable countries, it's definitely not cheap.
Hanging out and chilling with other backpackers is the best part of Sunset View Bungalow and as such, is unrivalled anywhere on Don Det, or entire 4,000 Islands for that matter. I would wholeheartedly recommend every backpacker coming to Don Det to check this place out.
Don Det is a small island and everything is concentrated in the same area. While staying at Sunset View Bungalow, you're never too far away from anything, however that could be said about any other accommodation on the island. Other places just seem a bit too formal so if leisurely talk with other travelers, former strangers but now friends is not alien to you, then Sunset View Bungalow is the place to be. Grab a bottle of cold BeerLao and have yourself good time while on Don Det.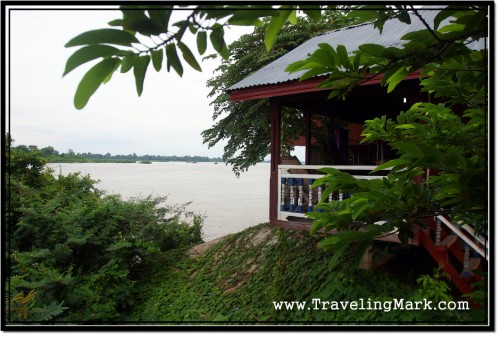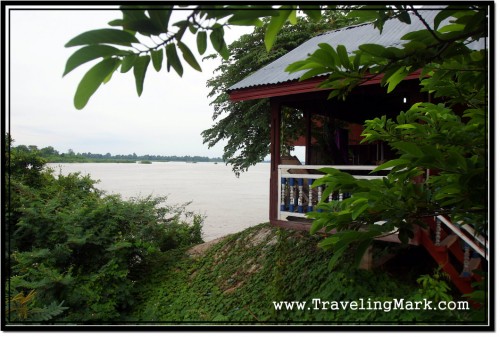 What I Didn't Like About Sunset View Bungalow
I can't say there was anything I really didn't like about Sunset View Bungalow. It's a cheap (for Laos) place with great atmosphere, fun management, cold beer and that stuff I shouldn't talk openly about. Shared bathroom and shower are a bit grotty and lower priced bungalows are a bit squishy, but Sunset View Bungalow is not about fancy accommodation. It's about having a good time and enjoying yourself with all your worries left behind. If it's upscale accommodation you seek, check out Don Khong or Don Khon islands instead.
There are a few other things that could be brought up in the "didn't like" section, but they are not specific to Sunset View Bungalow, but rather apply to whole island (or whole area). While there is little motorized traffic on any of the 4,000 islands, making them reasonably quiet, fisherman boats make way more noise than any motorcycle and start running around like there's no tomorrow before sun dawn. Most accommodations on Don Det consist of wooden rooms that are as far from being sound proof as they get. Those few non air tight wooden planks that serve as walls will let all of the noise from the outside right in so if you stayed out drinking beer with other backpackers till 2am and get awakened at 5am by loud fishing boats the noise of which never seems to fade into distance, you won't be too amazed. That would take place no matter where on Don Det you decide to stay.
Also, being an isolated island (not so isolated anymore, but still), many things on Don Det are expensive because they have to be brought in from the mainland, but the most expensive thing of all is internet. At the time of my visit, there were three internet cafes on Don Det, each charging an unholy 400 Kip per minute. Translated into English, this is a $3 for an hour on line. I have been on far more isolated islands since, I have been in the middle of the jungle, but have yet to come to a place where internet would be this expensive. You best update that page before coming over and leave next update until you have gotten elsewhere or prepare to shell out some heavy bucks for the privilege of surfing the net. As if Laos as a country was not expensive enough, Don Det takes it to a whole new level. Compared to much of mainland, beer is also expensive here (11,000 Kip for a bottle of BeerLao compared to 8,000 for the same in Pakse), however budget restaurants offer food for prices comparable to the rest of Laos.
One more time – expensive internet and loud boats buzzing around since early morning are the reality of an entire 4,000 Island area. That's something you would be exposed to whether you decide to stay at Sunset View Bungalow or somewhere else. Don Det is a wonderful place full of friendly people and should not be missed out by any traveller passing through the area. Kick back a few BeerLao and enjoy the real laid back lifestyle, whether at Sunset View Bungalow or somewhere else on Don Det.