Don Khon is one of the Four Thousand Islands in southern Laos that's connected to Don Det by a bridge. It is larger in size, offers more authentic Lao experience than Don Det and houses virtually all attractions that can be found on Si Phan Det (Four Thousand Islands). Given the above, then how is it that more people come to stay on Don Det than on Don Khon, you ask? The answer is simple – most of the people who stay at 4,000 Islands are backpackers. While Si Phan Det does get a fair share of day trippers, they are only brought in, taken to the most prominent attractions and taken away. Backpackers, on the other hand come and stay for a few days as daytrips are not only overpriced (as all pre-packaged tours tend to be), they also don't offer the opportunity to really get to know the locals, their way of life, their culture, society, religion, or whatever else is of interest to them. And since most backpackers find good times and frugal accommodation more attractive than higher comfort and quiet nights, Don Det is where they to flock.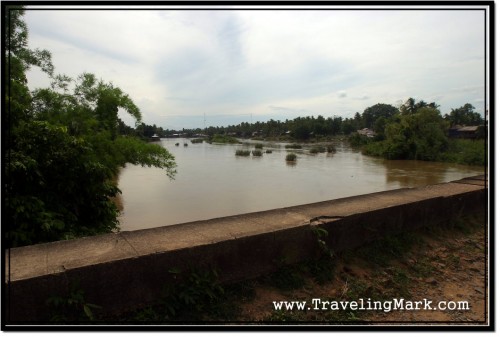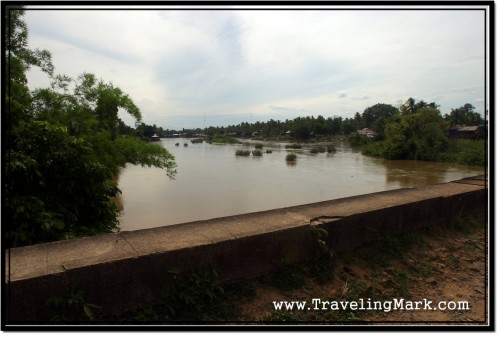 Don Khon Accommodation
Don Khon offers more upscale accommodation options than Don Det. While latter caters predominantly to backpackers who seek the best price, even if quality is lessened, the former delivers better built, cleaner rooms with en-suite bathrooms and air-conditioning (aka mid-range accommodation). This higher level of comfort comes at a higher price, but that's the beauty of it. If you are willing to pay more for the privilege of having a more tranquil environment and a room that's more than a few wooden planks and a bunk bed, then Don Khon could be the answer. If not, Don Det is just across the bridge.
The reason why Don Khon is perceived as the island offering more authentic Lao experience than Don Det is that Don Det is overrun by backpackers so everything about the island has been modified to take full (mostly financial) advantage of it. You are more likely to stumble across a foreigner on Don Det than a local even if you ride a bike off away from "the happening". Restaurants and bars come to full bustle in the evening and through the night allowing the visitors to have a good time drinking cheap beer and smoking cheap pot. Don Khon is not like that.
The only time when Don Khon gets overrun with tourists is in the early afternoon when day trippers from Thailand and a nearby town of Pakse come to the island in hoards to see the waterfall and have a brief look at French colonial architecture. Outside of this madness, Don Khon is a very quiet, unrushed place that also spares the visitor of nightly party noise.
All accommodation on Don Khon is concentrated along the north coast of the island (the side facing Don Det).
Activities on Don Khon
Outside of partying and hanging out with other backpackers, there really isn't that much to see and do on Don Det. However having Don Khon attached to it by a bridge expends the options vastly. Once you have taken a bike ride around Don Det, you have basically seen everything this island has to offer but then you go across the bridge (for which you have to pay 20,000 Kip on the Don Khon side) and a whole range of activities opens up.
You can find several French colonial buildings on Don Khon. Old French built school still serves as a school today, even though former hospital has been turned into a resort. The French port and the embankment can be oddly stumbled upon as you cycle around exploring what the island has to offer. Former light-gauge train track that used to traverse both islands is now just an endless path of big, sharp gravel that's hard to walk and ride a bike on. If you come across a rocky road, turn around and take an alternate road. You'll be glad you did. The road seems to go forever and is covered in bones shattering rocks all across.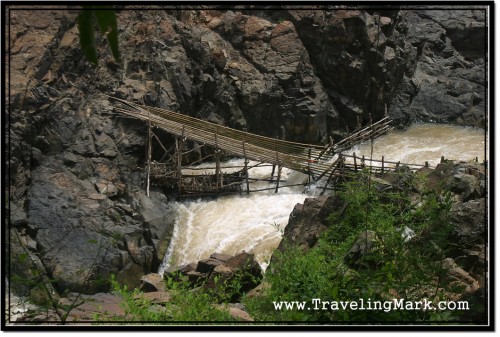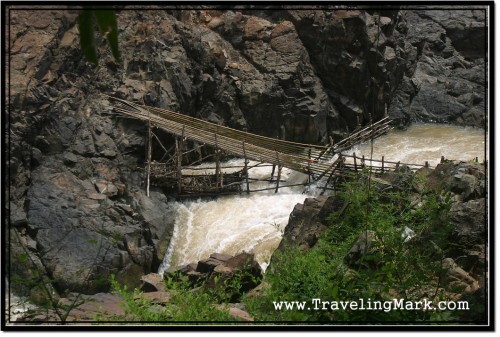 The biggest attractions of Don Khon are the waterfalls. Li Phi Falls on the western side is easy to find and get to. Less visited, but noteworthy for being the largest cascade by volume of water in South East Asia, Somphamit Falls requires slightly tricky turn off the dirt road and across a suspended bridge to reach, and even though these cascades are vastly unspectacular, they are worth a visit never the less.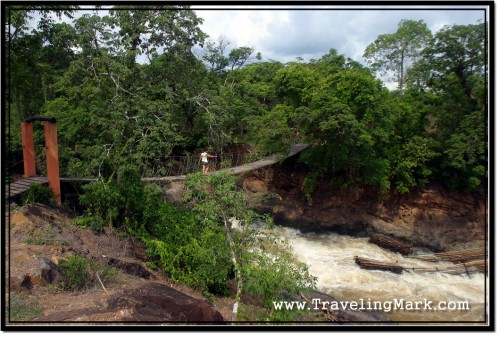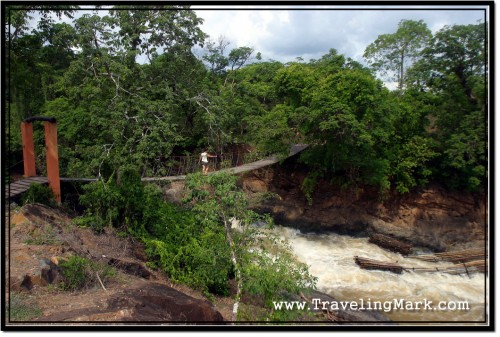 Rare and endangered fresh water Irrawady Dolphins can be found off the southern coast of Don Khon but may require luck to get to see some. It's much easier to see them in Kratie, Cambodia (but also more expensive) but remember than these dolphins only surface for fraction of a second to breathe before they submerge for a few minutes again so capturing a decent picture is tricky and requires a great deal of patience (and hence money).
Even though Don Khon is larger than Don Det, no such services as post, police or hospital are available. These allegedly exist on Don Khong, the largest of the Four Thousand Islands but since I've never been there, I could not tell for sure. A few places offer internet on Don Khon but it is as expensive (400 Kip a minute) and as slow as on Don Det, hence not worth it (update you page before coming to Si Phan Det or leave it until after).
Further up from the "big waterfalls" is what is labelled by travel guide books (including Lonely Planet) to Laos as "a beach". Signs bearing the same name were posted along the dirt road leading there but man… this is supposed to be a beach? It was a pile of hard to scale, huge shoulders scattered across the river bank. Who in the hell named it "a beach"?
Don Khon Development
Don Khon is experiencing same out of control development as Don Det. While I was cycling around, it seemed as though everybody was rebuilding their house to turn it into a guesthouse. The smell of tourism money is like a drug to locals now.
I enjoyed hanging out and partying with fellow backpackers on Don Det. However, if partying not your cup of tea, try Don Khon instead. Quality of accommodation is better and an overall "Lao" experience is definitely more authentic. You'll get to see some real village life on Don Khon, something that virtually doesn't exist on Don Det, an island which is nothing more than a backpacker milking cash cow these days.