One thing in Laos frequently used by travellers that's far more expensive than anywhere else in South East Asia is transportation. You'll be able to cover twice the distance for half the money in other SE Asian countries, including seemingly more expensive Malaysia, than in Laos. The cost of transportation was what was killing my wallet the most while I was in Laos. Songthaew (back of a truck) is a less expensive option, but it is significantly less reliable, much slower and incomparably less comfortable to a point that unless you carry a really tiny backpack and don't mind sitting squashed with your knees tucked tightly under your chin while dozens of chickens peep hung off of the carrier bar next to your head for upwards of 8 hours, then this little saving is not that great of an option.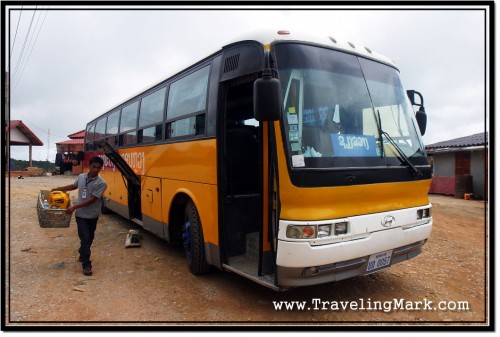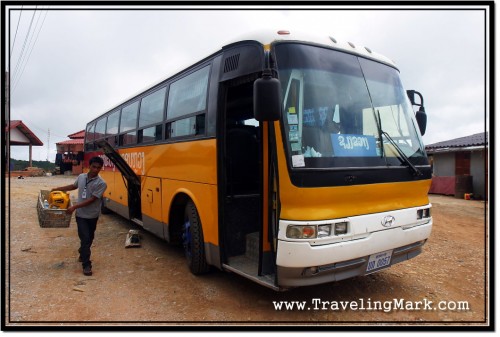 Since Laos has been on a map of individual travellers for a few years now, decent transportation options comparable to those found in the more developed neighbours are nowadays widely available, however they are significantly more expensive than what you would pay for when covering the same distance or traveling for the same length of time in other SE Asian countries.
While cost of transportation in Laos is high as it is, unless you buy your inter city ticket directly from the provider (aka from the booth of the company running the bus), you will also end up paying the tour agency fee which will bump the already high total cost even higher up. Most travel agencies will sell the ticket with 30% – 50% markup which is brutal.
For example an air-conditioned (albeit squishy, with no leg room) overnight bus from Vientiane to Luang Prabang costs 115,000 Kip (about $14 US based on 2010 exchange rates) when purchased directly from the bus company but if you buy the same thing from a tour operator in Vientiane, you end up shelling out 150,000 Kip (about $18,50 US) or more. Though the latter will also include tuk-tuk transport from your guesthouse to the bus station, tuk-tuks can be easily individually arranged and should cost no more than 10,000 Kip. In this case the tour agency charges extra 30% on top of the ticket price.
Luang Prabang is about 390 km from Vientiane and the journey by bus takes about 8 hours to complete (includes a few stops along the way). For comparison purposes, Cambodian Siem Reap is 544 km from Sihanoukville. Overnight bus trip with lots of leg room takes about 10,5 hours to complete (with a few stops) and costs $16 (September 2009), inclusive of a tuk tuk pickup from your guesthouse to the bus station. Similarly, Thai island of Phuket is about 840 km from Bangkok. To cover the distance, the overnight bus takes 12 hours to complete with only one stop along the way, however even though it's more than twice the distance compared to the Vientiane to Luang Prabang bus trip, the cost is only 495 Baht (roughly $15,50 US) and you get to travel in a much more comfortable, modern bus than in Laos.
The cost of transportation in Laos took me by surprise. No matter how you spin it, covering the same distance or travelling for the same amount of time will usually end up costing you much more than it would in any of the neighboring countries. And you definitely won't be getting what you're paying for as buses serving Laos are older, louder, dirtier, and offer less comfort and leg room.