The Ya-Tep Shrine is unique in a way that it's built right in the middle of a major road passing through Siem Reap (National Highway #6) so the road splits to go around it. Since Ya-Tep Shrine is a small structure, it only creates an effect of a traffic circle, not any major detours. Despite its small size, it's a busy shrine that enjoys immense popularity among local Khmer people. It is said that the statue of Ya Tep that is housed within the shrine is a powerful spirit locally known as Neak-Ta. Neat-Ka spirits are localized, meaning that they protect the land where they are located and the people who live in the area. Ya Tep spirit is also believed to bring good luck to people playing the lottery so the shrine gets particularly busy on days of the draw.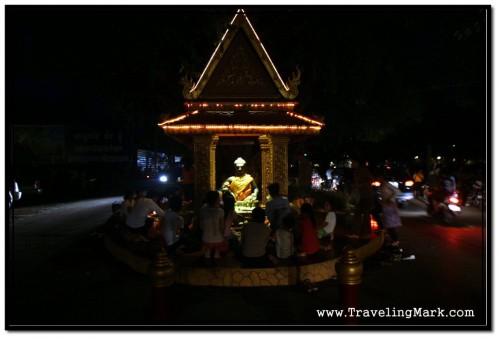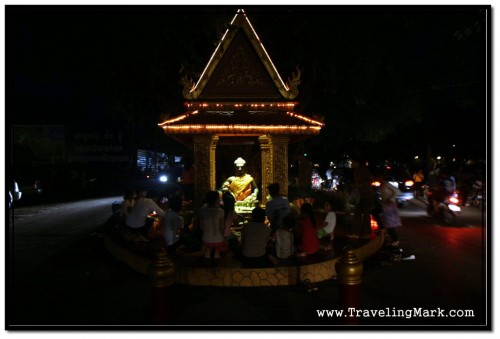 While Ya-Tep Shrine is a standalone unit that's not part of anything bigger, it is located right between two important landmarks of Siem Reap – Royal Residence is to the south of the shrine and Preah Ang Chek Preah Ang Chorm Shrine to the north. Ya-Tep Shrine is basically right in the middle of the road that separates these two.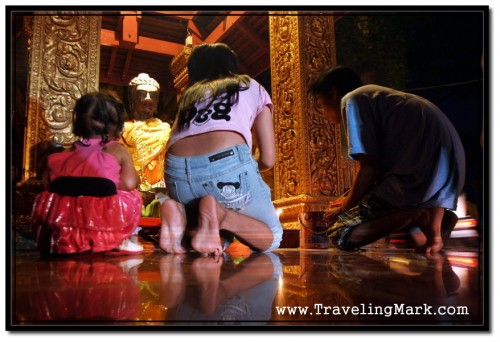 The night when I discovered majestic Flying Foxes in the Royal Independence Garden and stayed to take pictures of people bringing offerings for the dead, the Buddha and the Monks since it was the beginning of Pchum Ben Festival was also the night I first saw Ya-Tep Shrine. Well, no kidding since it's only half the road across. Local Buddhists who paid a visit to Preah Ang Chek Preah Ang Chorm Shrine also stayed for a player and burned incense sticks before the statue of Ya-Tep.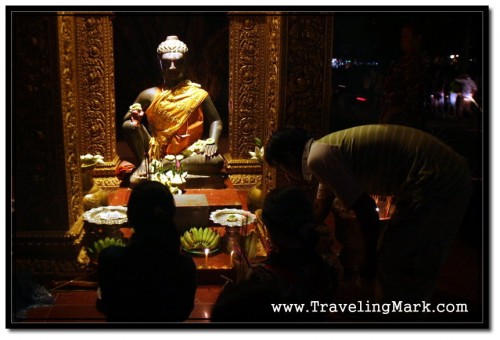 The popularity and high regard of Ya-Tep Shrine was truly evident. Each time I would be passing by on my bad ass bicycle, whether it was during the day or after dark there would be people kneeling and praying before the statue of their local protector. Speed bumps to the west of the shrine slowed down the traffic so vehicles don't run into the island housing the shine or people who frequently come to the shrine to pray. Sadly, because of close proximity of several major landmarks, poshy hotels (Raffles Grand Hotel D'Angkor and Victoria Angkor Hotel) and Angkor Shopping Center, the area is overrun with Tuk Tuk drivers who will do their best to annoy the heck out of you while you are enjoying the sweet shriek of gianormous Fruit Bats. Ahh well… Tuk Tuk drivers, the plague of Cambodia.