My first exposure to Stupas was at Wat Preah Prom Rath in Cambodian Siem Reap. At that time I had no idea what these monumental structures within Buddhist pagodas were and why they ranged so much in size, color and shape. It was apparent that Stupas are an important part of Buddhism, I just didn't know what purpose they served. When I got to Wat Bo in Siem Reap, the Stupas were more mesmerizing than the temple itself. That's also one of the main reasons why I focused on Stupas and managed to miss historically and culturally important Reamker paintings. So what exactly are those Buddhist Stupas and why you always see them at Temple grounds?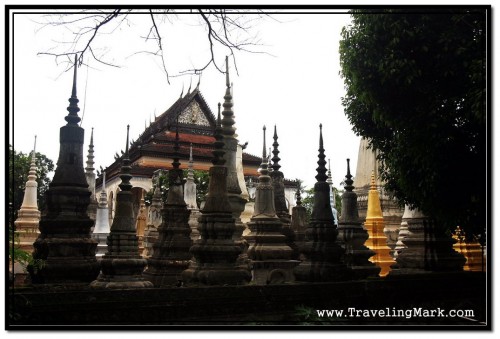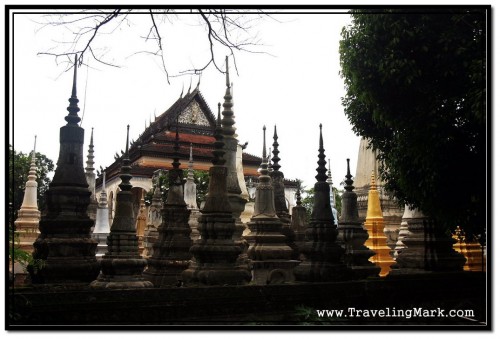 I saught answers with one of my students from the English language class at Wat Preah Prom Rath. I came to the pagoda about an hour prior to the lecture and one of the girls from the class was sitting there on the bench. Since I was entirely new to Buddhism, I asked around and she was most happy to explain. The only trick was that the class in which I was teaching was free for all, so students of all levels of English participated. The girl who was my Buddhism guide that day was a very beginner so language barrier was making it a bit difficult to understand each other.
From what I could make out, Stupas are used as graves. These monumental structures located near pagodas are basically tomb stones that house ashes of deceased Buddhists. The reason why some Stupas are bigger than other is wealth of a person or family whose ashes are housed inside. The wealthier a person, the fancier, bigger and more decorated a Stupa they can afford.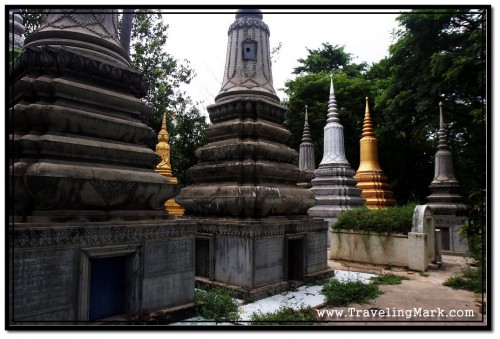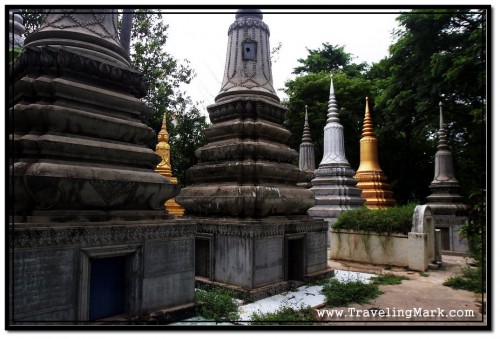 Stupas oftentimes have small entrance doorways through which ashes of other members of the same family are put inside. Through this door those who are still alive also put offerings for the dead, which include food for their journey through the afterworld, flowers, money and whatever other relics may be needed. Buddhists believe in reincarnation – death is not the end, only a transition.
In Buddhism, aside from practical use as funerary monuments, Stupas are best described as sacred monuments that symbolize enlightenment. Stupas have square bases which symbolize four immesurables as taught by Buddhism. The immeasurables are:
Immeasurable love
Immeasurable compassion
Immeasurable joy
Immeasurable equanimity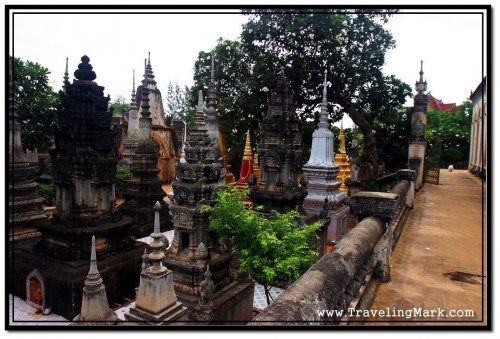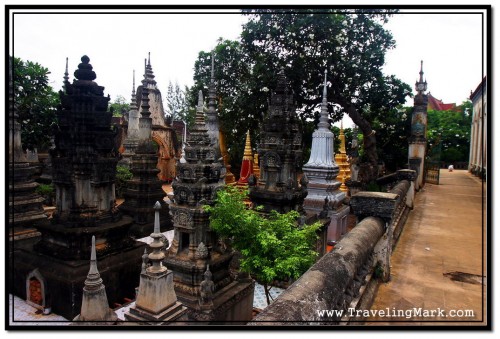 There is deep meaning to each part of Stupas. They are full of relics and holy objects, decorated with reliefs of important Buddhist events. There is powerful spirituality to each Stupa which is instantly recognized by merely looking upon one. I was drawn to those upon each encounter in Cambodia, Vietnam and Thailand. Very powerful, mesmerising monuments that establish peace and harmony and keep negative forces at bay.
RELATED GALLERY:
Wat Bo Stupas in Siem Reap, Cambodia Photo Gallery