There is something to be said when it comes to the laziest nations in the world. Most publications associate laziness with what people do (or NOT do) in their spare time, after all duties have been taken care of. To me, that's a fundamental mistake and doesn't reflect on the laziness at all. People who bust their butts off so they can have some time for themselves are not lazy. True laziness comes to play when an entire nation can't get the work – the necessary duties done because they can't be bothered to get off their soft motorcycle seats. And this is why Cambodia is the laziest nation in the world. Everywhere you go, any time of day you will see hundreds of people of all ages idling in the streets, doing absolutely nothing just killing time by hanging loose. You will be wondering why they are all out here doing nothing. You will be asking yourself – shouldn't these people be at work and kids at school? How can a nation sustain itself if nobody can be bothered to do any work? Those are all legitimate questions and anyone who pays attention will undoubtedly have them cross their minds upon their first visit to Cambodia.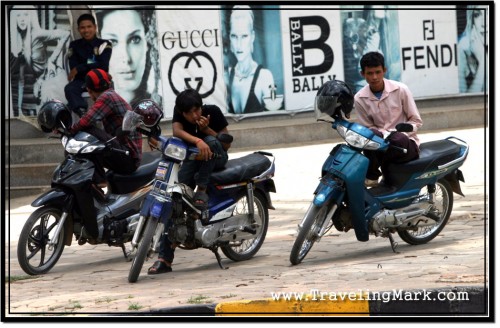 History of Cambodia – The Laziest Nation in the World
It comes as a striking contrast when one visits the temples of Angkor Archaeological Park and sees the megalomaniac structures Angkorian era civilization was capable of constructing. Could the laziest nation in the world built the world's largest religious complex? Obviously, Cambodia a millennium ago was different from Cambodia today – aside from being a culture of violence, as Cambodians are as violent today as they have always been.
So Cambodians were definitely not lazy back then, back when the temples of Angkor were built, but what happened? That I guess is as difficult to explain as is the abrupt end to once powerful empire. Ancient Khmer rulers were on top of the game and controlled the region but then something happened and Angkor was abandoned. Everything about the Khmer people, everything – including their approach to work has changed. The end of Angkorian era was the end of decent Cambodia. The empire failed and so did the people. People who were once capable of building monumental structures are nowadays capable of nothing more than idling and doing absolutely a great deal of nothing. Unless verbally and physically abusing foreigners can be considered an activity. Luckily the former can be done from the comfort of their motorcycle seat…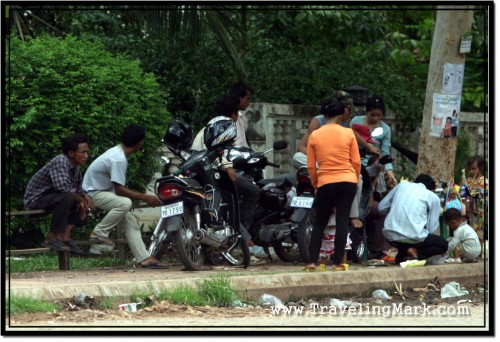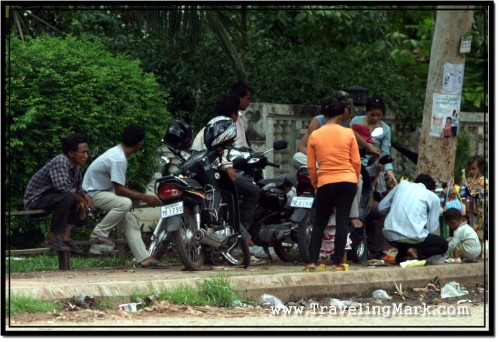 The fact that Cambodia is the laziest nation in the world is not something I am the first person to notice. When the French entered the area and colonized the country in the 1800s, they noticed that Cambodians are incredibly lazy and never get anything done. No matter what they'd tried, no Cambodian could be bothered to get off their ass so the French were left with one and only option – go to a foreign land and bring the people from there to work in Cambodia. Vietnam was the closest and since colonization of Thailand was never much of a success for the French, Vietnam it was. Obviously, it wouldn't matter where they'd go as any normal nation will have many people who can get the work done, it's only Cambodia where there was absolutely no one who could be bothered.
Cambodia – Still the Laziest Nation in the World
Today, centuries after the French learned the hard way that nothing in Cambodia gets done because Cambodians are extremely lazy, the situation is unchanged. Cambodia is still the laziest nation in the world but the French are no longer the only ones to know it. Following the industrial revolution, many multi-national companies moved much of their production to Asia and have factories in countries surrounding Cambodia, but none of them is in any rush to open one in this country. Now why would that be? Obviously, they know something that prevents them from making a grave mistake of investing in Cambodia and employing Cambodians. It's their money and money of their shareholders that are in stake and as such, none of these companies will ever consider opening a factory in Cambodia because they know that nothing would ever get done.
You will find countless garment producers, such as Nike or Adidas, or electronics makers, such as Samsung or Siemens in surrounding countries (Vietnam, Malaysia, etc.) but none of them would consider opening a factory in Cambodia. So why is given that cost of labour in Cambodia is often lower than cost of labour in any of the surrounding countries? Why would they not consider opening a factory in Cambodia if there is a prospect for them to save money on wages? Do they know something we don't know? Yes they do. They know that no matter how (seemingly) inexpensive the labour is in Cambodia, because people here are the laziest people in the world, at the end of the day nothing would get done.
See the Laziest Nation in the World for Yourself
It doesn't take a genius to see that Cambodia is the laziest nation in the world. Anyone with marginal observation talent will notice that people here can't be bothered to work. They just sit around whole day on their motorcycles, hiding from the sun in the shade, grouping up with buddies who are as lazy as themselves, killing their time they have too much of by verbally or physically abusing the foreigners. This laziness is present on every corner of every street in Cambodia and it is one of the reason why Cambodia is so dangerous. Because vast majority of population is not involved with their lives, they are not busy looking after their families so they seek excitement from the comfort of their motorcycle seats.
Those who spend an extra time in Cambodia will notice that progress in everything is extremely slow. When there is a construction going on, you will see people sitting around and chatting instead of getting the work done. That's why every serious firm looking to open a retail shop or a hotel will contract foreign companies to built the business for them. Contracting Cambodians would mean the business will take forever to start.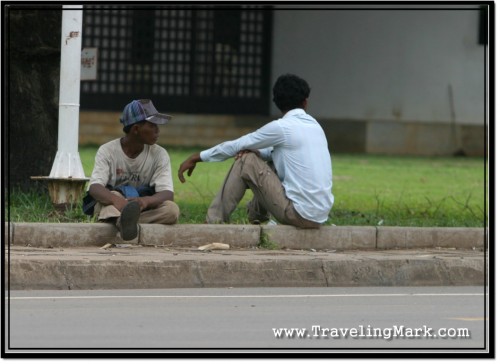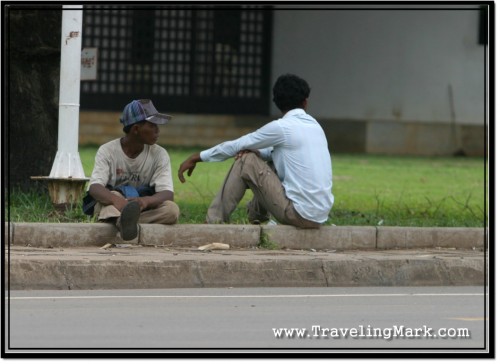 Laziness however exists in all walks of life in Cambodia. Kids don't go to school because they can't be bothered to learn or do the homeworks. Are you kidding me? A Cambodian kid learning at home to maybe become someone more than a tout who makes abuse of foreigners their life purpose? This ain't happening.
Cambodia – Most Expensive Labour in the World
When you look deeper into it, you will realize that the cost of labour in Cambodia is one of the highest in the world. Average monthly wage could be only $90, but given how extremely lazy Cambodians are, you will get at best 2 hours worth of labour per person per month. So by paying a Cambodian $90 a month, you are basically paying them $45 per hour. Normal Cambodian is so lazy they will not produce more than 2 hours worth of labour a month and do not forget that that's only upon excessive supervision and investment of extra 10 hours of your own time to fix up what they had screwed up during their 2 hours worth of work. One really needs to put things in perspective before jumping to conclusions that Cambodians are underpaid. I could only wish I got $45 per hour for my work.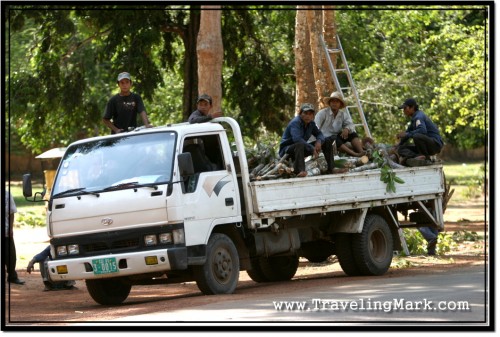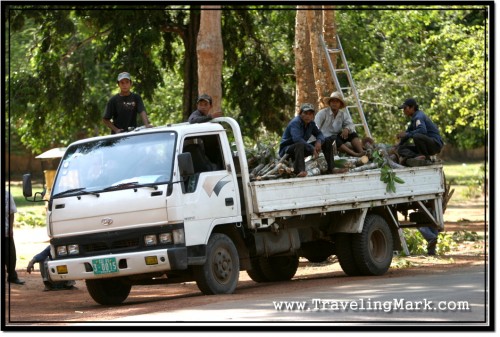 Supporting Cambodian Laziness
Shockingly enough, the world approves of and supports Cambodian laziness. With each dollar donated to Cambodians, with each piece of merchandise that makes it to Cambodia, the laziest nation of the world remains assured that they don't have to try to change, that it makes no sense working hard for a dollar. If doing nothing lands them free money and things, why would they even attempt to work? Work has been excluded from their lives for centuries and there's never been more reason to stay lazy than there is now. The philosophy is simple:
Let us do nothing and enjoy our lives without worrying about work, because work requires sacrifices and is tiring and distressing. Instead, let others go through the hassles and tension of employment. Let them work hard their entire lives, struggle for decades to eventually make it up the ladder, renouncing their spare time, their families and friends, let them dedicate the best part of their life to working for the man, instead of spending it with their loved ones, because by wearing themselves out working, they will eventually manage to save a few dollars up and that's when we enter their view and have them send their money, the money they worked so hard for to us. That's it – if you are too lazy and irresponsible to work, just whine about being poor and you'll end up getting money from someone who was brought up being responsible and sacrificed their best years for work.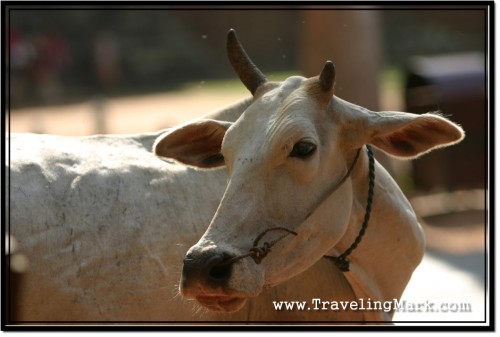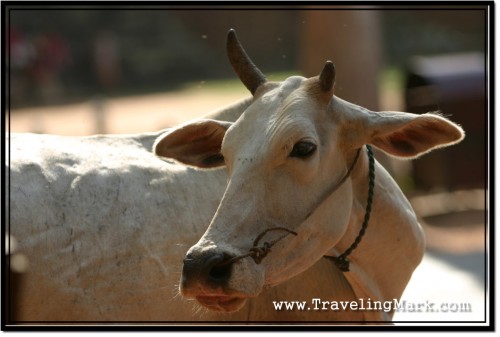 It is no secret that countries with strong work ethic are successful on an international scale. Lack of work ethic often means lack of character which is something that anyone who pays attention notices shortly after entering Cambodia. Most Cambodians will prefer to look and stay poor so they can get free stuff by getting sponsors to pay for them or donors to give it to them. An alternative to this is to roll up the sleeves and start to work hard for your money but that's work, isn't it? Why work if you can get stuff for free by whining out loud? Cambodia is without doubt the laziest nation in the world. You can see it everywhere you look, but it's also proven by no interest in Cambodian labor from any multinational corporation and historical records of people who tried to make Cambodians work but failed. I challenge anyone to prove me wrong.