While still in Cusco, I told Maria whom I was going to meet in Lima, that even though at the time I've already been in Peru for 3 weeks, yet have still not eaten a Peruvian ceviche. Since we maintained contact the whole time on the internet and finally set up a date to meet up in real life, I thought it would be the perfect time to finally try ceviche.
Under normal circumstances, I take the masculine role in a relationship, but whereas I'm not familiar with Lima and she is from there, I gave the responsibility for picking up a suitable restaurant for my first time pure Peruvian ceviche to her.
She picked a restaurant called El Chef y El Mar, and it did not disappoint. Located in San Miguel where I was staying, the more upscale restaurant had the prices to match the quality and the atmosphere, but that only made the place more perfect for the occasion.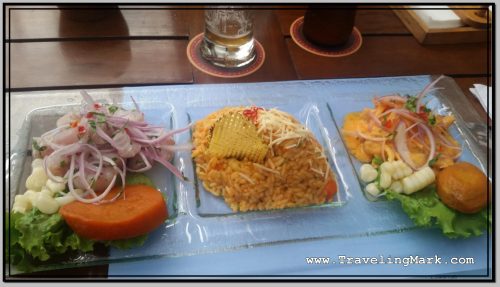 At El Chef y El Mar, there were several dished with ceviche on offer. We picked a platted for each consisting of two different forms of ceviche and a creamy rice with the calamari. I asked for my ceviche to be extra spicy, Maria went for medium spicy. It was delicious to the last bite. I could not have asked for a better place, company, and type of food to start my addiction to ceviche.
Ceviche Origins
Ceviche is considered one of the flagship dishes of Peruvian cuisine, being one of the most traditional meals offered in Peru.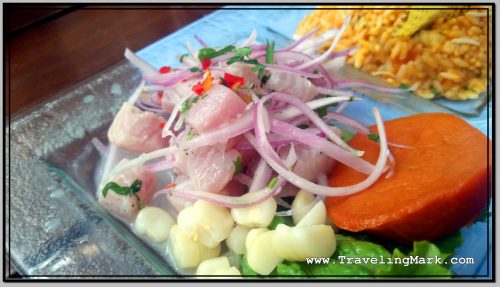 According to the Peruvian historian Javier Pulgar Vidal the name ceviche comes from the Quechua word "siwichi", which means "fresh fish" or "tender fish". One hypothesis proposes that the words Siwichi and Sikbaǧ were confused during the conquest of the Inca Empire by the Spaniards, which caused that it was transformed into the name with which we know it today.
Peruvians claim that ceviche originated in the Mochica Culture on the Peruvian coast, more than two thousand years ago. However Ecuadorians maintain the pre-Inca Empire people along the Ecuadorian coast used to prepare the same cold fish dish for just as long, claiming the origins of ceviche were not exclusively Peruvian.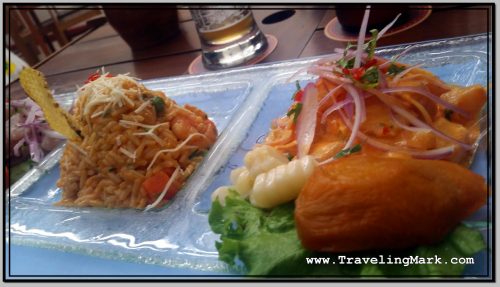 In both cases, ceviche was originally being prepared by marinating the catch from the sea with chicha – juice that comes from corn.
Later, with the Hispanic presence, two ingredients of Mediterranean cuisine were added: lemon and onion. The development of the lemon farms in the lands helped to shorten the time of preparation of this ancestral dish.
Ceviche Description
Put bluntly, ceviche is basically raw fish marinated in soury, vinegar like solution. If you like raw fish in sushi, you will likely love ceviche.
From my standpoint – having come to Peru from Slovakia, where what is known in Peru as Ceviche is commonly available in its Slovakian form as "Zavinace" and purchasable from pretty much any grocery store for under a Euro, I was already familiar with the type of fish and had taste buds tuned in to it.
Ceviche in general is not the cheapest dish to eat, but a trip to Peru would simply not be complete without giving it a try in some proper restaurant where it is properly prepared.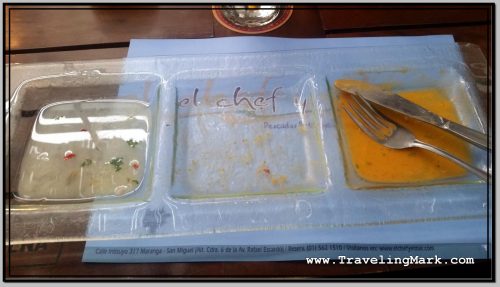 Caution eating ceviche is however well warranted, as improperly prepared ceviche can be the bearer of bacteria that could seriously harm your health and screw your entire trip.
Fish used to prepare ceviche should be fresh out of the sea and should be eaten early in the day. As a way to honor this requirement, many ceviche restaurants close in the afternoon.
Concluding the First Date with Maria
After enjoying the wonderful triple dish of Peruvian ceviche for the first time, with our bellies happy, I took Maria to a billiard club where she played pool for the first time in her life, and then to a bar where we downed a few Cusquena beers. Late at night, we parted our ways after what for both of us was a highly fun and fulfilling date. We had one more day to spend together afterward, and we both looked forward to it.